It is Madrid derby week, and while the title is beyond these two teams, there are still plenty of talking points for supporters of Real Madrid and Atletico going into Sunday's game.
After his recent hat-trick for Spain against Argentina, Isco caused a stir with his comments about Zinedine Zidane. "I don't know how to win Zidane's confidence," said the midfielder.
Isco actually renewed his contract last summer, despite interest from Barcelona, because he thought he was going to be an important part of the team in crucial moments of the season.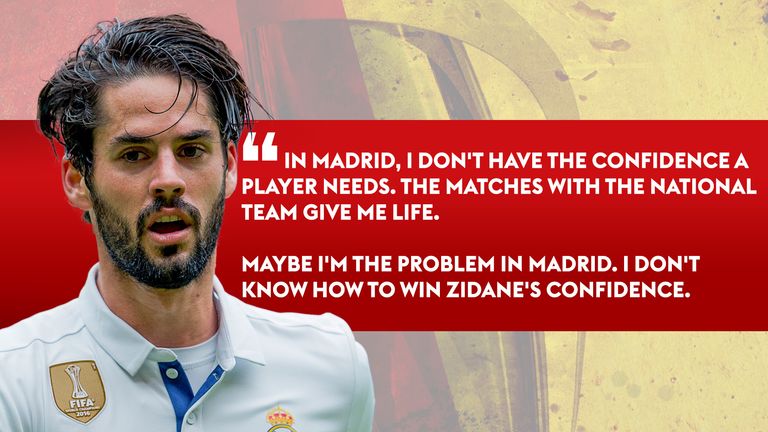 Instead, he has struggled for form in parts of the season and seen others overtake him. Notably, Marco Asensio whose ability to create something from nothing has become very important for Zidane.
Even so, Isco's performance with Spain makes him difficult to ignore and he is expected to start against Juventus in midweek.
Asensio, meanwhile, is seen as a potential top three player in the world but even he has admitted that the expectations on him this season have made him try too hard at times.
Zidane is trying to manage those expectations and avoid any burn out too early.
There is someone else who has found himself down the list at the Bernabeu.
Gareth Bale has even seen Lucas Vazquez preferred to him at times - but, until the weekend, there was a good reason for that.
While Bale has not assisted a goal in La Liga since the opening day of the season, Vazquez has provided more assists than any other Madrid player in 2018.
But with the two goals against Las Palmas on Saturday, Bale seems revitalised after also scoring a hat-trick for Wales against China during the international break.
He has now scored more goals in the first three months of the calendar year, ten, than in any of his previous seasons at Real Madrid.
Zidane will need goals on Sunday because Madrid are taking on an Atletico team that is still arguably the best organised in European football.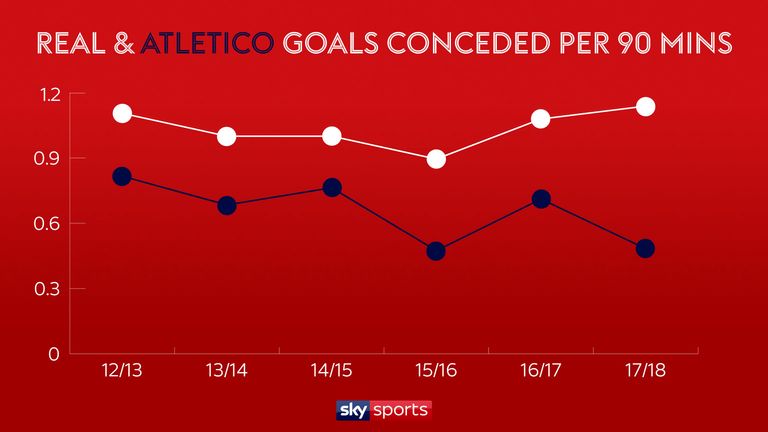 The contrast between the two defences this season has been huge. In fact, it is the biggest since Diego Simeone became manager in 2011.
That is all due to Madrid's vulnerability at the back. They currently have their worst defensive record in eight years and have conceded more goals than nearby Getafe this season.
With Koke in fine form and providing fluidity in midfield, Antoine Griezmann will fancy his chances of scoring a repeat of his winning goal at the Bernabeu in 2016.
But he is not the only Atletico striker to have scored the only goal of the game in this fixture. This is Diego Costa's first game for Atletico at the Bernabeu since scoring there in 2013.
Costa caused all sorts of problems for Sergio Ramos that day and although he still enjoys the fight, he is now picking his moments and showing signs of greater maturity.
He is also still key to Atletico's approach.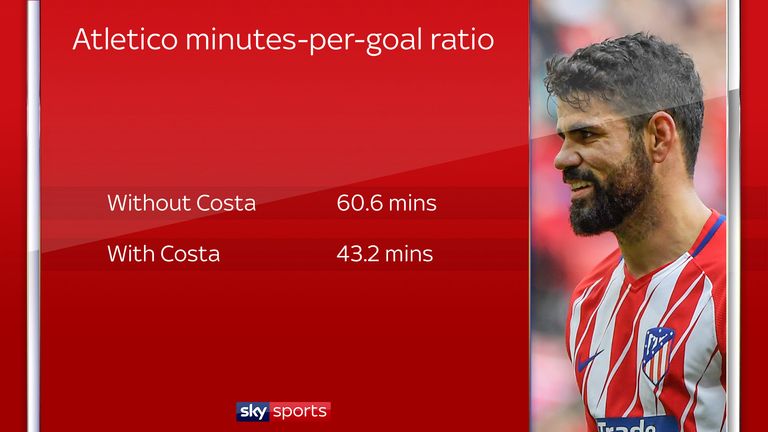 Costa is the one who is helping them to score goals on the counter-attack and stretching opponents by occupying their defenders. The statistics since he arrived show his influence.
Even when he is not scoring himself, he makes a difference. Atletico average a goal every 43.2 minutes when Costa is on the pitch compared to every 60.6 minutes when he is not.
So will he be able to make the difference on Sunday? Or will Zidane, after all of his early season problems, find the right balance to move Madrid within a point of their opponents.
We will find out on Sky Sports this Sunday from 3pm.