Guillem Balague previews the Copa del Rey Clasico between Real Madrid and Barcelona
Would Ronaldo match Messi if he was at Barca? Guillem Balague previews the Copa del Rey Clasico.
Last Updated: 30/01/13 11:56am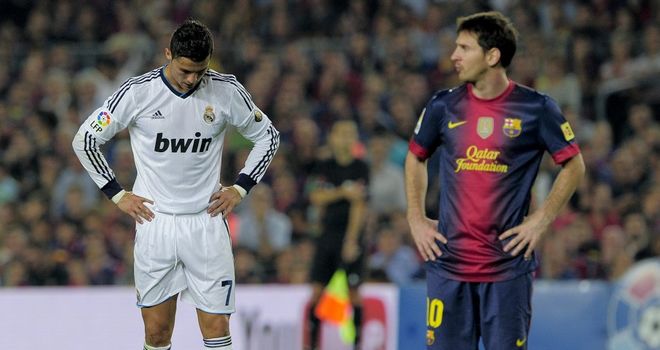 It goes like this: if Cristiano Ronaldo was surrounded by a world cup and European championship-winning team, you would see improved stats. Perhaps even better ones than Messi. And, in fact, if Lionel Messi wasn't surrounded by those players, he would be only a very good player; the Messi of Argentina basically.
But I don't believe in this at all.
Having studied Pep Guardiola's work with Messi closely and by analysing Messi himself from an early age for my next book, I see an extraordinary talent. As Pique says, Ronaldo is the best of the humans - Messi is the best of all the planets.
I put it a different way: Ronaldo is an extraordinary work of art in a body, capable of jumping, running and making decisions at a faster pace than most (helped, without any doubt, by nature too). But Messi is just a one-off, a freak of nature, who sees and does things nobody else sees or does.
However, interestingly, looking at the stats ahead of the Clasico it is hard to separate them.
Ronaldo has scored seven goals in the last six Real Madrid-Barcelona fixtures, while Messi has scored 17 in total; Ronaldo has scored ten goals in January, Messi nine; Ronaldo scored a hat-trick at the weekend, Messi (yes, you guessed it) scored four goals just hours later.
Selection
For once this Clasico is also about the goalkeepers.
Will Jose Mourinho play Antonio Adan (everybody's favourite to play as Mourinho promised him he will play the cup) or new acquisition Diego López?
How is Victor Valdés handling the pressure after having said he was leaving? It seems like he's handling it well: the Camp Nou gave him an ovation in his first appearance after the announcement and club president Sandro Rosell is asking him to reconsider.
Elsewhere on the pitch Real Madrid will have key players missing: Pepe and Sergio Ramos (not a huge problem it seems, as the team has conceded one goal in the last six games where they were not the partnership at the back), Angel Di María, Fabio Coentrao and Iker Casillas are all out.
Barcelona, on the other hand, will have a very in-form Pedro available, as well as a confident trio of Cesc, Iniesta, Xavi in a team adapted to a variation of the Barcelona style we saw under Pep. This team may have conceded more than they have done for a decade, but they've also scored more than ever.
To be less predictable, Tito Vilanova decided to stretch the team, to make it more direct (although they still like to keep the ball a lot) and lose a bit of the control in favour of more box-to-box football. That normally benefits both Barcelona and Messi, who finds himself with more space - but that has a risk, shown by the amount they've conceded.
And Madrid? In an interesting turn of events Florentino Pérez decided to come out publicly to say a cover of a newspaper was a lie, that the story about players wanting to leave if Mourinho didn't in the summer wasn't true.
It was a strange decision as he hadn't come out in front of the press for ages, but he was forced by players who were unhappy with a leak that made them look like black sheep - and the prospect of Mourinho putting more petrol on the fire.
One conspiracy says that Mourinho's people might have passed on the leak so his ideas about players working against him were confirmed. That's an interesting idea.
In any case, it seems that the events have reinforced one route: the one where all staff and players work together, forgetting what separates them, to win the cup and the Champions League. And then, in the summer, accept it is time to part company.
Watch Real Madrid tackle Barcelona in the first leg of the Copa del Rey semi-final from 7.55pm, Wednesday, Sky Sports 3 HD.