Guillem Balague on Barca's transition, Gareth Bale's fitness and Atletico Madrid
Guillem Balague says Barcelona's devotion to tiki taka is over as Tata Martino transforms their philosophy.
Last Updated: 23/09/13 4:28pm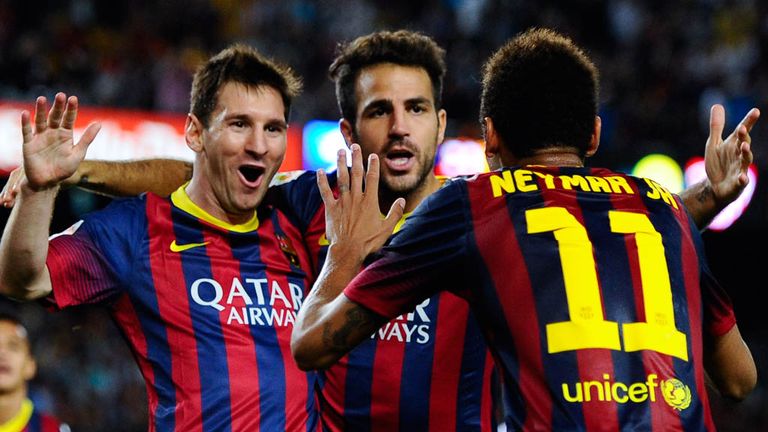 Goalkeeper Victor Valdes kicked 20 long balls in Barca's 4-0 win over Rayo Vallecano at the weekend, and 16 of them were without any destination. That's just giving away possession. It was blamed on the pitch at Rayo with Barca boss Tata Martino saying that was the reason he asked them to play long.
Martino is certainly trying to evolve their style so they can mix the long balls with the short passing. The more direct football fits Messi, Neymar and Cesc - who are now becoming the triangle of Barcelona. Sergio Busquets was left out for technical reasons and for resting, and Andreas Iniesta and Xavi are not playing together that much.
There is a trick going on here as well. It is also part of a policy of rotation to ensure that they reach the end of the season very fresh and as a more recognisable Barcelona. In the meantime Martino is letting everyone debate whether Barcelona should play with more or less possession.
Some stats showed that against Rayo, they had less possession than their opponents for the first time since May 2008. But other stats showed that they actually did have more possession than Rayo. The debate continues, though, because they didn't keep the ball for that long.
The explanation from Jemez, the Rayo manager, is that Barcelona are no longer pressing high up the pitch which makes it easier for other teams to play the ball. Rayo were the third team in Europe in terms of possession last season so they gladly kept the ball.
Tension
Carlo Ancelotti interestingly said after Real Madrid's 4-1 defeat of Getafe that Gareth Bale's injury is not too serious. But Bale said he felt a pain like a knife being put in his leg and we will know more in the next day or so. Ancelotti was trying to say that the pressure and the tension was getting to him and the fact that he did not have a pre-season has not helped him.
Bale will have to make sure that he doesn't get injured if he feels some pain. The doctors and Ancelotti have told him to be careful. It could be the kind of being careful and managing his fitness because he has not had a pre-season.
Arda Turan has renewed his contract with Atletico Madrid until 2017. His evolution shows what they are about. When Diego Simeone arrived a year ago Turan was just a No10, a creative player, and he did not understand all the requirements of playing in that position, especially without the ball. Now he works really hard, he recovers the ball, he puts pressure on and he does all the things that makes him a Simeone type of player.
Koke is the second most improved player at Atletico. He used to be a hard worker and now he is everything, a very complete midfielder. So those are two more reasons for the good results for Simeone's team.
Guillem answers your questions...
Got a question for Guillem? Then send it in using the feedback form below, and then look out for his answer next week...
BEST OF BRITISH
Hi Guillem, I love your weekly column. I was wondering if you could give the Spanish opinion on this. Jamie Carragher sparked a massive debate when he said he thinks Steven Gerrard is better than Frank Lampard and Paul Scholes. In my opinion, Scholes is hands down the best out of the three but what is the Spanish - and your - view? Matty
GUILLEM SAYS: We are talking about very fine lines here. I have heard Spanish players say that Paul Scholes was one of the best players they played against and I heard Gary Neville say he was the best player he has seen. But sometimes he failed to make an impact in big games. Frank Lampard does make that impact. Steven Gerrard has done it in big games with Liverpool, although not so much with England. Coaches have said he strikes the ball in the most gifted way. He has evolved from being a No10, to playing wide right to being a central midfielder and now a No4 in front of the defence so there seems to be more to him than Frank Lampard in terms of variety to his game. There is a bit of personal taste and I just like Gerrard. For me it would be between Gerrard and Scholes and because of Istanbul especially - I was there and wrote a book about it - I will go for Gerrard.
NO 9
Hi Guillem, do you think Barca, like Real, lack a second striking option? I feel they only have Messi so if there's any injuries or their gameplan isn't quite working there is not another option. David S and Harout
GUILLEM SAYS:They have scored four more goals at this stage of the season compared to last season. So we have to move on a bit from thinking a striking option is just a tall No9. They are scoring a lot of goals. One of the things Barcelona have done is change the question, so we have to change the answer a bit. The question is: are they scoring goals? The answer is, yes. So we have to get away from the idea that you have to have a tall No9. But I think Martino would like another option up front, not to play regularly but to offer something different. At the moment they would prefer to have another centre back.
STRONG FOUNDATIONS
Hi Guillem, given that Villarreal are in a healthy financial position, and the way their current squad are playing, do you think we will see them in the Champions League or Europa League football in the next two seasons? Sam
GUILLEM SAYS:They have been so clever with their finances that I think they will be Europa League or Champions League contenders in two or three years. It is a young team with some older players too and the manager, Toral, is working in the best environment he has ever been. I've spoken to him a few times this season and he is really happy with what he has. Of course if they continue their financial position they will be able to sign players at a time when everyone else struggles so that can only take them up the table. Europa League is a possibility for them this season.
CITY CONTENDERS
Hi Guillem, three years ago I think if you asked people who the best team in the world was the majority of them would answer Barcelona - but with a new manager and a new style to their game, do you think this is still the case? Wagers21
GUILLEM SAYS: That Barcelona team changed the history of the game so they had to be the best in the world then. Now they are more like a normal team in the way they play. So to say which is the best in the world is a massive debate. I think Manchester City - and I said it at the beginning of the season - will be Premier League champions and I think the will win it by a big margin, more than 10 points. I think they will be challenging for the Champions League as well. So maybe this will be the year when they prove to be the best.