Barcelona have hit top form ahead of Man City Champions League tie, says Guillem Balague
Man City have the tools to beat Barcelona, but the Spanish side have hit top form, says Guillem Balague.
Last Updated: 17/02/14 10:51am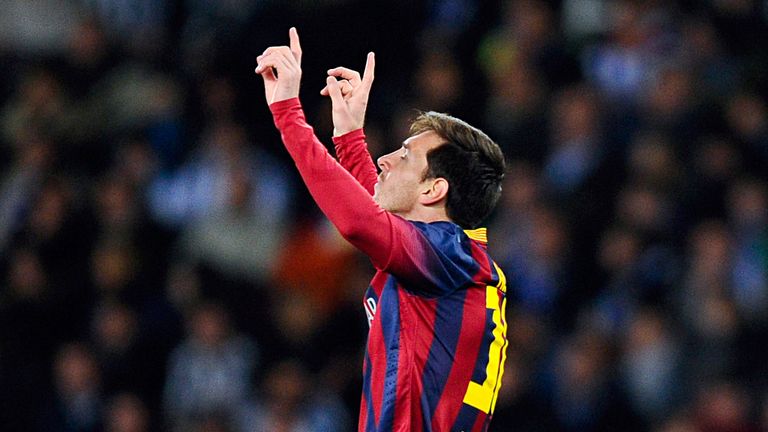 City need better centre-backs - centre-backs that can push the team higher up - midfielders, when Fernandinho isn't there, to work defensively, a variation of forwards and one more winger. It is a team that can be improved.
Even though on paper it is the best squad individually in the Premier League, City lack not just those players I'm talking about but also, until recently, have dropped points for feeling an excess of confidence and starting games poorly.
I think they've corrected that problem - and the result at Bayern Munich was key - but I do know the defeat against Chelsea at home in the league really affected them and their confidence. It was good they beat Chelsea in the FA Cup at the weekend, but they felt they let themselves down in that league match, in a key moment of the season.
Now another key moment of the season arrives - and one you can base the rest of the campaign on.
City have everything you require to beat Barcelona: they are good physically, good at set pieces, can play counter-attacking football and have effective strikers.
But they are facing the best Barcelona of the season so far.
Quite clearly manager Tata Martino had been experimenting with the team and trying to find new alternatives that suited both the rotation system he was trying to apply - so that at this point everybody was fresh - and ways of not being beaten badly by the likes of Bayern and other teams that know how Barcelona worked.
But interestingly, what's given him the best Barcelona is a return to their essence.
Control
After the defeat against Valencia at the start of February there were talks between the players and the manager about where the team was going and they decided they had to go back to their principles.
They brought Andres Iniesta back into the team, they applied pressure high up, there were no more long balls but more build-up from the back, the full-backs and wingers pushed out very wide and there was a lot more running behind the defence.
They also put a lot of their midfielders together, for instance, against Real Sociedad, Xavi, Iniesta, Cesc Fabregas and Segrio Busquets worked together for the first time since El Clasico in the league.
That worked and, although Xavi was absent for the 6-0 win over Rayo Vallecano on Saturday, you saw the links between Cesc and Lionel Messi - they've given each other 11 assists this season - but also between Iniesta and Cesc.
That latter combination allows the team to control the ball and very rarely - but sometimes when the circumstances are right - Barcelona can counter-attack.
But generally now is all about control, distributing the ball very quickly, recovering the ball early and trying to avoid dropping deep and allowing teams to attack them because they are worse that way.
It reminds me certainly of Pep Guardiola's Barcelona.
Best
The criticism for Tata that we put in this column all this year is that he was trying to look for alternatives without having the players for it.
If you want to play box-to-box football or more counter-attacking football you need different players. Martino, when he asked the board for players, they were like 'nope, we're not changing, not yet anyway, changes will take place in the summer'.
So Barcelona have gone back to their essence - and City are finding them at their best.
That's why you can only analyse these games properly in the days before the match, not when the draw takes place.
I do feel Barcelona are favourites but it could all be decided in the second leg.
If Barcelona had continued with the ideas Tata had early in the season I would have said City had more of a chance but they are also finding Messi at his best, too.
He's been keeping his position as a false nine, instead of a false eight, which he has been doing for a bit, dropping too deep, which meant Xavi had to move deeper and there weren't enough people in the box when chances appeared.
Now everything is more balanced, he's gone back to a false nine, is operating closer to the box and scored six goals in last four games.