Swansea and Norwich to provide upsets as Jeff Stelling provides his Super 6 predictions
Last Updated: 02/01/16 12:07pm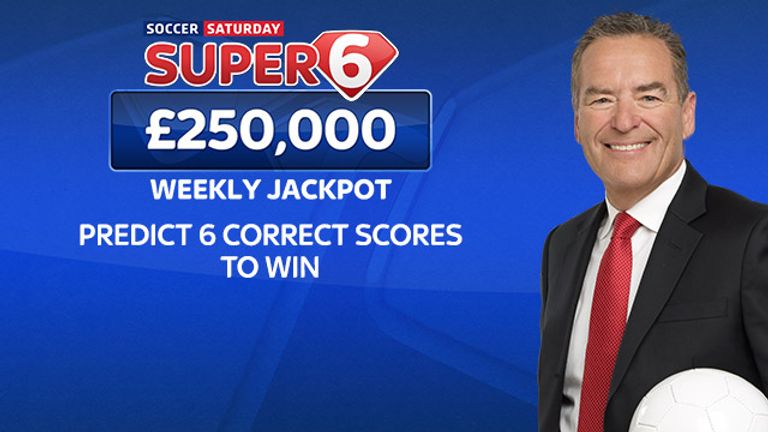 Jeff Stelling provides us with his advice for the first round of Soccer Saturday Super 6 in 2016, with £250,000 up for grabs in the free-to-play game.
The Soccer Saturday host is in agreement with the majority in four of Saturday's Super 6 matches but is predicting Swansea to deny Manchester United and Norwich to upset Southampton at Carrow Road.
Here's what Jeff makes of the most popular predictions so far...
Arsenal v Newcastle
Most popular prediction: 3-0 (38%)
Jeff says:  I've got to go with the 38%. Historically Arsenal have a great record against Newcastle who have taken some serious beatings, particularly in London. Arsenal have won the last eight and scored 21 goals in doing so.
I wasn't blown away by Arsenal against Bournemouth but Newcastle just struggle desperately to perform on the road, only five away goals and concede a lot. I've always been of the opinion Newcastle won't go down but I'm getting a bit worried for them at the moment.
Ozil is in fantastic form as we know, and the way he teamed up with Theo Walcott against the Cherries was impressive. I'm going for 3-0 and another difficult day for Newcastle.
Jeff predicts: 3-0
Leicester v Bournemouth
Most popular prediction: 2-1 (35%)
Jeff says: I'm going for 2-1 as well! Interestingly, Claudio Ranieri said his team can have a good New Year's Eve so let's hope they don't celebrate too hard.
Leicester have failed to score in their last two games which is curious. No question before the game Leicester would have taken 0-0 against City. The bubble hasn't burst for Leicester, they've won four of their last five against Bournemouth and I think they've just got a bit more than the visitors - they've got strike power, they are solid at the back, Wes Morgan's had a great season. I just think Leicester will shade it and are a bit more streetwise at Premier League level.
Jeff predicts: 2-1
Man Utd v Swansea
Most popular prediction: 1-0 (23%)
Jeff says: I'm going to go for a mini upset in this one. United were better against Chelsea, but you can't get away from the fact that they haven't won in eight games in all competitions and have only scored four in the last eight home games.
Swansea have a good record at Old Trafford. They've won two of their last three visits and are rock solid at the moment under Alan Curtis, keeping clean sheets in their last three games so they are much harder to break down.
It's one of those games where you expect United to turn it on and roll Swansea over but that has been the case on numerous occasions this season - that's why I'm going to go for a 1-1 draw.
Jeff predicts: 1-1
Norwich v Southampton
Most popular prediction: 1-1 (28%) and 1-2 (28%)
Jeff says: Southampton were absolutely blinding against Arsenal, the Gunners were outplayed and out battled so I was really disappointed when Saints went and lost at West Ham - they do have a habit of producing a bad performance.
Norwich's need is the greater at the moment. They have been decent at home recently, unbeaten in their last four and kept a clean sheet last time out. I've just got a feeling this could be a difficult afternoon for Southampton, at St Mary's they absolutely tore Norwich apart but I think this could be revenge.
Jeff predicts: 2-0
Sunderland v Aston Villa
Most popular prediction: 1-1 (24%)
Jeff says: The one thing we can correctly predict is that Sunderland and Aston Villa are going to go down. Villa are in more trouble at the moment but it's pretty marginal. Sunderland were okay against Liverpool but still lost.
Villa defensively are a total shambles, even their experienced players are not doing what they should be doing and they don't have much of a goal threat - they are just short in every single department. I can't make a case for either side winning this so I'm going to go for a 1-1.
Jeff predicts: 1-1
West Brom v Stoke
Most popular prediction: 1-2 (34%)
Jeff says:  I've got to agree with the players again and am going for a 2-1 win for Stoke. Over the years Stoke have got a great record against West Brom, only losing four of the last 36 and they'll be looking to put right the wrongs of what happened at the Britannia earlier in the season when they finished the match with nine men.
Stoke at the moment are a revelation. Look at the surprise packages this season and how brilliantly Leicester have done and Palace have been terrific, but you've got to put Stoke right in that category as well.
The performance at Everton on the back of the win against United was remarkable. Mark Hughes has done a great job with some great pieces of business in the transfer window.
West Brom are pretty solid without being inspirational but they've lost five home games and are the only Premier League side without a goal in the first 15 minutes so if Stoke start quickly I can only really see an away win.
Jeff predicts: 1-2