Sky Sports commentator Martin Tyler reflects on England's exploits in Samara which sealed a first World Cup semi-final since 1990.
These are thrilling times to be English out here in Russia
Samara used to be the centre for the Soviet space programme. On Saturday, it was the setting for England's most successful World Cup probe of the 21st century. Harry Maguire found lift off as the Kings of Corners made their way into only the country's third semi-final.
The one time closed city, 2500 miles due east of London, lacks a lot of the sophistication of some of the other host venues. The long strip through the middle of the sixth largest conurbation in Russia is flanked by ageing block after block of flats which must have been built for those military workers of the past.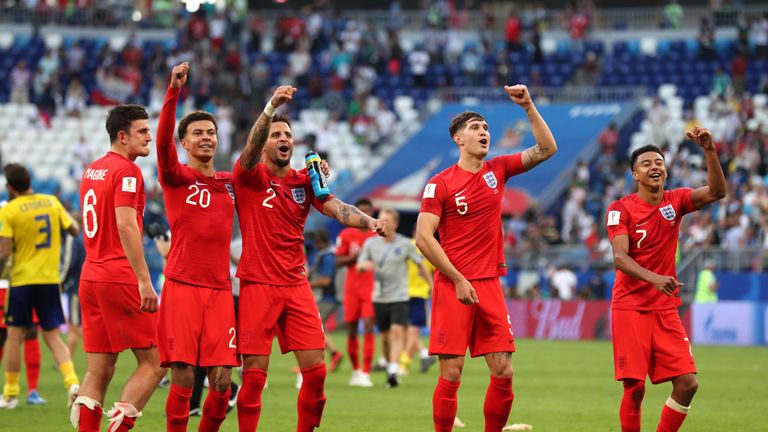 But it will always be remembered with affection by the England fans who made it out here. It was a trip too far for Sweden who lacked pace and energy. England had had the more demanding tie in the round of 16 but you would not have known it. Now we wait to see what extra-time and penalties and the heat of Sochi may have taken out of Croatia.
A day earlier my path crossed with Gary Neville's for the first time in the tournament. Always a pleasure to see him and feed off his energy and enthusiasm. Both of us in our respective broadcasts realised that the absence of Edinson Cavani hit Uruguay hard against France.
The storylines were better than the match itself. Rafael Varane, with a lapse of defensive concentration, had cost France the quarter-final against Germany four years earlier. His opening goal brought closure to that sense of guilt.
Fernando Muslera then made his catastrophic mistake in the very same goal where Willy Caballero had made his howler for Argentina against Croatia. No South American 'keeper will ever want to go anywhere near Nizhny Novgorod ever again!
That the beneficiary was Antoine Griezmann also added to the tale. The godfather of his daughter is Uruguay's captain Diego Godin. Griezmann had even claimed in the build-up to feel that he felt "Uruguayan" and he certainly did not glory in Muslera's embarrassment.
Gary and I were then on the and flight back to Moscow at 1.30am, having watched on television Belgium dispose of Brazil in another unpredicted twist to this amazing World Cup. There were nine Premier League players in their starting XI, prompting the thought that if Belgium go all the way football is still coming home!
At three in the morning Gary took a taxi back to his base in the capital. I found a bed in an airport hotel for a four-hour kip before boarding the flight to Samara. No worries, I thought, I can catch up with sleep after the game.
Not so easy. Too excited to sleep. England are in the World Cup semi-final!
To be continued...