World Cup: Premier League reject FIFA proposals to move Qatar 2022 to winter
The Premier League have rejected FIFA proposals to move the 2022 World Cup in Qatar to the winter.
Last Updated: 18/07/13 6:11pm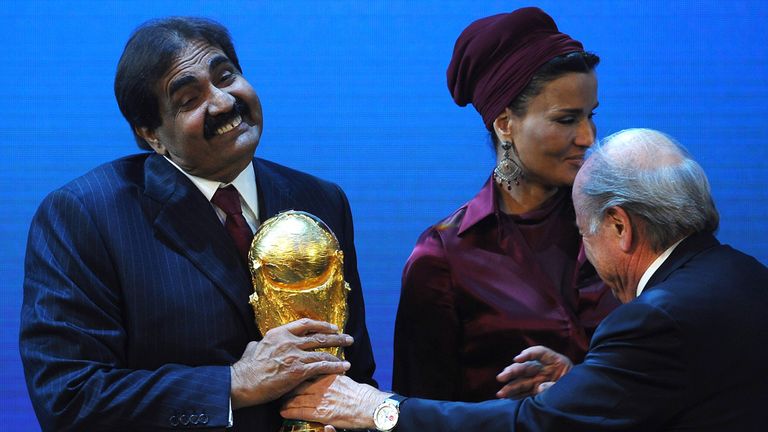 League bosses predict the move would be "neither workable nor desirable" as football's world governing body announced a decision on the matter would be taken at the start of October.
FIFA president Sepp Blatter confronted the issue of playing in the searing June heat of Qatar by stating he believed it could not take place in the summer.
FIFA's executive committee will meet on October 3 and 4 in Zurich to discuss the issue and the Premier League confirmed it would oppose any such switch to earlier in the year on the grounds it would cause major disruption to three domestic seasons - the 2021/22 campaign and the ones either side - as well as impacting on broadcasting contracts.
A Premier League spokesman said: "The Premier League position remains unchanged. The prospect of a winter World Cup is neither workable nor desirable for European domestic football."
A FIFA spokesman said: "As mentioned by the FIFA president (Wednesday), he will bring forward the matter of playing the 2022 FIFA World Cup in Qatar in winter to the FIFA executive committee on the occasion of their next meeting scheduled for October 3 and 4, 2013.
"This matter will now be with the executive committee and we can therefore not comment further before the meeting has taken place."
Blatter has been moving towards the idea of a winter World Cup for several
months, and said on Wednesday: "If this World Cup is to become a party for the people, you can't play football in the summer. You can cool down the stadiums, but you can't cool down the whole country."