FIFA president Sepp Blatter dismisses calls to boycott 2018 Russia World Cup
Last Updated: 21/03/15 9:04am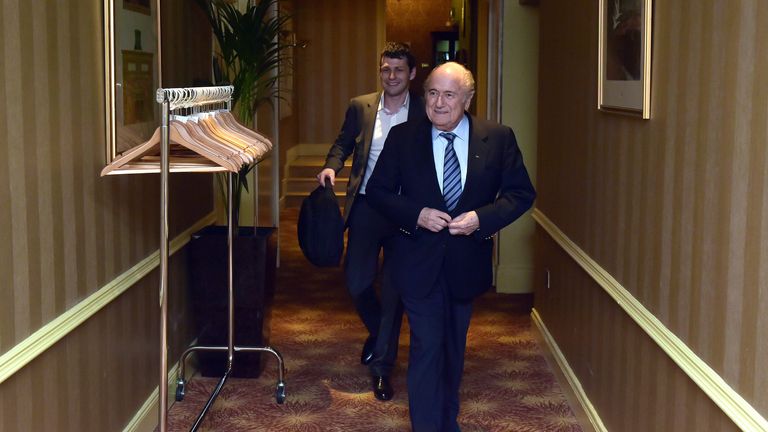 Sepp Blatter is standing by the decision to award Russia the rights for the 2018 World Cup, claiming the tournament can "stabilise" the region.
Ukraine president Petro Poroshenko has called for a boycott of the 2018 tournament in protest at Russian military involvement with pro-Moscow separatists.
But the FIFA president insists that would be counter-productive as the tournament could help bring peace.
"What is 100 per cent is that the World Cup will take place in Russia in 2018, that's sure," Blatter said.
"A boycott of the World Cup or any sporting event has never brought any solutions to anybody.
"The European Parliamentary committee is asking for a boycott of the World Cup three or four months ago - it was a boycott of the World Cup in Qatar and now it is the World Cup in Russia.
"In my opinion the World Cup in Russia will be able to stabilise all that region in Europe."
Blatter also said there would be no changes to the winter dates for the 2022 World Cup in Qatar, despite the organisational chaos it would likely cause to domestic leagues. 
FIFA has moved to quieten the protests of clubs around the world by trebling the amount paid for the release of players for the next two World Cups from £47.3million in Brazil last year to £141.3million for Russia and Qatar.
European Clubs' Association chairman Karl-Heinz Rummenigge welcomed the compensatory changes.
"In serious and fair negotiations, the ECA has agreed with FIFA on a transparent economic and organisational cooperation until 2022," Rummenigge said.
"For the first time, the European clubs will have a direct say on the international match calendar, which was very important to me personally. 
"As a result, the ECA will be actively involved and contribute constructively to the design of the calendar, especially for 2022."
The support comes as good news for Blatter who is still campaigning to win his fifth term in FIFA's top job. Despite the looming election date, the 79-year-old is still refusing to release a manifesto, saying he will stand on his record after 17 years as president.
"I am not campaigning, I am doing my job as FIFA president and I will do that until last day of my mandate which was given to me in 2011," he said.
"My manifesto is the work I have done in FIFA - I have now been 40 years in FIFA and 17 years as president of FIFA. This is my manifesto."
Blatter revealed FIFA has made a profit of £227.2million over the last four years and now has £1billion cash in the bank.
He defended the large cash reserves, saying the funds were needed in case a World Cup, which generates almost all the money for FIFA, had to be moved or postponed.