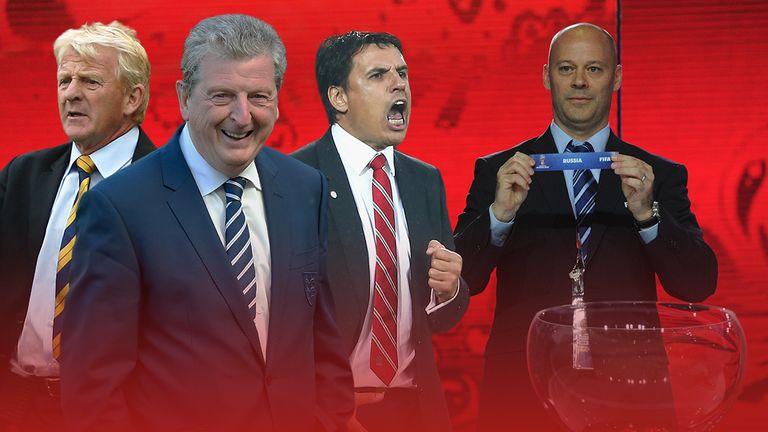 The road to Russia starts on Saturday as the qualifying draw for the 2018 World Cup takes place in St Petersburg.
The draw will decide the destiny of 141 nations from around the world, including 52 European entrants, and determine the difficulty of their qualifying task.
Ahead of the draw, which will be shown live on Sky Sports News HQ and covered on the Sky Sports website and Sky Sports' mobile apps, we have looked at the all-important questions.
When and where is the draw?
The draw takes place on Saturday, July 25 in the Konstantin Palace in St Petersburg, starting at 6pm local time (4pm BST).
Who is in the draw?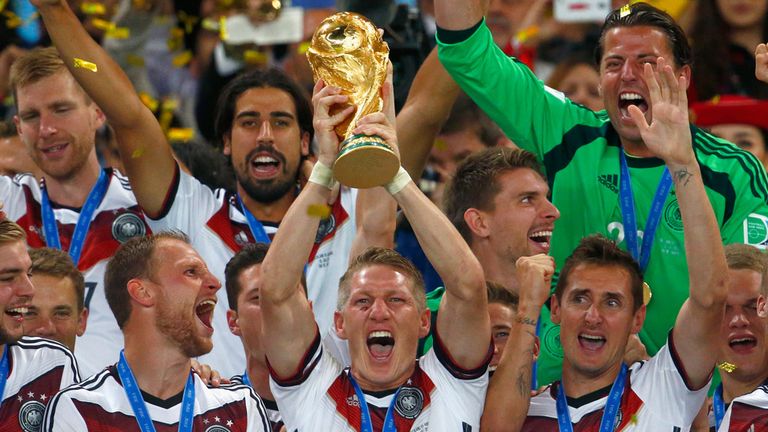 There will be 141 nations from five continents entered into the draw, with Asia not involved as their qualifying campaign is already underway.
The draw will be made up of 52 nations from Europe, 53 from Africa, 18 from North, Central America and the Caribbean, 10 from South America and eight from Oceania.
Russia will not be involved as they qualify automatically as hosts, but they will be placed into one of the five-team European groups to play friendlies, home and away, against all the nations.
Zimbabwe, who were expelled from the competition for failing to pay their coach, will be missing and Gibraltar will also not be involved as they are not members of FIFA, a decision they are appealing to the Court of Arbitration for Sport.
Who is doing the draw?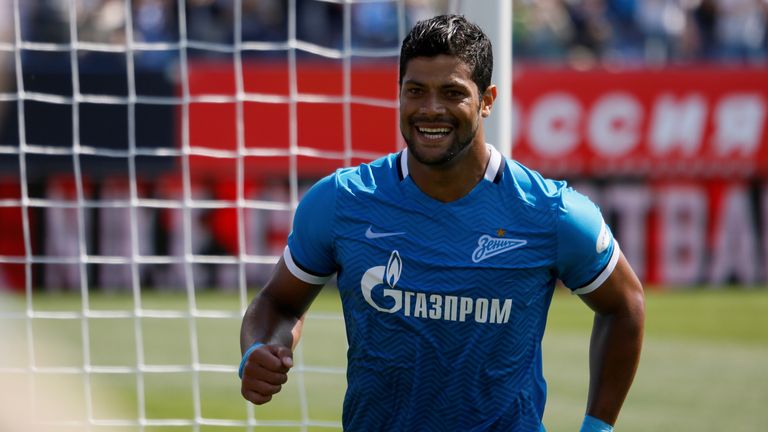 Assisting FIFA secretary general Jerome Valcke in pulling the balls out of the pots will be an all-star cast of footballers past and present from around the world.
Ronaldo, Diego Forlan, Fabio Cannavaro, Samuel Eto'o and Olivier Bierhoff will all be in attendance although Zenit St Petersburg striker Hulk has pulled out.
How does it work for European teams?
The 52 entrants from Europe, including England, Scotland, Wales, Northern Ireland and Republic of Ireland, will be draw into seven groups of six and two groups of five.
The nations have been seeded in six different pots, based on FIFA world rankings in July 2015, with each six-team group containing one team from each of the six pots and each five-team group containing one team from each of the first five pots.
England, France, Germany, Italy, Spain and the Netherlands will all be drawn into six-team groups due to television deals and Azerbaijan and Armenia cannot be drawn together due to the political situation between the two countries.
The nine group winners will qualify automatically for Russia 2018, while the eight best group runners-up (decided by all results except against the last-placed team in six-team groups) will take part in a play-off.
Who is seeded in which pot?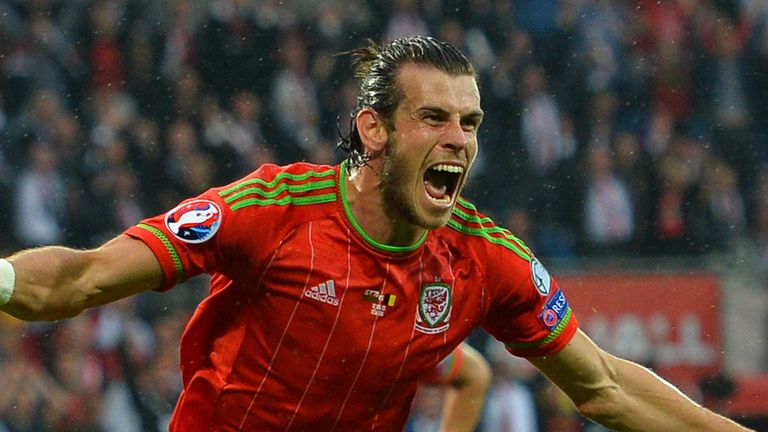 After climbing up to 10th in the world rankings, Wales are seeded in pot one along with England, Germany, Belgium, Romania, Portugal, Spain, Croatia and the Netherlands.
Italy, France and Denmark are among the biggest nations in pot two while Scotland and Northern Ireland are in pot three along with Poland, Sweden, Ukraine, Serbia, Greece, Albania and Hungary.
Republic of Ireland join Turkey, Israel, Slovenia, Bulgaria, Faroe Islands, Montenegro, Estonia and Norway in pot four while pots five and six are made up of the lowest-ranked teams.
Pot one: Germany, Belgium, Netherlands, England, Wales, Romania, Portugal, Spain, Croatia.
Pot two: Italy, Slovakia, Austria, Switzerland, Czech Republic, France, Iceland, Denmark, Bosnia-Herzegovina.
Pot three: Poland, Ukraine, Scotland, Hungary, Sweden, Albania, Northern Ireland, Serbia, Greece.
Pot four: Turkey, Slovenia, Israel, Republic of Ireland, Norway, Bulgaria, Faroe Islands, Montenegro, Estonia.
Pot five: Cyprus, Latvia, Armenia, Finland, Belarus, Macedonia, Azerbaijan, Lithuania, Moldova.
Pot six: Luxembourg, Kazakhstan, Liechtenstein, Georgia, Malta, San Marino, Andorra.
What's the best/worst case for England and Wales?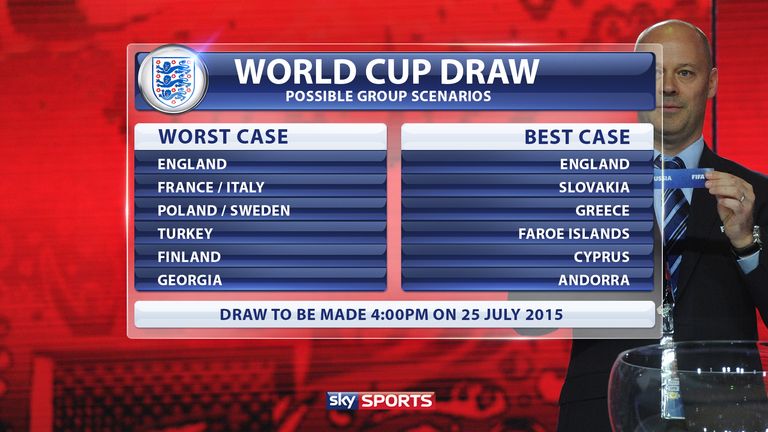 With only the winners of each group qualifying automatically for Russia 2018, getting a decent draw will be more important than it is for European Championship qualifying, when a third-placed finish is now good enough for a play-off spot.
The worst-case scenario for England and Wales would appear to be a group containing France/Italy, Poland/Sweden, Turkey, Finland, Georgia.
However, if the draw turns out well, they could also be pitted against Slovakia, Greece, Faroe Islands, Cyprus and Andorra.
Scotland, Northern Ireland and Republic of Ireland are likely to be drawn in far tougher groups, with Romania or Wales potentially the weakest top seeds they could face.
What next?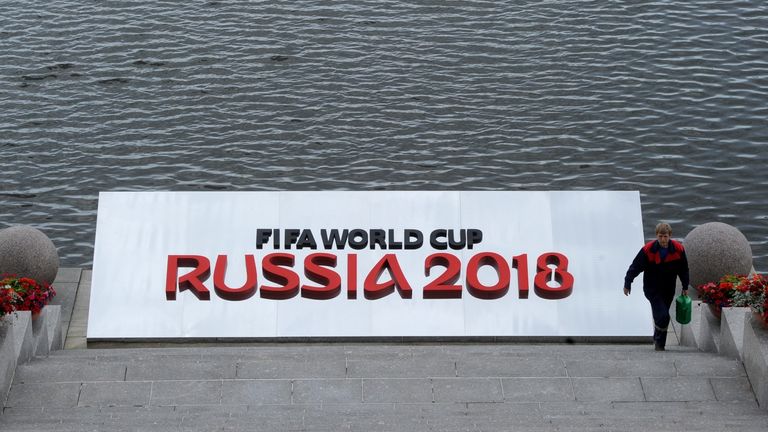 Once the draw is done, European teams will have to wait for over a year to start their qualifying campaign - but the planning will start immediately because the fixtures will be confirmed on Sunday, 26 July.
The first matches will take place on September 4-6, 2016 and the groups will be concluded on October 8-10, 2017.
The World Cup itself runs from June 14 until July 15 in 2018.
Watch the 2018 World Cup qualifying draw live on Sky Sports News HQ from 4pm on Saturday.