Man Utd midfielder Paul Pogba not on Real Madrid's radar, says Guillem Balague
Last Updated: 16/02/18 6:35pm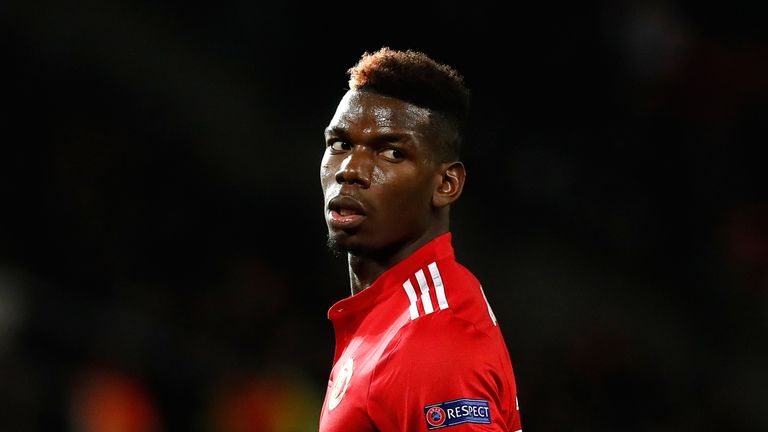 Manchester United midfielder Paul Pogba is, contrary to reports, not on Real Madrid's radar, says Guillem Balague.
Jose Mourinho substituted Pogba in United's defeats at Tottenham and Newcastle, while the Frenchman started their victory over Huddersfield on the bench.
Mourinho's handling of Pogba's dip in form has fuelled speculation his future may lie away from Old Trafford, but Balague is adamant this is not the case.
"It is normal that when things are not perfect with the superstar of a big club, stories emerge in the media," Balague told Sky Sports.
"Regarding Pogba, a leak to French publication L'Equipe suggested he wants a different position on the pitch to improve his performances.
"When reports like that emerge, don't be surprised that reports claiming Real Madrid want him soon follow.
"But they don't, they do not have the money to finance such a deal after they buy their main targets this summer. Perhaps more importantly, Real president Florentino Perez does not view him as a target."
Balague has revealed Eden Hazard and either Thibaut Courtois or David de Gea remain Real's primary transfer targets when the window reopens this summer, with Perez not interested in Pogba, who he turned down the chance to sign when he left United in 2012.
"Hazard, Courtois or De Gea are the big names Real want at this moment in time," he added.
"Other targets may appear depending on their performances over the rest of the season or at the World Cup. That is how Real operate.
"I will tell you an interesting story about Pogba and Real Madrid. When he decided to leave Manchester United he was offered to Real Madrid B for €100,000.
"The coach of the team at the time told Florentino: 'Bring him to me when he cost €100m'.
"Well, Pogba does cost more than that now, but he is not the player they want for next season."