Everton goalkeeper Jan Mucha pondering future options
Jan Mucha's agent has met with David Moyes for talks about what to do when his Everton contract expires in the summer.
By Vasek Kadlec
Last Updated: 22/03/13 2:24pm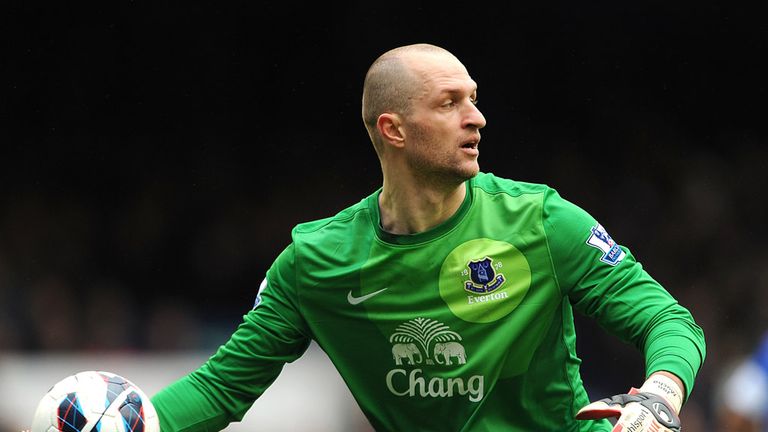 Mucha, who arrived at Goodison Park in the summer of 2010, had to wait until earlier this month to make his Premier League debut as he covered for the injured Tim Howard.
He has now played in three consecutive games and performed well, but will be a free agent at the end of the season and is allowed to speak to other clubs.
The Slovakian's representative, Jozef Tokos, told sport.aktuality.sk: "There are a number of options at the moment.
"He may reach an agreement with a new club during the season, which is legitimate according to FIFA. At the moment I cannot say more than that there are clubs interested in him. Naturally, he can make an agreement after the season as well.
"As for Everton, there is no chance an agreement will be made during the season. It is publicly known that the current manager David Moyes, announced that he would not yet sign an extension and that the club would be negotiating it only after the season.
"I had a very useful meeting with Mr Moyes last week but at the moment I cannot reveal anything about what we discussed."
Mucha has helped Everton to Premier League wins over Reading and Manchester City in recent weeks and is hopeful they can finish the season strongly, although he was hurt by the shock FA Cup loss to Wigan Athletic.
The goalkeeper said: "I'm glad that I've got a chance to be in goal. There have been positive reviews on my performances but I'm most satisfied about the fact that we won both league games.
"The bad FA Cup fixture will make me sorry for a long time yet but, on the other hand, it's nice to look at the Premier League table.
"We are quite high and close to the Champions League qualification spots. There are not many games left to be played in this season, so I believe we will manage to stay there."