Zoltan Gera free to talk with other clubs as West Brom yet to extend deal
Zoltan Gera is free to talk with any interested parties as West Brom are yet to take up a contract extension option.
By Juha Pal
Last Updated: 30/05/13 3:26pm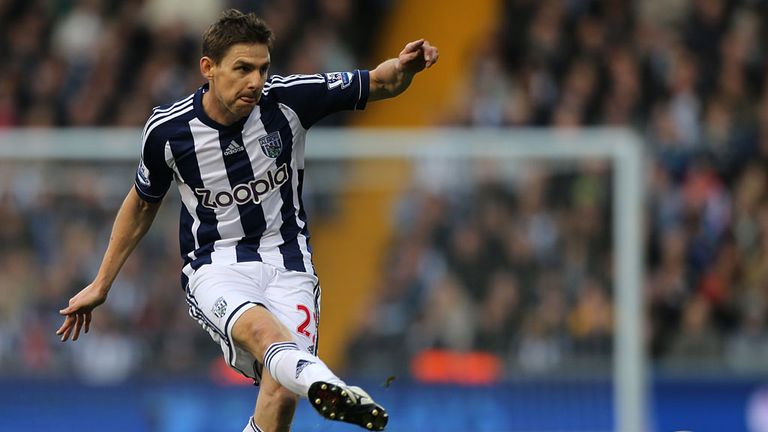 The experienced midfielder will become a free agent this summer if no agreement is reached with the Baggies.
There remains a possibility that he will stay on at The Hawthorns, with a delay in discussions partly due to a serious knee injury.
Gera's representative has, however, revealed that the 34-year-old will have other options to consider if West Brom decide to turn their attention elsewhere.
Vladan Filipovics told NSO.hu: "There was an option in Zoltan Gera's contract which could allow the club until a certain time to extend the player's contract automatically. But West Brom officials haven't done this so far which means Gera's contract expires this summer and he is free to talk with other clubs.
"It doesn't mean that he will definitely leave. If West Brom leaders want to talk then we can have new negotiations, but from now on we can consider other offers too.
"The most important thing for Zoltan is that he recovers from his injury as soon as possible, but he's a marketable footballer. There are interested clubs, not only from England."
Negotiations
Gera would prefer to remain at West Brom if possible and believes a deal can be thrashed out.
He told Nemzeti Sport: "My contract would have been extended automatically if I'd played a certain number of games, but I didn't have the chance to do so because of my injury in January.
"My agent has informed me that there will be negotiations with West Brom in the following days.
"My point of view is that I'd like to stay and the feedback I have heard from the club is that they would be open to extending my contract."