Man City target Alvaro Negredo closer to Sevilla exit after they signed Carlos Bacca
Man City target Alvaro Negredo looks to have moved closer to the Sevilla exit door after they signed Carlos Bacca.
Last Updated: 10/07/13 11:35am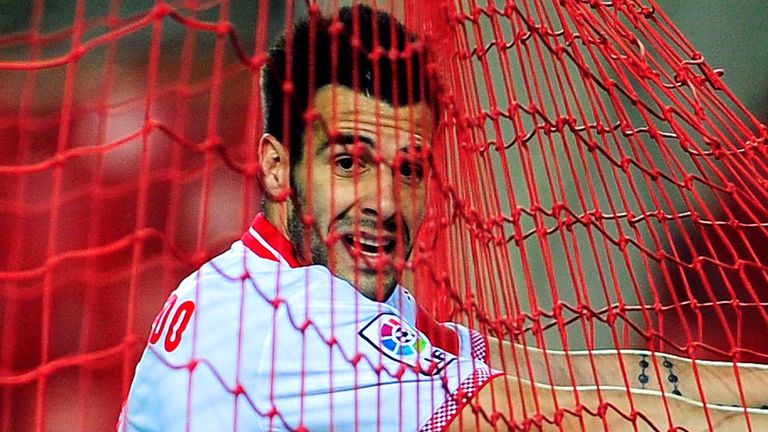 Sevilla president Jose Maria del Nido insisted earlier this week that his club had not received any offer from Manchester City for 27-year-old Negredo, who has indicated he would like to leave the Andalusian club this summer.
Bacca has agreed a five-year contract with Sevilla and has a 30million euros release clause in his contract, the club announced on their official website.
The deal was sealed after Sevilla's sporting director Ramon Rodriguez, known as Monchi, travelled to Manchester to finalise terms with the player, who is on a pre-season tour with Club Brugge.
Neither Brugge nor Sevilla have confirmed the fee, which is reported to be around 7million euros.
Bacca, who will travel to Spain on Wednesday, confirmed the deal on Tuesday night, writing on his official Twitter account: "Thanks to God, next destination Sevilla."
He also told Club Brugge's website: "This is truly a dream come true. When I came to Europe, it has always been my dream to play in the Primera Division.
"It would have been a huge disappointment if Club Brugge and Sevilla FC had failed to reach an agreement.
"I am already 26 years old so for me this was a once-in-a-lifetime opportunity.
"I have had an amazing spell at Club Brugge. The fans are brilliant and I will remember them for the rest of my life.
"And I'm happy to say that this transfer has not only gone well for me, but it's also the biggest transfer in the club's history. And I can honestly say I'm quite proud of that."
The move will put City and Tottenham on the alert as the Colombia international appears to have been bought as a replacement for Negredo.
City have emerged as the favourites to sign the striker, who was the highest-scoring Spaniard in La Liga last term with 25 goals.