Transfer News: QPR goalkeeper Julio Cesar may be on the move in January
QPR manager Harry Redknapp says he expects Julio Cesar to leave during the January transfer window.
Last Updated: 13/12/13 3:01pm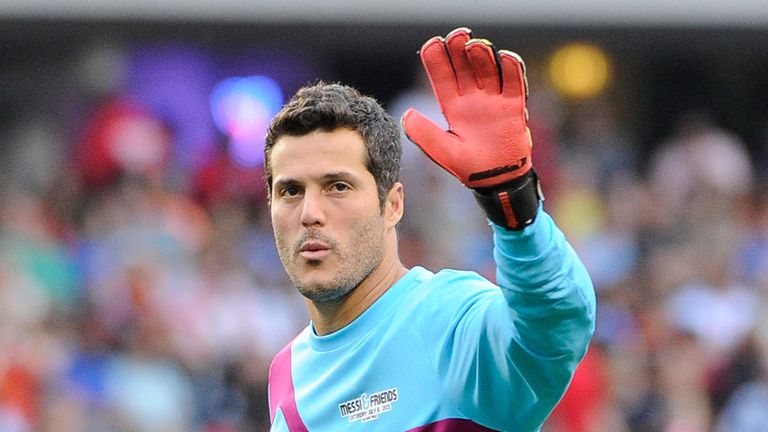 The 34-year-old is Brazil's number one goalkeeper but has not played for QPR this season, with Robert Green getting the nod as the London side strive to return to the Premier League.
With the World Cup in Brazil looming next summer, Cesar is likely to want regular football in the second half of the season and Redknapp says he is attracting interest from Premier League clubs.
"I would think there is every chance that Julio will go," said Redknapp.
"He wants to play in the World Cup for Brazil and he needs to be playing.
"He's a fantastic goalkeeper, for me he's a goalkeeper for the top level anywhere in the world. Hopefully, something will come up for him in January.
"We've had a few clubs interested in him, which is not a surprise to me because, if you were at a big club, he'd be right there on your shopping list because he is top class.
"We've had a Premier League club on and also several from abroad, big clubs as well. There will be interest in him for sure."
Redknapp does not think QPR will be bringing many players in when the window opens, adding: "I don't see us doing too much. Unless we get injuries, I am not desperately looking."
The R's have just signed the experienced Yossi Benayoun but he will not be making his debut at Blackpool on Saturday.
"He won't play this weekend," said Redknapp. "He is going to stay here and work hard.
"He is a quality player, he will be an asset to us. He's capable of scoring and making goals.
"We are pretty much OK, most of the squad is fit. We are in good shape."