Cristiano Ronaldo's Serie A impact assessed as Juventus clinch eighth straight title
Forward has won league title in third different country
Last Updated: 21/04/19 7:48am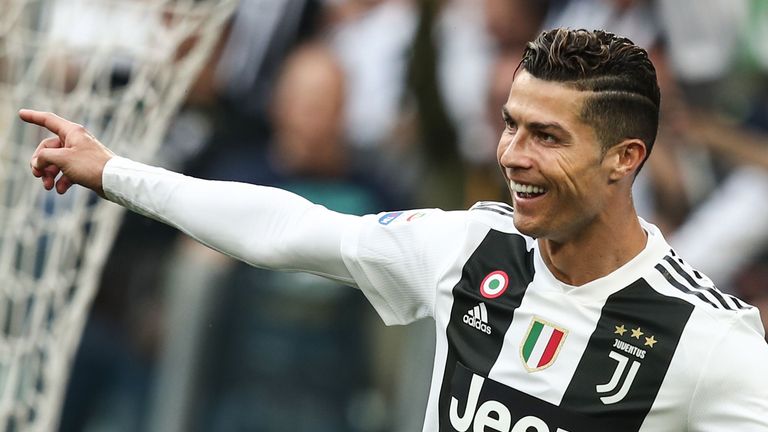 Cristiano Ronaldo may have suffered a rare Champions League quarter-final defeat in midweek but on Saturday he became the first player to win titles in England, Spain and Italy.
Juventus' 2-1 victory at home to Fiorentina guaranteed an eighth-straight league title with five games to spare.
Defenders Giorgio Chiellini and Andrea Barzagli have been present for the whole of this eight-year dominance, but for Ronaldo it means domestic success in a third different country after joining the club from Real Madrid last summer.
Here, we take a closer look at the record - and Ronaldo's impact in Turin...
The England-Spain-Italy hat-trick
For a man with 52 career hat-tricks, good things come in threes for Ronaldo, and he has now added a Serie A medal to go alongside those he won in the Premier League and La Liga.
Ronaldo won the Premier League three times with Manchester United from 2006/07 to 2008/09, and went on to lift the Liga trophy with Real Madrid in 2011/12 and 2016/17.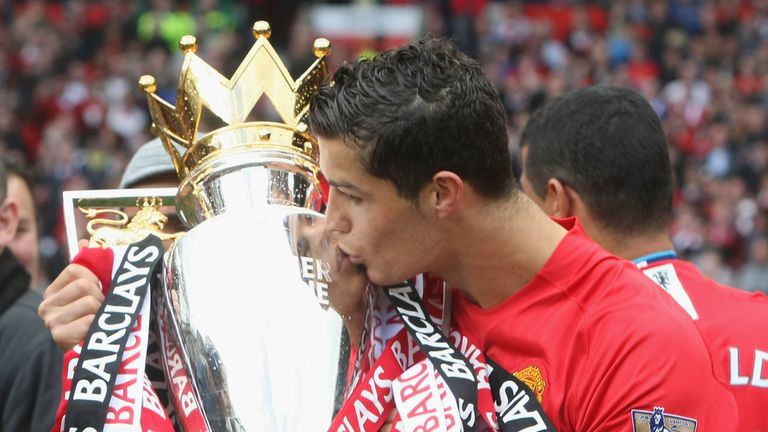 The 34-year-old now stands alone as a league champion in England, Spain and Italy - as far as players are concerned anyway. Manager Jose Mourinho achieved the feat with Chelsea, Inter and then Real Madrid, having already won in Portugal with Porto.
Other players have come close, or achieved similarly impressive feats. David Beckham won the Premier League six times with United and La Liga once with Real, and while he enjoyed Ligue 1 success with Paris Saint-Germain, the former England captain's loan spell at AC Milan during the 2008/09 season saw the Italian club finish third in Serie A.
Meanwhile, Zlatan Ibrahimovic has won league titles in the Netherlands, Italy, Spain and France, but the Swede was unable to add the Premier League trophy during his time in England with Manchester United after doing so at Ajax, Inter Milan, Barcelona, AC Milan and PSG.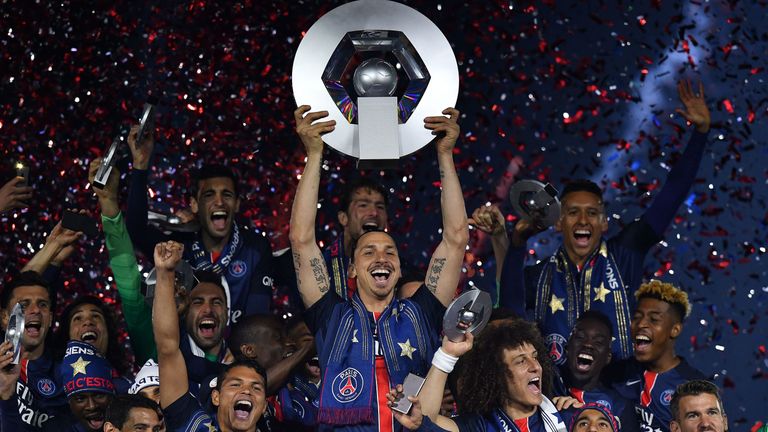 Arjen Robben can also boast domestic success in four countries, but the former PSV, Chelsea, Real Madrid and now Bayern Munich player has not been tempted to feature for a Serie A side. Samuel Eto'o, meanwhile, won titles in Spain and Italy with Barcelona and Inter Milan but his solitary season at Chelsea came one year before their 2014/15 Premier League win.
'The most difficult league'
As a five-time Ballon d'Or winner, Ronaldo has unsurprisingly been an instrumental member of every side he has played for.
After breaking the 30-goal barrier for the first time in the 2007/08 season for Manchester United, Ronaldo reached new levels at Real, scoring 40 La Liga goals in 2010/11, 46 a season later, and then a staggering 48 in 2014/15.
Ronaldo's league record since 2006-07
| Season | Games | Goals | Mins per goal |
| --- | --- | --- | --- |
| 2006-07 | 34 | 17 | 164 |
| 2007-08 | 34 | 31 | 89 |
| 2008-09 | 33 | 18 | 153 |
| 2009-10 | 29 | 26 | 95 |
| 2010-11 | 34 | 40 | 73 |
| 2011-12 | 38 | 46 | 73 |
| 2012-13 | 34 | 34 | 80 |
| 2013-14 | 30 | 31 | 82 |
| 2014-15 | 35 | 48 | 65 |
| 2015-16 | 36 | 35 | 91 |
| 2016-17 | 29 | 25 | 102 |
| 2017-18 | 27 | 26 | 88 |
| 2018-19 so far | 26 | 19 | 118 |
Ronaldo has 19 Serie A goals to his name this season and needs just one more goal to make it 10 straight seasons of scoring 20 or more in a league campaign.
However, his current rate of one goal every 122 minutes is worse than any of his seasons at Real, and Ronaldo admitted last month that Serie A has proven to be his greatest challenge.
"I've adapted to the Italian League and it's a difficult league, the most difficult one for me and for all forwards," he told Dazn. "It's the most difficult league for me, it's full of quality players. I didn't expect this much quality in the Italian league, they're very good.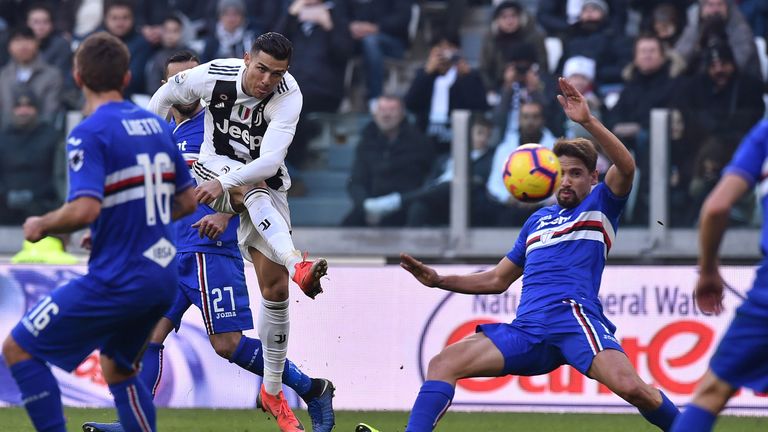 It's harder to score in the Italian league than in the Spanish league. The Spanish league is more open, the teams risk more. Here, not so much. Here, the team's priority is to defend first, and then to attack.
Cristiano Ronaldo
"It's harder to score in the Italian league than in the Spanish league. The Spanish league is more open, the teams risk more. Here, not so much. Here, the team's priority is to defend first, and then to attack.
"That's not true for Spain. Spanish games are more open. Always, with most teams."
So is there an element of truth to Ronaldo's comments? Italian football has long been famed for its defensive approach, but there is not much disparity between Serie A and La Liga in recent seasons.
Serie A vs La Liga goals - Last three seasons
| | Serie A goals (per game) | La Liga goals (per game) |
| --- | --- | --- |
| 2017-18 | 1017 (2.68) | 1024 (2.69) |
| 2016-17 | 1123 (2.96) | 1118 (2.94) |
| 2015-16 | 979 (2.58) | 1043 (2.74) |
Prior to this weekend, there had been 830 goals in La Liga at a rate of 2.59 goals per game. In Serie A, there had been 851 at a rate of 2.67.
Only Barcelona (81) had scored more league goals than in La Liga than Juventus (65) had in Serie A, while Napoli (61), Roma (57) and Atalanta (64) all have more than Real (56).
Meanwhile, with Ronaldo, Juventus have been scoring at a lower rate than they were last season (2.26 goals per game in 2017/18 compared to 2.03), and they will have to score 20 goals in their remaining five games to topple last year's tally of 86.
Now 34, Ronaldo will be out to prove this season is an anomaly statistically, and not a sign that he is on the decline.
Another year to wait
Though league glory on the horizon in Italy, Ronaldo will have to wait another year at least to if he wants to deliver the Champions League to Juventus following their 3-2 aggregate defeat to Ajax in the last eight.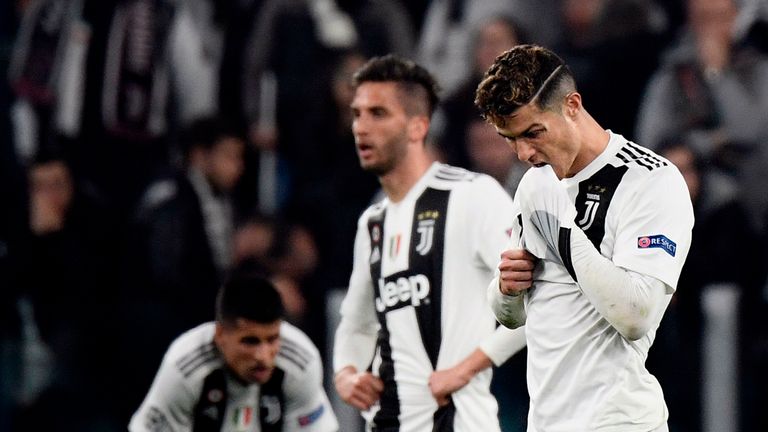 His performances in the competition were central to Juve's desire to bring him to Turin, and though he rose to the occasion with a second-leg hat-trick in the last 16 against Atletico Madrid, he was not able to inspire his side past Ajax despite scoring in both legs.
It means Juve's 22-year wait for European glory goes on, as does Ronaldo's bid to become only the second player to win the competition with three different teams, after Clarence Seedorf (Ajax, AC Milan, Real Madrid).