Serie A: Juventus goalkeeper Gianluigi Buffon pleased with result
Juventus goalkeeper Gianluigi Buffon was delighted to cap his 500th Serie A appearance with a victory at Livorno.
Last Updated: 25/11/13 1:01pm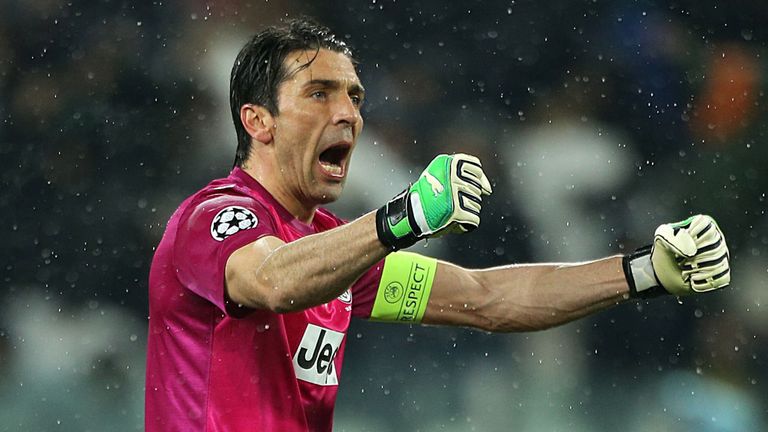 The 2-0 win in Tuscany, Juve's fifth straight triumph, allowed the Turin giants to leapfrog Roma at the top of the standings.
Roma can reclaim top spot provided they beat Cagliari at the Stadio Olimpico on Monday evening.
The result at Livorno was all the more impressive considering that Antonio Conte's Juve kept a clean sheet for the fifth game in a row.
"To have won, gone top of the standings and not conceded a goal certainly puts me in a good mood," Buffon said to www.juventus.it.
"But considering the (four) goals that I gave away in Florence in 15 minutes (Juve lost 4-2 at Fiorentina on October 20), I needed five games like this.
"We have been alert, limiting individual mistakes and we are playing well."
The Italy captain, who started his career at Parma in 1995, is over the moon to have reached such a landmark.
"You need to be a little bit daft, along with having quality, the right mentality and the desire to live a steady life," the 35-year-old Buffon said. "I was an adolescent when I started playing and I didn't have much of a beard.
"Now my beard's thicker and features a few more white hairs, but I've kept a bit of that positive craziness that has helped me over the years.
"I don't know if I'm the strongest today but I know that I have to prove myself all the time.
"At my age, you cannot afford the luxury of making mistakes.
"I feel stronger than when I was a youngster and when I am focused, it's difficult for me to make a mistake in a game."
Buffon became Italy's most capped player when he made his 137th appearance in last month's 2-2 draw against Denmark in a World Cup qualifier.