Serie A: Napoli and Juventus set for thrilling title race run-in
By Tommaso Fiore
Last Updated: 24/04/18 2:41pm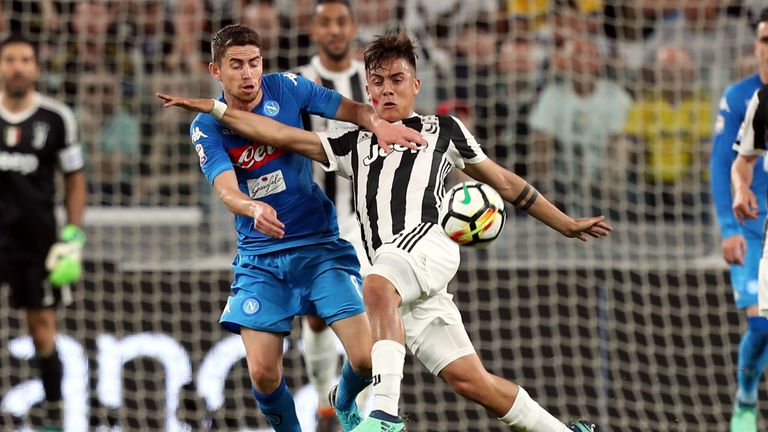 Napoli revived the Serie A title race with a 1-0 win at league leaders Juventus on Sunday night, but how likely are they to break Juventus' six-year domestic dominance?
A late Kalidou Koulibaly header ensured Maurizio Sarri's side took all three points from the Allianz Stadium for the first time in their history to move one point adrift of Juventus with four matches to go.
Napoli are now dreaming of their first league title win in 28 years - the last time being when Diego Maradona was leading their line. Can they pull it off? We analyse the tightest championship contest in Europe to predict whether the trophy will stay in Turin or move down south to Naples…
The run-in
Despite Juventus' one-point advantage going into the final four games, it's arguably Napoli that are in pole position to end the season with the highest point tally.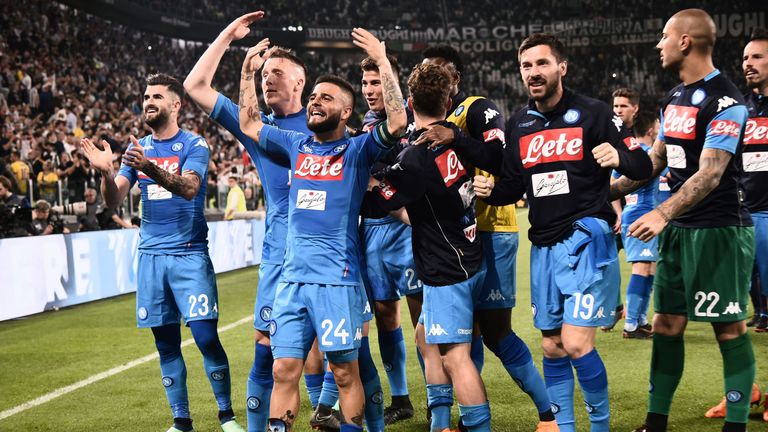 Juve face tough competition and will play their trickiest games on the road - starting with the derby d'Italia at Inter Milan on Saturday, before taking on Champions League semi-finalists Roma in their penultimate outing.
The two home fixtures against Bologna and Verona might not look that daunting, but Max Allegri's squad will have to focus on a midweek Coppa Italia final against AC Milan before heading off to the Stadio Olimpico.
Remaining Serie A fixtures
Juventus: Inter Milan (a), Bologna (h), Roma (a), Verona (h)

Napoli: Fiorentina (a), Torino (h), Sampdoria (a), Crotone (h)
Napoli, meanwhile, will play Europa League dreamers Fiorentina, Torino and Sampdoria, and will host relegation strugglers Crotone on the final day of the campaign.
However, the last gameweek is arguably the easiest on paper for both sides and by that time we might well know who is likely to be crowned champions.
What do they say?
Although this is undoubtedly Napoli's best shot at Serie A glory since their return to the top flight in 2007, manager Sarri played down the enthusiasm, telling Sky in Italy that the win in Turin "doesn't change anything" and that Juve are still the favourites.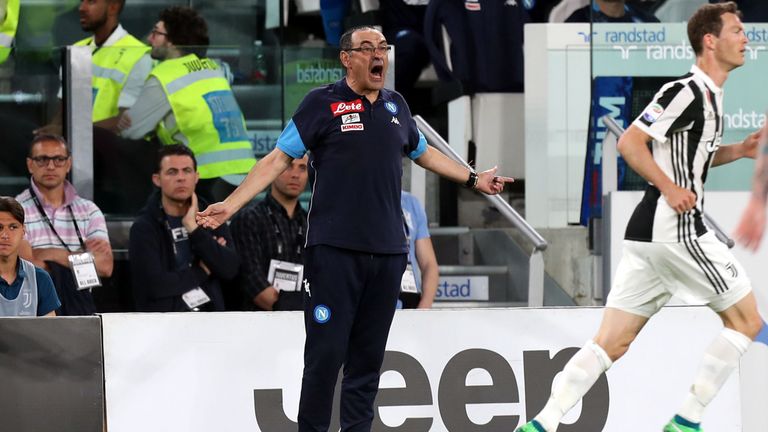 We only have to think about our next game, without getting carried away. It's going to be tough.
Maurizio Sarri, Napoli manager
"Unfortunately, it's all still in their hands," he said. "Their power is disarming. We only have to think about our next game, without getting carried away: it's going to be tough."
Allegri thinks otherwise, and admitted his side will need "something extraordinary" if they have a chance of retaining the title for the seventh year running.
"We need to stay calm because we still have a point of advantage," he told Sky in Italy. "We knew that the league this year was going to be a close call and Napoli are doing amazing things.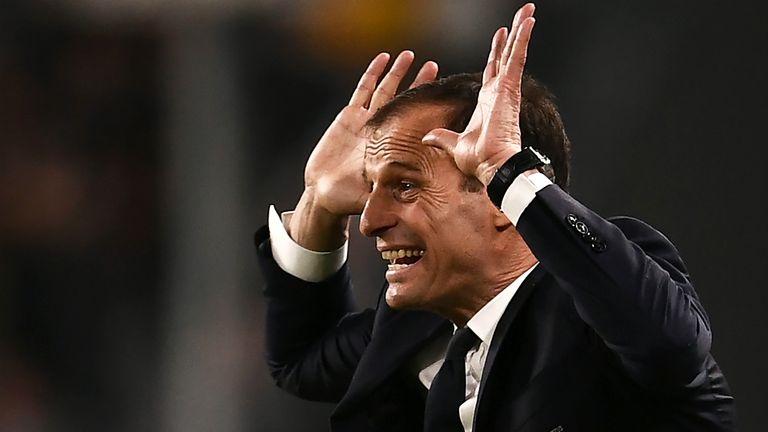 We have tough games coming up, but so have they, and in football nothing is given for granted.
Max Allegri, Juventus manager
"It's going to be a good end to the season, very interesting for everyone. We have tough games coming up, but so have they, and in football nothing is given for granted."
Italy and Juventus legend Dino Zoff is also rooting for Napoli to be the final winners: "When two teams are fighting neck and neck, the team who is fighting for the comeback has the advantage," he told Radio Rai.
"I'm not saying Napoli will run away with it, but taking into account the run-in, Juve have to bounce back straight away and be at their best to get out of this tricky situation."
What happens if they end up even on points?
In case two or more teams end their league campaigns tied on points, Italian leagues adopt head-to-head record instead of overall goal difference as the tie-breaker.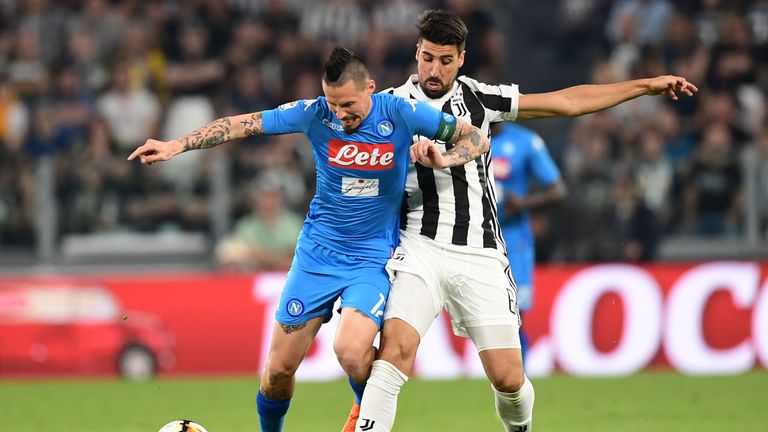 However, Napoli's narrow win on Sunday night matched Juventus' 1-0 success at the San Paolo earlier this season, meaning that the Serie A title could still possibly be given out according to goal difference.
The current situation favours Juventus with a +58 goal difference, while Napoli sit on +48 and face the hard task of scoring as many goals as possible if they want to prevail in this unlikely but still possible scenario.
So who has the best chance?
It's hard to say - Serie A pundits expect the title race to go down to the wire, something which has not happened since 2010, when Inter Milan edged out Parma on the final day of the season to clinch the title from Roma.
Juventus will have to suffer the absence of star defender Giorgio Chiellini, who was subbed off after 10 minutes on Sunday night and will have to miss the final stretch of the season through a hamstring injury, according to Sky in Italy.
Napoli have no injury woes and might just have the edge. They are flying and are enjoying the backing of a whole city, as they were welcomed back to the Capodichino airport by 10,000 jubilant fans in the early hours of Monday.
Their attack has been in top form this season - Lorenzo Insigne, Jose Callejon and Dries Mertens have formed the perfect trio, and Arkadiusz Milik's return from injury has given a new, fresh option to Sarri's team selection.
Napoli can become the first side not belonging to the "Big Three" - Inter Milan, Juventus and AC Milan - to win the Serie A title since Roma in 2001.
However, Juventus' experience in domestic competitions cannot go unmentioned, and there is every chance Allegri will lead his side to grab all 12 points remaining - it is still their title to lose.
Comment below to get involved in the debate, but please adhere to our House Rules. If you wish to report any comment, simply click on the down arrow next to the offending comment and click 'Report'.