Was Portugal's Euro 2016 win 'Cristiano Ronaldo's final'? Guillem Balague tells the tale in new chapters of biography
Last Updated: 17/11/16 12:25pm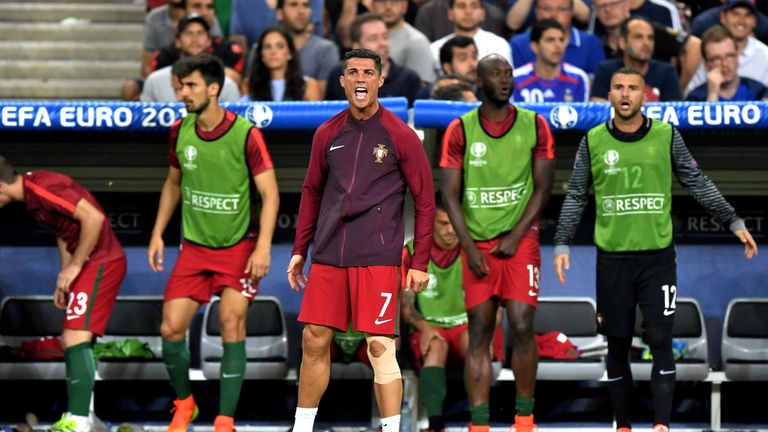 As new chapters are added to Guillem Balague's Cristiano Ronaldo biography, we look at an extract telling the tale of the Euro 2016 final.
Ronaldo, having been taken off with an injury in the first half in Paris against France, spent much of the game barking instructions alongside manager Fernando Santos. But did his behaviour go too far? And was this more Cristiano Ronaldo's win than it was Portugal's?
You can purchase the updated Cristiano Ronaldo: The Biography HERE
"I was very sad," recounted Nani. "It was a very special moment for us, very emotional, we were all in it together, and when I saw him fall down and cry, tears welled up in my eyes too. I realised that he was going to miss the rest of the final, the most important one of his life. I was really gutted and I grabbed the armband quickly and tried to tell him that we were going to give our all to do him proud and show what the team was made of, that we were going to fight."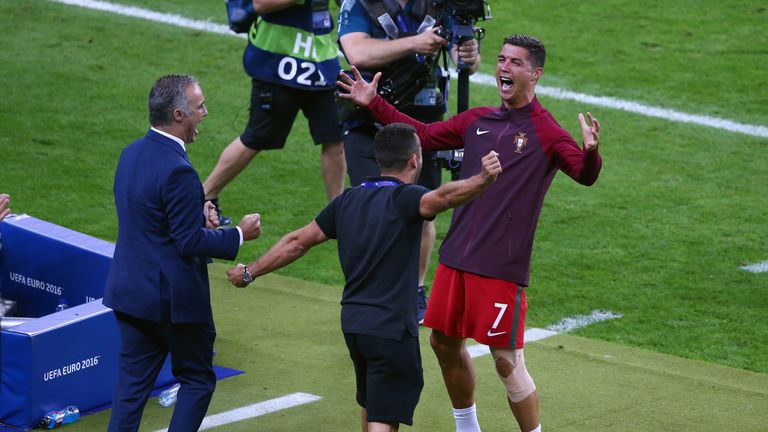 The game went flat after Cristiano's injury. But after [Ricardo] Quaresma was brought on in his place, the Portuguese midfield seemed to come more into their own. In fact, the impression was that after the blow of losing their leader, Portugal's morale recovered and they felt capable of anything if they stuck to the formula that had got them this far: hard work and playing as a team.
"We tried to lift each other's spirits by talking to one another and shouting things like, 'Come on, let's do it, it's OK, we're going to win this, we've got quality too, come on!' And as time passed and France failed to score, we grew in confidence," Nani said.
The players came face to face with Ronaldo at half-time. "Yes, he was looking at his knee and was disconsolate," Nani recalled. Cristiano had cried his eyes out, but he pulled himself together in order to rally the troops. "Lads, we're going to win 2-0. Stick together and fight to the end", he told them.
During the game, Cristiano barked out instructions from the dugout. He shouted at everyone to track back when they lost the ball, urged the centre-backs to go up for a corner and put his hands to his face when Éder went close with a header.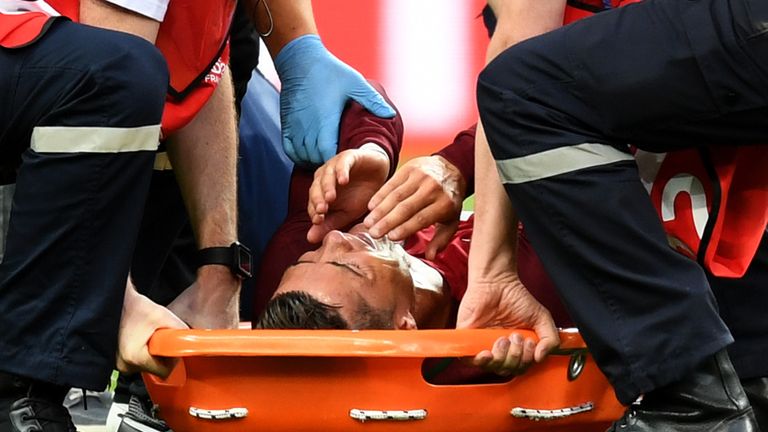 After Eder's goal, Ronaldo took up a position behind Fernando Santos in the technical area. Initially he was tentative, seemingly aware that he was invading the coach's space, wanting to be there but knowing he shouldn't be. At one point, Santos threw up his arms and Ronaldo followed suit. After that, the player continued to 'coach' the team, with Santos ignoring him.
"During the match I looked over to the dugout and thought, 'What's Ronaldo doing over there?' admitted Nani, "But then I refocused on the game."
Cristiano repeatedly told his team-mates not to bring the ball out from defence hastily. He rebuked the forwards for not defending. He called on the fans to get behind the team. He advised Nani to hold the ball up, spread play and keep possession. 'Don't gamble, pass it around and play it backwards!' he shouted at Nani and Eder.
Ronaldo celebrated the moment of victory alone. Turning towards the crowd (his audience) with a skip, his arms aloft, he looked up and shouted. A member of the coaching staff hugged him, but he did not reciprocate. Then he dropped dramatically to the ground, his sidekick still hanging on to him, and lay there spreadeagled, well aware of where the cameras were pointing.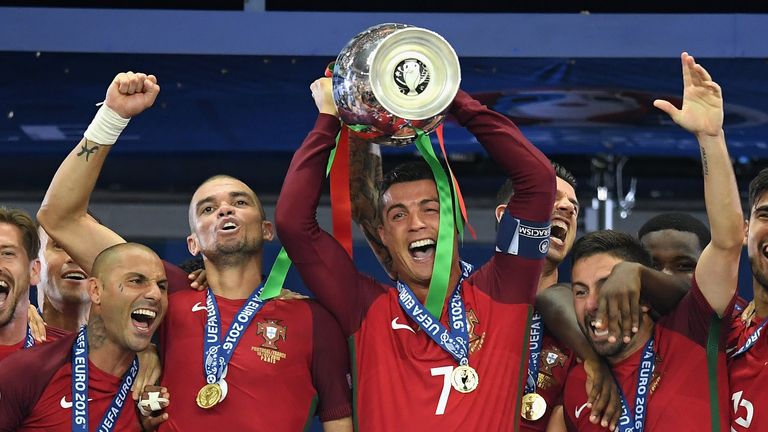 They say happiness is only real when it's shared, and if you're Ronaldo, you can share it with the whole world.
Nani said: "I only saw all of Ronaldo's shenanigans in the dugout after the match, when we were in the dressing room laughing together. We were happy and we watched the videos. He had them on his phone and showed them to me. We laughed. He said to me, 'Look, look at what I did...'"
The sports psychologist Bill Beswick told me that at the beginning of their careers footballers fear the cameras, but once they become better players they develop a love affair with this object that embraces them, indulges them and showcases the good things that they do. And once they are stars, they get addicted to them.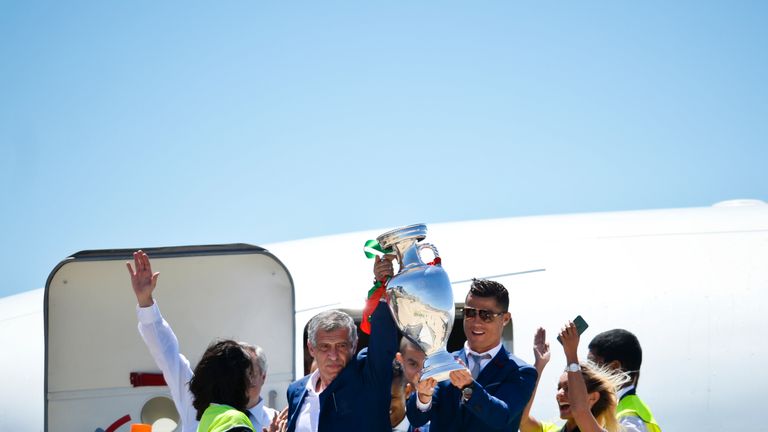 Footballers create a mental script before games. This is a sort of story detailing how the match might play out. Ronaldo would have visualised himself having a starring role. When he got injured, he wanted to continue feeling important and so decided to help the team from outside the pitch. He believed he could have an influence from the fringes, and that's why he stood just a metre from the touchline. And performed those highly theatrical gestures.
It was his moment, but it was snatched away from him on the pitch. So he did what he felt was necessary off it.
Ronaldo couldn't imagine the team winning without him.
The way he shook Santos (who all the while looked at the ground or watched the play) suggested that he did not see him as a superior. He was just the one who named the team, guided them towards the trophy and asked Cristiano to sacrifice himself. Which he did. But none of that meant that Santos outranked him.
Interestingly, when Ronaldo affectionately shoved the coach, he did not push him towards the action, but rather in the opposite direction. As if he wanted to remove him from the stage, as if Santos were stealing his limelight.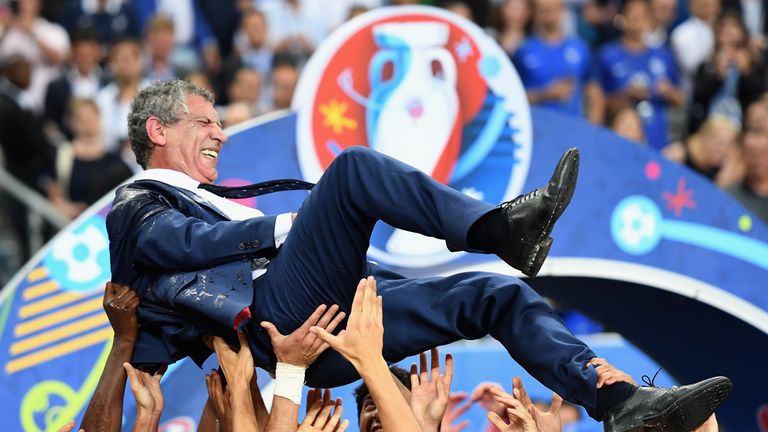 As narratives are so often driven by results, it was repeatedly stated in Portugal that the team had benefited from Ronaldo's passion and leadership. But not everyone shared this view. Portuguese foot­ball legend Antonio Simoes criticised his behaviour. So did José Mourinho: "Ronaldo lost a little emotional control. He didn't do any harm, but I don't think he helped in any way by doing that in the final few minutes of a European Championship final. It was the 11 players on the pitch who did the job, and it was the coach who led the team. I'd like to think it was just an overflow of emotion from someone who saw that there were just minutes to go to achieve an objective that everyone wanted."
A few weeks after the final, Santos spoke out in Ronaldo's defence: "Since I had so many instructions to give, I turned to him, just like I turned to my assistants, to tell [Ricardo] Quaresma to close down the space around Raphael Guerreiro."
The coach claimed that he never felt his authority had been "undermined" because Cristiano was never guilty of trying to usurp him as the manager, he had simply "externalised" his nerves in his own way.
Talk about a gracious explanation.
You can watch Premier League and EFL Cup football, plus England's tour of Bangladesh and the Mexican Grand Prix on Sky Sports. Upgrade now and enjoy six months at half price!