Real Madrid's Cristiano Ronaldo was huge Ballon d'Or winner ahead of Lionel Messi
By Andrew Dickson
Last Updated: 13/12/16 11:00am
Cristiano Ronaldo won his fourth Ballon d'Or with more than double the number of points his nearest rival Lionel Messi gathered.
A total of 173 journalists worldwide voted, awarding five points to the player they put in first place, three for second and one for third.
With that in mind, Ronaldo's 745-point haul against Messi's total of 316 gave him an emphatic victory. Antoine Griezmann, who came third, finished on 198.
Former Manchester United player Ronaldo has scored 35 goals in 34 La Liga games during the voting period, with 13 goals in as many Champions League outings too.
In addition, he scored three goals at Euro 2016 as Portugal won the competition for the first time and with seven other international goals, he had an overall total of 58 for the year.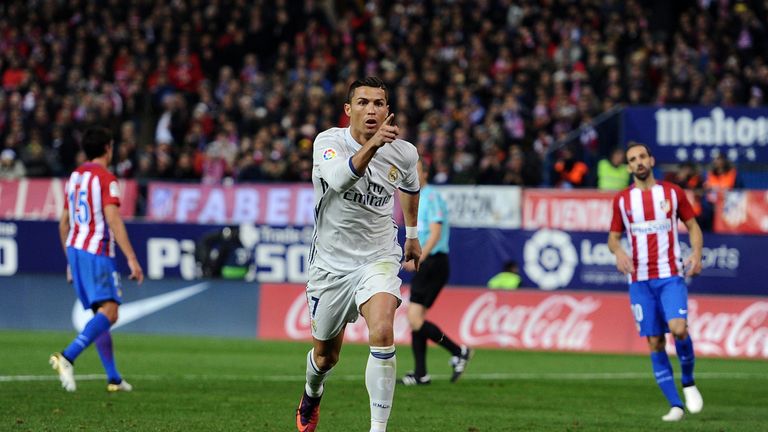 Those statistics go some way to explaining both how his margin of victory was so big and why so many players who were nominated did not score at all.
France Football's 30-man shortlist included eight players from the Premier League, with three of them among the 11 who did not collect any points.
Of those, Sergio Aguero - a scorer 35 times for Manchester City and Argentina between November 22, 2015 and November 20 this year - is arguably the most notable.
Kevin De Bruyne and Hugo Lloris also did not score, adding weight to the fact Riyad Mahrez and Jamie Vardy earned 20 and 11 points to finish seventh and eighth respectively.
Barcelona pair Luis Suarez and Neymar completed the top five with 91 and 68 points, with Real Madrid and Wales forward Gareth Bale just behind in sixth with 60.
With the top six all playing their club football in Spain, there were a total of seven La Liga representatives in the top 10. Mahrez and Vardy were the only Premier League players.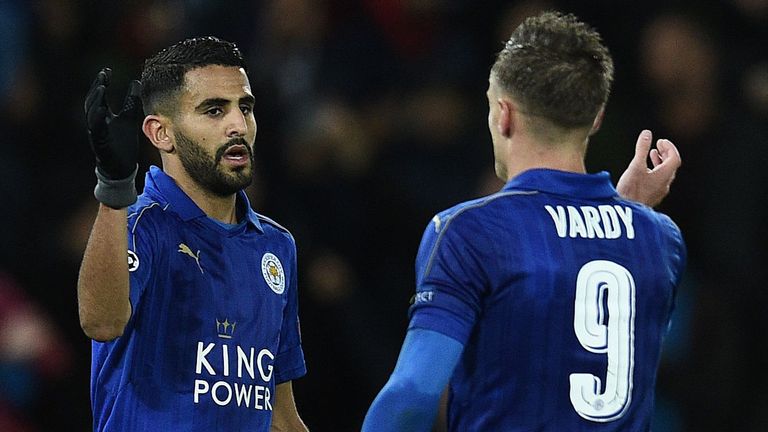 Zlatan Ibrahimovic gathered just five points and finished 13th despite a year which saw him score 43 goals for PSG and Manchester United but not Sweden.
His Old Trafford team-mate Paul Pogba was joint 14th beside Bayern Munich's Arturo Vidal, while West Ham's Dimitri Payet was joint 17th for collecting a single point with one third-place vote.
FINAL BALLON D'OR STANDINGS
1. Cristiano Ronaldo (Real Madrid), 745 points
2. Lionel Messi (Barcelona), 316 points
3. Antoine Griezmann (Atletico Madrid), 198 points
4. Luis Suarez (Barcelona), 91 points
5. Neymar (Barcelona), 68 points
6. Gareth Bale (Real Madrid), 60 points
7. Riyad Mahrez (Leicester City), 20 points
8. Jamie Vardy (Leicester City), 11 points
9= Gianluigi Buffon (Juventus), Pepe (Real Madrid), 8 points
11. Pierre-Emerick Aubameyang (Borussia Dortmund), 7 points
12. Rui Patricio (Sporting Lisbon), 6 points
13. Zlatan Ibrahimovic (Manchester United), 5 points
14= Paul Pogba (Manchester United), Arturo Vidal (Bayern Munich), 4 points
16. Robert Lewandowski (Bayern Munich), 3 points
17= Toni Kroos (Real Madrid), Luka Modric (Real Madrid), Dimitri Payet (West Ham), 1 point
No votes: Sergio Aguero, Kevin De Bruyne, Paulo Dybala, Diego Godin, Gonzalo Higuain, Andres Iniesta, Koke, Hugo Lloris, Thomas Muller, Manuel Neuer, Sergio Ramos.