Manchester United have been criticised for passing back to David de Gea too often, rather than looking for a forward ball – and the stats show they pass to their goalkeeper more than any other team in the Premier League.
On Saturday, against Sunderland, there were boos from the Old Trafford crowd and chants of 'attack, attack, attack' when Jonny Evans sent the ball back to De Gea from the halfway line after a United corner-kick.
Reflecting on the game, Louis van Gaal sympathised with the United supporters and accepted his team should not always look for a pass back to the Spanish shot-stopper.
"I agree with the fans that we don't have to use so much the goalkeeper," he said.
"I have seen also moments that we can play in a higher tempo without interfering with the goalkeeper."
Sky Sports pundit Gary Neville said earlier this season that United's players must look to take more risks – but the stats indicate just how heavily they rely on De Gea as a passing option.
United's outfield players have passed the ball to their goalkeeper 442 times this season, more than any other team in the top flight – and 44 more times than Everton, who are second in this measurement.
Premier League leaders Chelsea, in contrast, have passed to their 'keeper just 277 times.
While it was Evans' pass which drew a negative response from the United supporters against Sunderland, Marcos Rojo has in fact looked for De Gea on more occasions than any other United player. The Argentine has made 63 passes to his 'keeper this season.
However, Phil Jones (57), Evans (51) and Smalling (50) each regularly use De Gea as well, demonstrating how frequently United's defence turn to their 'keeper rather than aiming a pass forwards.
On Monday Night Football in January, Neville blamed United's "safe" approach on the mentality of the team. Whether Van Gaal can alter that approach – and appease the club's attack-minded supporters – remains to be seen…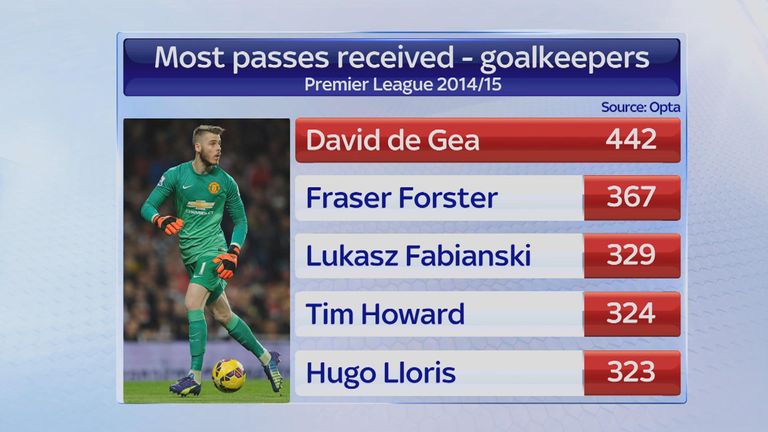 Passes received by goalkeepers
Man Utd - 442
Everton - 398
Sunderland - 393
Southampton - 367
Newcastle - 358
Swansea - 351
Leicester - 327
Liverpool - 325
West Brom - 325
Tottenham - 323
Stoke - 312
Chelsea - 277
Burnley - 274
West Ham - 274
Hull - 269
Aston Villa - 265
Arsenal - 261
Man City - 248
QPR - 240
Crystal Palace - 197
Passes to De Gea this season
Marcos Rojo - 63
Phil Jones - 57
Jonny Evans - 51
Chris Smalling - 50
Patrick McNair - 41
Michael Carrick - 32
Antonio Valencia - 29
Daley Blind - 27
Tyler Blackett - 24
Ashley Young - 16
Wayne Rooney - 14
Luke Shaw - 9
Ander Herrera - 7
Rafael - 6
Juan Mata - 5
Darren Fletcher - 4
Marouane Fellaini - 3
Angel Di María - 3
Robin van Persie - 1