Amid continued speculation over Antonio Conte's future, his outstanding work at Chelsea shouldn't be forgotten, explains Jamie Carragher in this week's MNF Extra...
"I have to thank the fans," Chelsea head coach Antonio Conte told Sky Sports after his team's 3-0 win over West Brom on Monday. "They showed me great support because they are reading speculation and rumours about me. To feel this atmosphere around me is very important. It's very important to feel that people appreciate my work here in Chelsea."
Conte clearly appreciated the affection he received from the Stamford Bridge support, after back-to-back defeats had ramped up the media attention on his future at the club.
But shouldn't everyone be giving Conte more credit for his work at Chelsea over the past 18 months?
"There's no doubt for me. Conte has done a super job," Jamie Carragher told MNF Extra. "His points total since he came to England is only bettered by Pep Guardiola and that says a lot about him as a manager.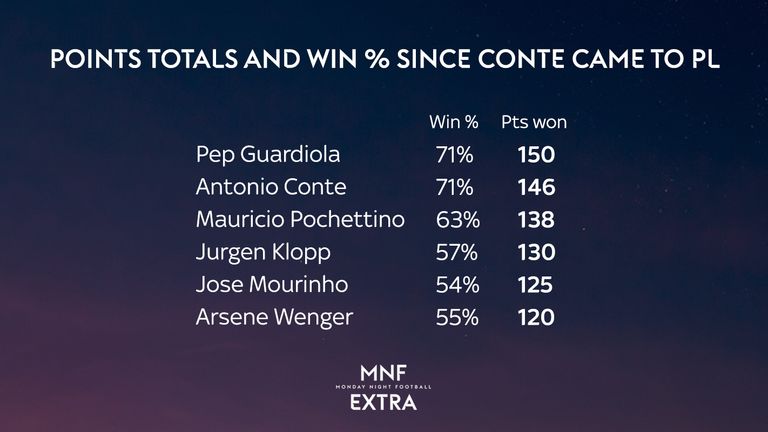 "Last season Chelsea blew everyone away. To be so far ahead, not only of the best clubs in the country, but some of the best managers in world football showed what a top manager Conte is.
"It remains to be seen whether you class this season as a success or not. If they can finish in the top four and lift a trophy, that is success, considering how competitive the top six teams are in the Premier League.
"Even if Chelsea only finish in the top four, that's still been a great two years, in which he's taken them from 10th - which admittedly was a false position - won the title and given them Champions League football before he goes."
Earlier this season, Conte called Chelsea's 2016/17 title win a "miracle". Given the problems of the previous campaign, when the title defence of Jose Mourinho's reigning champions unravelled, the records set by Chelsea on their run to the title and the difficulty they've found in keeping pace with the big-spending Manchester clubs this season, there is evidence to support Conte's feeling his side overachieved.
"I didn't think they'd win it," said Carragher. "They had no European football, so I felt they would contest for it, but I thought Manchester United and Manchester City would be too strong. And with Conte - like Guardiola - coming into his first season in the Premier League, you always think they're not used to the league. So Chelsea did overachieve."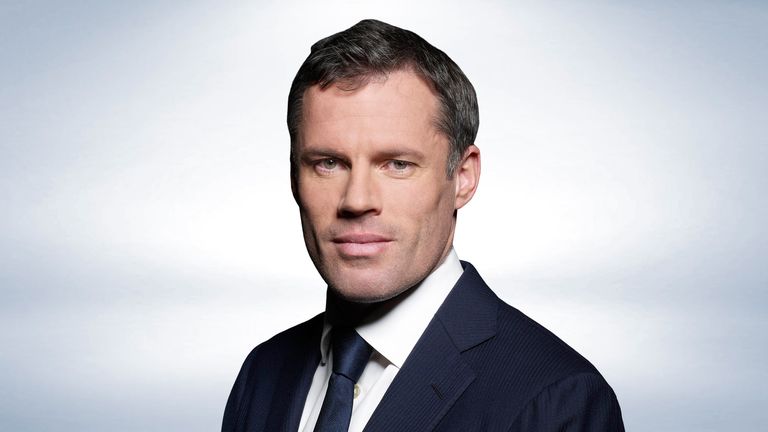 To be so far ahead, not only of the best clubs in the country, but some of the best managers in world football showed what a top manager Conte is.
So how did Conte pull it off? The Italian's astute tactical switch to 3-4-3 after a 3-0 defeat at Arsenal in the September was clearly key, sparking a 13-game winning streak by adding defensive resilience, width and freeing up Eden Hazard.
A lighter fixture load, with the absence of Champions League involvement, also played a part, allowing Conte - a hands-on coach - plenty of training ground hours to drill his methods, as well as granting vital recovery time to the players and permitting the head coach to repeatedly select a settled side.
And then there was the cutting edge of Diego Costa, who Conte managed to get the most out of, despite off-field issues. Chelsea ranked just fifth for Expected Goals (xG) last season but thanks largely to the 20-goal striker's clinical finishing the Blues finished second-top scorers. The over-performance from their xG total of 56 to their actual goal-haul of 85 was the largest gain in the division and Costa's goals were worth 15 points, more than any other player's.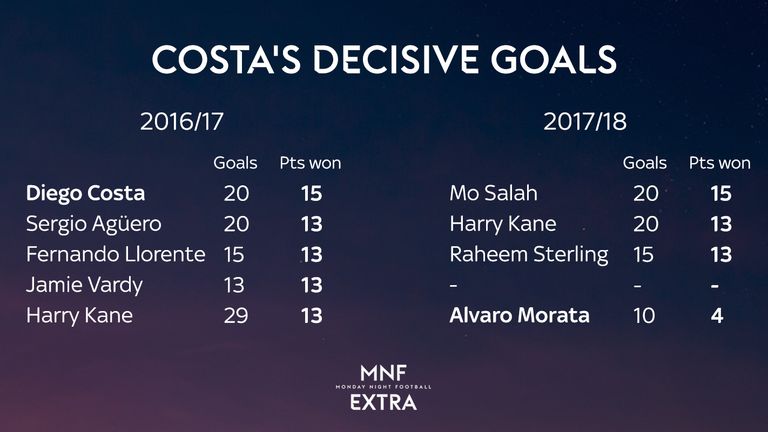 Yet the difficulty in repeating those elements - combined with the significant strengthening of the opposition - has proved problematic for Conte and Chelsea during their title defence.
With Costa sold to Atletico Madrid, summer signing Alvaro Morata has been unable to make the difference in the same way. Chelsea still rank comparatively lowly for xG - the lowest of the 'big six' - but Morata has the second-worst clear-cut chance conversion rate of frontline strikers at those clubs. His 10 Premier League goals have been worth just four points.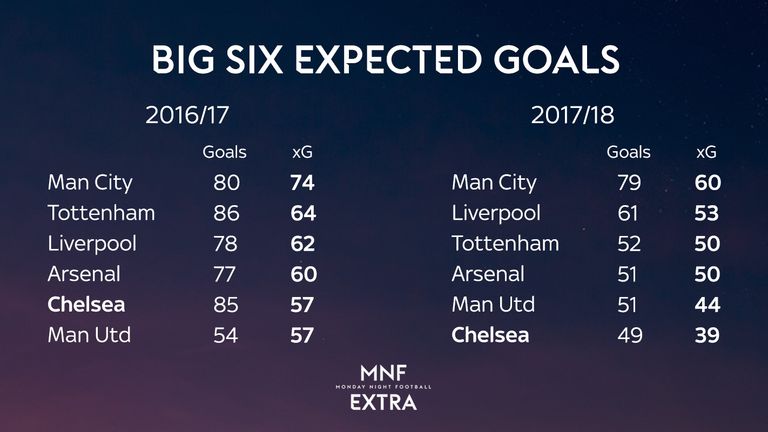 In a bid to boost Chelsea's attacking threat, Conte - unimpressed by back-up forward Michy Batshuayi - has experimented with playing Hazard up front alongside Morata in a 3-5-2 and even given the Belgian a lone striking role on occasions. But it's not just at the top end of the pitch Conte has been forced to tinker.
The strain of added Champions League football to Chelsea's fixture list - they have played 42 games across all competitions this season, compared with 30 at the same stage last year - has forced the Italian into 71 changes to his Premier League line-up, the sixth most in the top tier. In 2016/17 he made just 53 changes, the second fewest.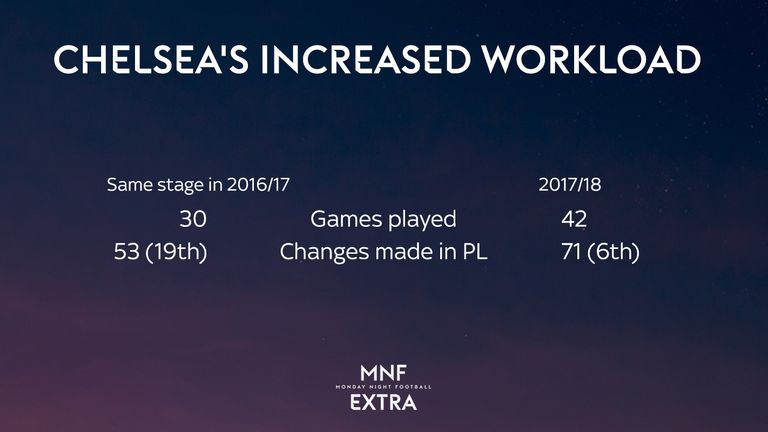 Morata, Andreas Christensen, David Luiz, Marcos Alonso, Hazard, Willian, Thibaut Courtois, Victor Moses, N'Golo Kante and new recruits Danny Drinkwater and Ross Barkley have all spent time in the treatment room, with the increased workload taking its toll.
It has all added up to an even greater challenge this time around, as Conte has publicly expressed his frustration at a failure by the club to land his first-choice transfer targets.
"The great thing about Chelsea last season was they kept the same team virtually every week," said Carragher. "But when you have European football you need a bigger squad - and when you've got a bigger squad you have more players to keep happy, so you change the team more.
"When you haven't got that midweek fixture, your players are training properly for a full week of great build-up, you're getting fewer injuries… all these things make it difficult for the players and manager to replicate that season.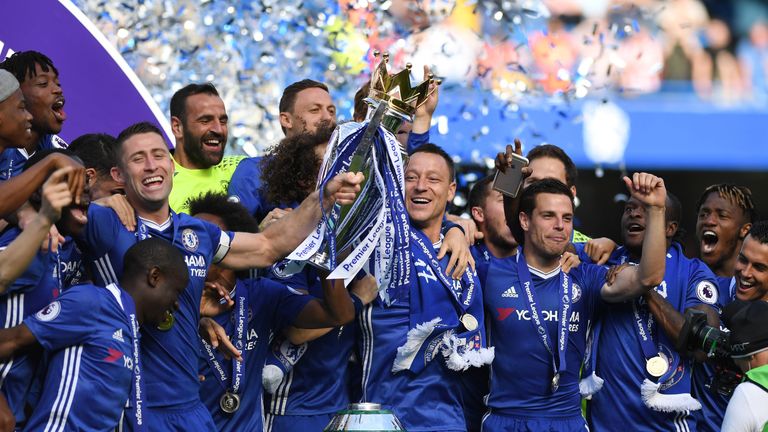 It was a special title-winning season. And there was no way they were going to better that points-wise or victories-wise this year.
"Don't forget, they broke a lot of records last season. It was a special title-winning season. And there was no way they were going to better that points-wise or victories-wise this year.
"On top of that, there's no doubt they lost something with captain John Terry going, with what he was like around the training ground and in the dressing room, and of course they miss Costa. There are few strikers who can do what he does.
"However, while people say Conte could have managed that situation better, Costa caused a lot of problems and it will have been difficult for the manager to forget about him not wanting to play in a title run-in. If you're in Conte's position, you're not going to accept that. It's then up to you to replace him with quality.
"I do think Morata is a good player, although it hasn't quite happened for him for whatever reason. But he's not yet at the level of Costa.
"But Chelsea as a club are different now and I don't think they can compete in the transfer market with the Manchester clubs. They can't go head to head for the really top players like they did maybe 10 years ago, when Roman Abramovich first came in.
"It can't just be a case of Conte saying 'I want him'. That will be a frustration for Conte but I think every manager in world football has to get used to the idea that managers aren't buying whoever they want. People behind the scenes - who are at the club for a lot longer than the managers - are now having a bigger say. That's the way the game is going."
With Friday's FA Cup fifth-round tie with Hull City followed by a Champions League clash with Barcelona and consecutive away trips to Manchester United and Manchester City, Chelsea are entering a crucial stage of the campaign.
It could be a defining 17 days for their season. But whatever the outcome, Conte's work at Chelsea since the summer of 2016 deserves respect.