Ian Rush reflects on his 1984 PFA Player of the Year Award
Ian Rush reflects on his 1984 PFA Player of the Year Award and his 'telepathic' play with Kenny Dalglish.
Last Updated: 27/03/13 1:13pm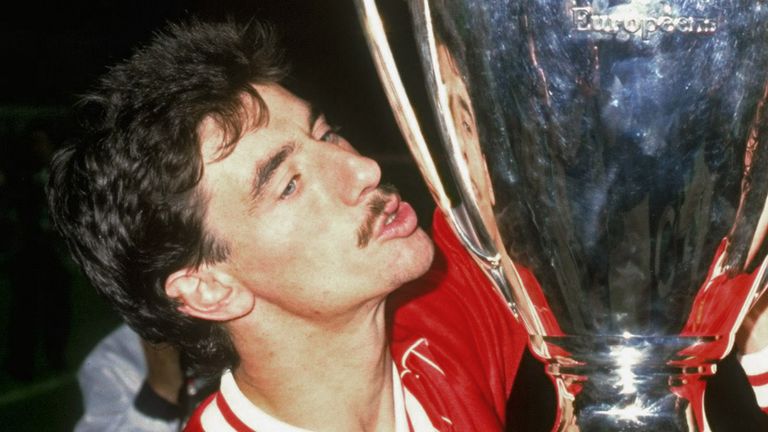 Everybody who votes will be eligible to enter our prize draw to win two tickets to the 2013 PFA Awards ceremony at Grosvenor House Hotel, Park Lane, on Sunday April 28.
Find out more and lodge your vote here.
In the second round of voting we're asking you to make your pick from the players to have won the award between 1983 and 1992. Pot Two: Kenny Dalglish, Ian Rush, Peter Reid, Gary Lineker, Clive Allen, John Barnes, Mark Hughes, David Platt and Gary Pallister.
We caught up with former Liverpool striker Ian Rush to ask him about his incredible 1983-84 season which landed him the award. The Welsh ace racked up 32 league goals to win the European Golden Boot and help Liverpool to their third title in a row, and the Reds also clinched the European Cup and League Cup.
What are your memories of the 1983-84 season and winning the 1984 PFA Player of the Year Award?
Ian Rush: It was a fantastic season for me. I scored 49 goals that season - 32 in the league - and became the first British player to win the European Golden Boot. It was a great season for Liverpool as well, with us winning the treble, although that whole era was a good one for the club. After Bob Paisley retired Joe Fagan came in and there was a transition period. No-one really knew what would happen, with changes being made to the team, but we just kept winning. It was great to play in that team but to be picked out as an individual in a great side was nice. I'd finished as runner-up the year before to Kenny Dalglish so to go one step further was good.
How important is your PFA Player of the Year Award to you?
Rush: It's the ultimate really. You also have the Football Writers' Association award which is important but if you speak to any player it's the award from your fellow colleagues that's the one that really counts because they know what it's all about. For your fellow players to vote for you is probably the best accolade you can get.
Your partnership with Dalglish was a key ingredient to Liverpool's success that season - what was he like to play with?
Rush: It was great playing with Kenny because we just gelled; it was almost telepathic. Sometimes you'd take it for granted playing alongside him because he created so many chances and I just scored the goals. It was a good time for both of us and we worked well together. He'd make more than he'd score but we knew if I got 30 goals, he got 20 and some others chipped in with five or ten we'd do well.
Which player deserves to win the PFA Player of the Year Award for the 2012-13 campaign?
Rush: Gareth Bale, Luis Suarez and Robin van Persie are the three players everyone's looking at. I like Van Persie because he's a proper goal-scorer; his technique is unbelievable. But Suarez and Bale have probably won more games by themselves for their clubs than he has this season and that is what supporters like to see. If nothing's happening they'll take the game by the scruff of the neck. Suarez has done that for Liverpool like Steven Gerrard used to do. I'm a little surprised by how many goals he's scored this season - he's always been a good goal-scorer but to get this many shows he's had an incredible season. I'm maybe a little biased because I've seen him play a lot - and seen him win games for Liverpool by himself - but I'd go for him as Player of the Year.
Of the 35 players to have won the PFA Player of the Year Award, which one stands out for you?
Rush: Thierry Henry had a great season for Arsenal in 2003-04 when they went unbeaten and won the title. But I'd like to go for someone from the era I played in and I'd have to say Kenny Dalglish was the best player I played with. He'd put the ball in a space when you'd think he couldn't do it, he had the art of turning people with his back to goal and then he'd put you through. He'd never put the ball to my feet but put it into space so I could use my pace. It didn't matter whether it came to his right foot or left foot, he'd always produce something special.
Click here to cast your vote in our Ultimate PFA Player of the Year Poll