Premier League: Issues for Brendan Rodgers at Liverpool after 2-1 defeat to Chelsea makes it three in a row
After a controversial team selection against Real Madrid in midweek, Brendan Rodgers made brought the big names back against Chelsea at Anfield only to suffer a third consecutive defeat. Daniel Storey looks at the problems facing the Liverpool boss...
Last Updated: 08/11/14 7:17pm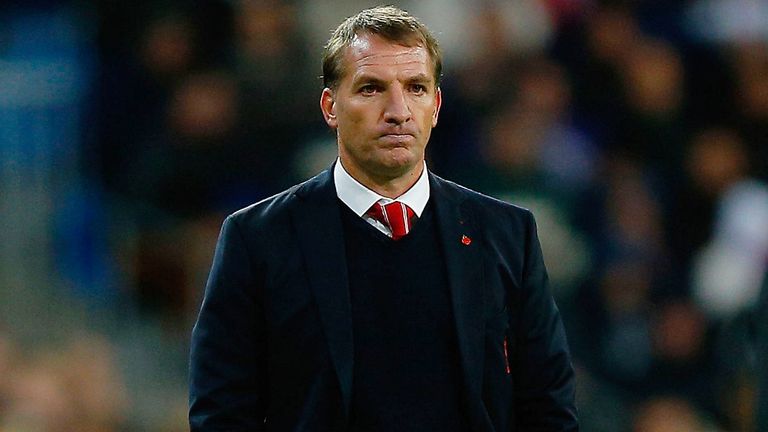 "You have to be bold enough to make the decisions as a manager and that is why you are paid the money you are. If you make more wrong ones than right ones you will be out of work, it's as simple as that."
Brendan Rodgers has a habit of providing newsworthy copy, but this midweek comment might be more meaningful than most. For all Liverpool's exploits last season, managers will always be judged on their reactions and response when the chips are down. That's just the way it is.
Right now, Rodgers is enduring his most difficult spell as Liverpool manager. His side started brightly and took the lead against Chelsea, but again looked weak in defence and blunt up front. Having put all of his eggs in a Chelsea-shaped basket with his Real Madrid team selection, did Rodgers drop them all on the floor?
"We knew we had a real tough game tonight, but I didn't rest players for Saturday," said Rodgers on Tuesday evening. "I picked what I thought could get the result for us tonight, and I think the performance showed that. I don't think any other players I could have put in tonight could have put in the performance we put in."
A selection has rarely been so anticipated. Having offered such profuse praise to those that came into the side on Tuesday, would Rodgers keep faith in them? Would Mario Balotelli be given another chance? Would £20million Dejan Lovren, coincidentally on the cover of the matchday programme, regain his place?
As it turned out, there were seven changes in all for Liverpool, with Balotelli, Lovren, Steven Gerrard, Jordan Henderson, Raheem Sterling, Glen Johnson and Philippe Coutinho all returning to the starting side. So much for not having rested players on Tuesday - there was just one alteration to the team that lost to Newcastle last week.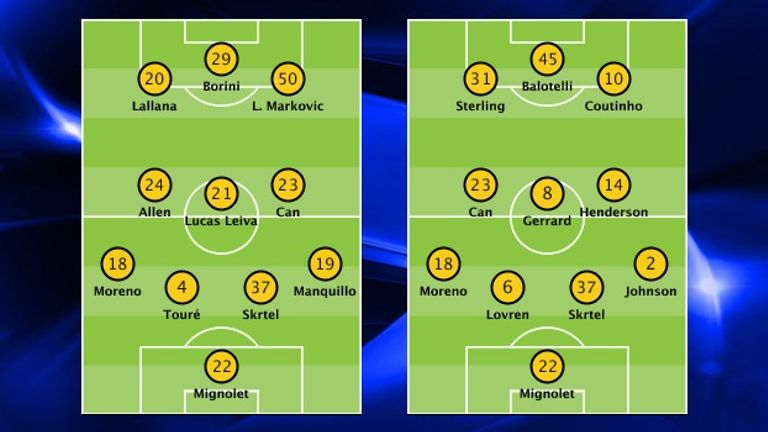 Rodgers claimed that midweek criticism did a "disservice" to the players who were "absolutely magnificent" against Real. But there is a flip side of that argument. Does it not do a similar disservice to those who performed so magnificently to be left out after that display, especially given Liverpool's recent form?
Take Kolo Toure, for example, impressive beyond all expectation against the Champions League winners. The same goes for Lucas Leiva, who has been out in the cold and yet stepped up to the big occasion. And what of Fabio Borini, who contributed more on Tuesday that Balotelli has all season in the Premier League? Javier Manquillo might also be wondering why Glen Johnson merit selection ahead of him for such a fixture.
One thing Rodgers' selection did do is pile the pressure upon the result of the match, but it also must have risked lowering the morale of those players cast aside after one match. Will they have the same motivation to impress next time?
Given the circumstances, Liverpool and Rodgers needed a fast start to lift morale, and it came via that most beautiful of women, Lady Luck. Emre Can surged forward before hitting a powerful drive from 25 yards. It may well have been on target, but took a deflection of the back of Gary Cahill, wrong-footing Thibaut Courtois.
Failed
If that goal should have settled Liverpool down, it failed to do so. Instead, we began to see the advantage of Jose Mourinho's high press plan. With Eden Hazard and Diego Costa both blocking the opportunities for Simon Mignolet to roll the ball out, Chelsea forced the goalkeeper into kicking long, whilst Gerrard, Alberto Moreno, Henderson and Can were harried whenever they received the ball.
The first three of those four gave the ball away 12 times in the first half alone, each time potentially leaving their side susceptible to the counter attack. Against Chelsea, that will eventually cost you. However, if giving the ball away was a potential Achilles' heel for the home side, their inability to defend set pieces is now entrenched.
Cesc Fabregas' corner found the head of Costa, acting as an assist for John Terry. Mignolet, much-maligned of late, made a wonderful diving stop, but again Liverpool's marking remained non-existent. Matic's ball found Gary Cahill, who drilled the ball at goal. Four different Chelsea players had won individual battles to the ball in succession. It was damning for the home team.
Chelsea's second goal gave Rodgers another opportunity to impress. The first battle had been lost, but a microcosm had been created in which the visitors effectively asked the question: 'What have you got?' Unfortunately for Liverpool, the answer was not encouraging for Reds supporters.
Liverpool had one shot on target throughout the entire second half. They huffed and puffed but were kept at arm's length. Chelsea were guilty of allowing their opposition onto them. However, unlike against Manchester City and Manchester United, the opposition simply didn't have the firepower to threaten.
Rickie Lambert, Joe Allen and Fabio Borini were the three substitutes introduced. That's £31m of purchases but ones that did not offer enough to suggest they had the game-changing qualities that a top side must have from the bench. It's easy to see why supporters were unenthused by their introduction.
"We deserved at least a point for sure," began Rodgers in his post-match press conference, an identical opening to the one against Real Madrid. "We have to keep working hard and hope get some of our injured players back in. There is no magic formula but I have a brilliant group of players here. We will be ready and firing after the international break."
And yet, it is worth considering that the only players that Rodgers has injured are Daniel Sturridge and Mamadou Sakho. Can this form really be explained by the loss of one striker? How good is Sturridge at defending corners? Shouldn't they be firing now?
The principal conclusion to draw is that last season Liverpool finished two points ahead of Chelsea, but they are already 15 points behind after 11 games. Rodgers' side have already dropped 63 per cent of the points that they did in the whole of 2013/14. The fear is that after a period of progression, Liverpool now find themselves going in the other direction.
A version of this article originally appeared on Football365