Olivier Giroud must be considered among the Premier League's top strikers, according to the stats...
Olivier Giroud's injury-time strike against Liverpool on Saturday may merely have been the icing on the cake of a 4-1 win as far as Arsenal were concerned but, for the Frenchman, the goal continued a fine run of form.
Giroud has now scored in each of his last six league appearances and, as WhoScored.com delve into the stats behind his recent success, it seems the striker is finally fulfilling the potential Arsene Wenger saw when he signed him from Montpellier.
A tally of 11 league goals in his first full season in London was solid enough given that 10 of his 34 appearances came from the bench, but certainly didn't suggest to many that this was the man who would replicate or come close to replacing the goals of Robin van Persie.
A total of 16 the following season was an improvement but given that Giroud stayed fit for the entirety of the campaign, starting 36 times in the league, the former Montpellier man's haul was still not that of a striker likely to fire his side to their former glories.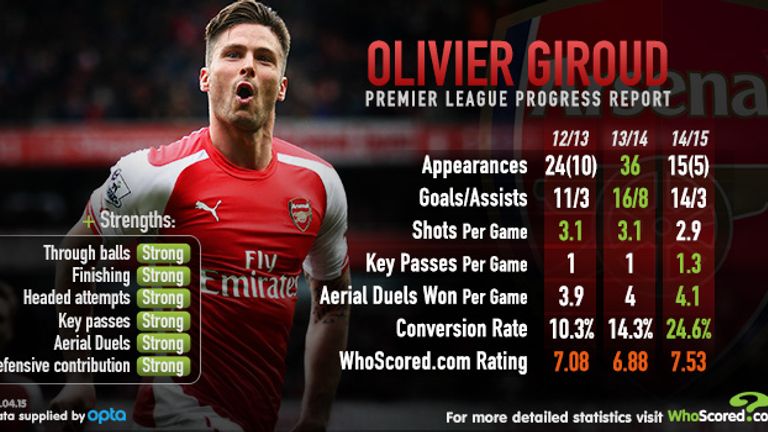 Nevertheless, an increase in the forward's statistical WhoScored.com rating from 7.08 to 7.36 over his first two seasons in England was encouraging, and that figure has risen again in what is proving to be a superb campaign for the 28-year old.
Injury may well have curtailed much of his impact on the first half of the Gunners' season but his return to fitness and indeed form has been crucial to Arsenal's success in 2015. With 14 league goals to his name, Giroud is well on course to beat his tally from last season despite starting just 15 of his 20 top-flight appearances this time around, while he has struck as many as 12 in his last 15 matches for Arsenal in all competitions.
An overall tally of 17 goals in 25 appearances is enough to rub shoulders with the likes of Sergio Aguero, Diego Costa and Harry Kane this season, all of whom have been lauded with significantly greater praise for their goal-scoring prowess.
Giroud's rating from WhoScored.com is consequently at its highest since his move to the Premier League, with a score of 7.53 enough to rank among the league's top 10 players; in fact, it's identical to the statistical score for Costa and David Silva.
Previously, Giroud's supporters have cited an ability to bring those around him into play as his main strength, particularly given Arsenal's style of play. It's true that very few players in the Premier League or perhaps even across Europe are quite so adept at linking play and providing such delicate touches in and around the box. All of this from a man often described as the Gunners' battering ram. Even in his early days at the club, it was clear that there was far more to the France international than that.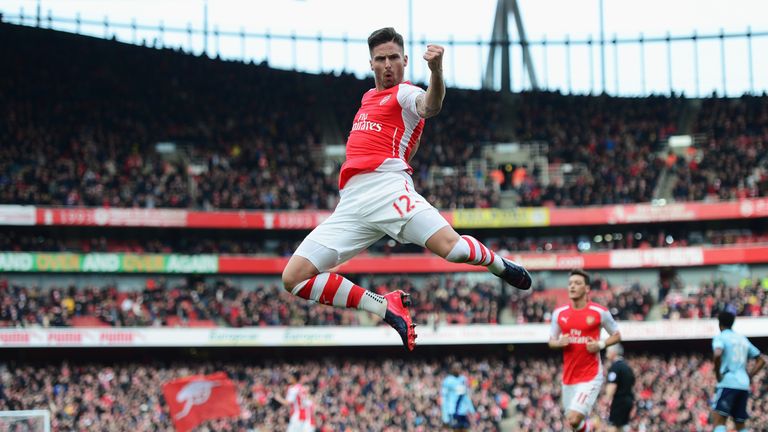 An average of 0.68 goals per game across all competitions this season is only bettered by Aguero (0.69) in terms of the Premier League's leading scorers.
WhoScored.com statistical strengths of 'aerial duels', 'defensive contribution' and 'headed attempts' are those of a traditional target man but are accompanied by 'key passes', 'through balls' and, crucially, 'finishing'. It's the latter aspect of his game that has undertaken the most marked improvement and must now see Giroud considered as one of the league's finest marksmen.
A conversion rate of just 10.3 per cent in his first season at Arsenal meant that doubts over Giroud's readiness to step up to the pressures of playing for the north Londoners were justified. That figure rose to a modest 14.3 per cent last season but the leap to a superb 24.6 per cent in the current campaign has been remarkable.
An average of 0.68 goals per game across all competitions this season is only bettered by Aguero (0.69) in terms of the Premier League's leading scorers, meaning he is just ahead of Kane (0.64) and some way clear of Costa (0.57).
In turn, Giroud's form is rightly receiving plenty of plaudits right now. Maintaining his hot streak through to the climax of the season will help him convince his remaining, dwindling doubters.
All statistics courtesy of WhoScored.com, where you can find more stats, including live in-game data and unique player and team ratings. You can follow all the scores, statistics, live player and team ratings with their new free-to-download app
Live Ford Saturday Night Football