The signing of goalkeeper Petr Cech from Chelsea could transform Arsenal into genuine title contenders, writes Nick Wright...
After years of stop-gaps, gambles and downright mistakes, Arsene Wenger has finally landed a world-class goalkeeper and his arrival in north London could have a transformative effect.
Arsenal have had significant goalkeeping issues for the best part of decade. Jens Lehmann was the closest Wenger has come to finding a suitable successor to David Seaman, but after playing an important role for the 2003/4 'Invincibles', his performances began to decline and his behaviour became increasingly erratic before he lost his place in the side during the 2007/8 campaign.
Since then, Manuel Almunia, Lukasz Fabianski and Wojciech Szczesny have all tried and failed to make the place their own, while doubts remain over the Colombian David Ospina. Wenger is a renowned talent spotter, but he seems to have something of a blind spot for goalkeepers. And following his ill-fated £6million move sign Richard Wright from Ipswich Town in 2001, the Gunners boss has appeared reluctant to invest heavily in the position.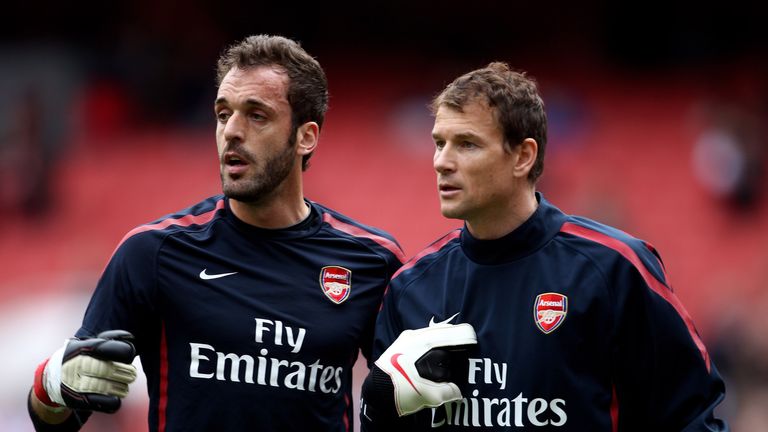 It is an attitude which has proved costly to Arsenal's title ambitions in recent years. Sir Alex Ferguson once said an elite-level goalkeeper is worth 15 points over the course of the season, and the vastly experienced Cech certainly fits the bill. Indeed, adding those points to Arsenal's tally last season puts them three points clear of champions Chelsea.
Unfortunately for Arsenal, the equation is not quite that simple, but Cech is a huge upgrade nonetheless and is surely worth the reported transfer fee. The 33-year-old was usurped by the freakishly talented Thibaut Courtois at the start of last season, but his enduring quality is not lost on Chelsea manager Jose Mourinho – who is well aware of the impact he could have at Arsenal.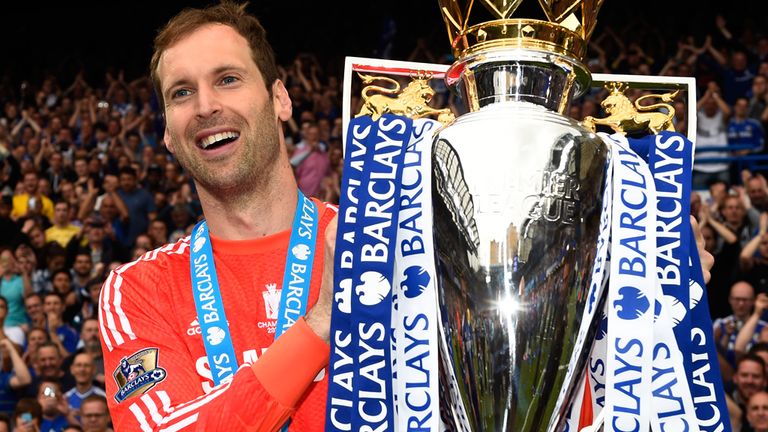 "Since 2004 to 2014-15, Cech has had 10 years of success with the club, 10 years of unbelievable behaviour. I will have to accept any decision that the owner has… but my answer would be: 'No way'," the Portuguese said earlier this month. But Cech was reportedly keen to stay in London, and Roman Abramovich willing to grant him his wish despite Mourinho's protestations. 
Stats
Cech only featured in seven Premier League games in 2014/15, but despite being at least seven years older than Arsenal's goalkeepers, the statistics indicate that he has lost none of his sharpness.
The Czech Republic international saved 88.9 per cent of the shots he faced over the course of last season compared to Ospina's 80.7 per cent and Szczesny's 67.2 per cent – the highest ratio of any Premier League goalkeeper.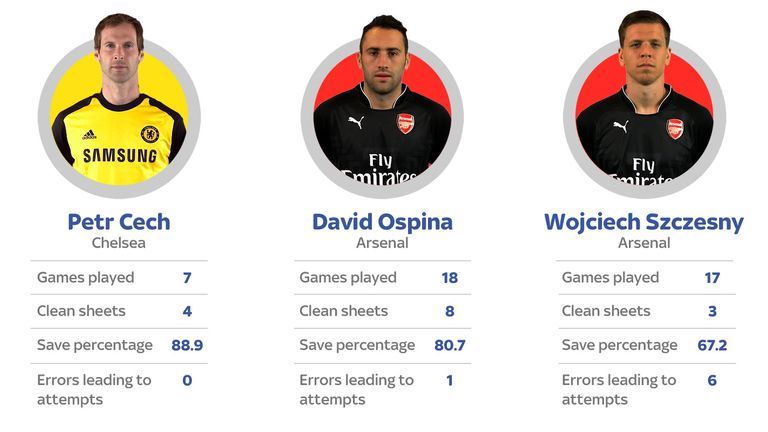 He also kept four clean sheets in seven games, giving him a far superior shut-out ratio to his Arsenal counterparts, who kept 11 clean sheets in 35 appearances between them. Cech is also commanding in the air and didn't make a single error leading to an opposition shot last season.
An even more revealing statistic from Opta is that over the last three years, Cech's saves to shots ratio of 78 per cent is the best of any Premier League goalkeeper.
But the numbers only tell you so much. Crucially, Cech will also bring experience, authority and title-winning knowhow to Arsenal – three priceless attributes for a goalkeeper that Ospina and Szczesny clearly lack.
Sky Sports pundit Charlie Nicholas agrees. "David Ospina is a decent goalkeeper but decent goalkeepers don't win you titles," the former Arsenal striker said in April. "If an opportunity for Cech comes up then they have to take it."
Success
Cech has been on Wenger's radar for well over a decade. The Gunners boss was eager to sign him before he moved from Sparta Prague to Rennes in 2002, but work permit issues put paid to the move. Chelsea swooped two years later, and Cech kept a record 21 Premier League clean sheets in a stunning debut season as the Blues embarked on an era of unparalleled success.
Cech has now won 13 major trophies with Chelsea, and a move to Arsenal will draw parallels with Manchester United's signing of Edwin van der Sar in 2005.
The Dutch shot-stopper was actually a year older than Cech when he made the move from Fulham to Old Trafford, but he proved to be one of Sir Alex Ferguson's shrewdest signings. The veteran proved his doubters wrong and helped United win four Premier League titles and a Champions League in six glittering seasons at the club. The consistency of Cech's performances suggests his career could have similar levels of longevity.
The Gunners' transfer spending is unlikely to be limited to a new goalkeeper – a top class striker and another defensive midfielder should also feature highly on Wenger's wish list – but it is not surprising that Cech has been identified as their top priority.
Sky Sports pundit Gary Neville is a man who knows a thing or two about winning titles, and he highlighted the importance of a top-class custodian on Monday Night Football in May.
"You could argue they have struggled for a goalkeeper since Jens Lehmann and David Seaman," the former Manchester United defender said. "It's a struggle to win a title without a great goalkeeper, a massive struggle.
"Ospina is obviously a good goalkeeper and he has done well, but he is not a No 1 and they need a top goalkeeper. They need someone who is going to save his team points."
Arsenal's strong performance in the second half of last season – when their injury woes began to ease and they took 44 points from a possible 54 – indicates they have the makings of a team that can compete for the Premier League crown.
It is not the first time Arsenal have hit form with the title already out of sight, of course, but their squad is packed with quality and back to back FA Cup successes suggest they are beginning to overcome the psychological shortcomings of recent years.
Fostering a winning mentality is an extremely difficult task – as Wenger has found out the hard way following Arsenal's Emirates Stadium move.
Of the players currently at Arsenal only Danny Welbeck knows how it feels to win a Premier League title, but Cech is a serial winner who could be a valuable presence in the dressing room and infuse Arsenal with confidence on the pitch.
Wenger's goalkeeper hunt has taken a rocky route since Seaman's departure back in 2003, but after years of making do, he could finally get his hands on a goalkeeper to take Arsenal to the next level.