"It is not just the manager, and not just the players - we are all to blame as a group and we need to work our way out of this situation as a group" - Sergio Aguero, November 7.
It's typically humble of Aguero to spread the blame and thus the credit, but in truth, the Argentine should be burdened with no guilt for the predicament City were facing at kick-off on Tuesday night. Nor should not be forced to share any plaudits now that their chances of progression are hovering somewhere around the 50/50 mark.
Do City deserve to advance on the strength of their performances in Europe this season? Surely not. Have they contrived to shoot themselves in the feet several times through a combination of poor tactics, complacency and ill-discipline? Quite possibly. Are City's 11 men better even than Bayern Munich's 10? It seems not. But does Sergio Aguero deserve to grace the group stages of the Champions League? Absolutely yes.
Aguero's talents have long been under-appreciated - perhaps in part due to his humility - but that hat-trick against Bayern Munich should remove any lingering notion that Aguero is not in the same class as Luis Suarez, Gareth Bale, Eden Hazard or any other player below the rank of 'alien' that Hazard recently bestowed on Lionel Messi and Cristiano Ronaldo.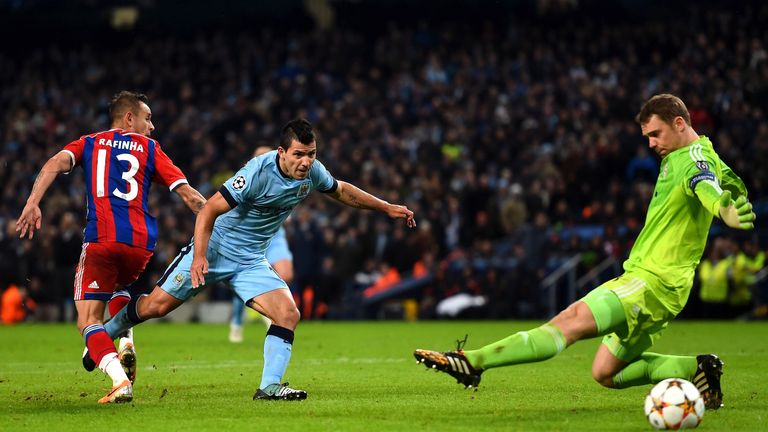 No other current Premier League player could have scored a hat-trick past Manuel Neuer; no other current Premier League player could have scored three times from just three shots against the all-conquering Bayern Munich; no other current Premier League player is so composed, so consistent and so confident even when surrounded by team-mates and staff who are anything but.
Manuel Pellegrini made the error of identifying Xabi Alonso as Bayern Munich's heartbeat – "He is very important to a team that likes to have possession of the ball because he is very accurate in all of his passes" - but then failing to detail either James Milner or Fernando to put him under any pressure at all.
Joe Hart and Bacary Sagna compounded that error with their own individual mistakes. Thankfully for City, Bayern had loaded their own revolvers, pointed them at their toes and then invited Aguero to pull the trigger. Three times.
The key man
Lutz Pfannenstiel, head of international relations and scouting at Hoffenheim, told a national English newspaper this week that Aguero and 'luck' were the keys to Manchester City somehow beating the German champions-elect.


"Bayern struggles defensively with that kind of player - fast, mobile forwards," he wrote, while also suggesting that City man-mark Robert Lewandowski and advising Joe Hart to be in his finest form. Clearly not all his advice was heeded.
But Pfannenstiel was right about Aguero. Ish. What he should have said is that 'even Bayern Munich struggles defensively with that kind of player - fast, mobile, absolutely brilliant forwards - because any team would'.
A version of this article originally appeared on Football365
Watch Sergio Aguero in action for Manchester City at Southampton on Super Sunday from 12.30pm