Why a summer of change could mean a new start for Sunderland
Jack Ross has taken over as manager ahead of League One campaign
By Keith Downie, Sky Sports News North East reporter
Last Updated: 04/08/18 2:28pm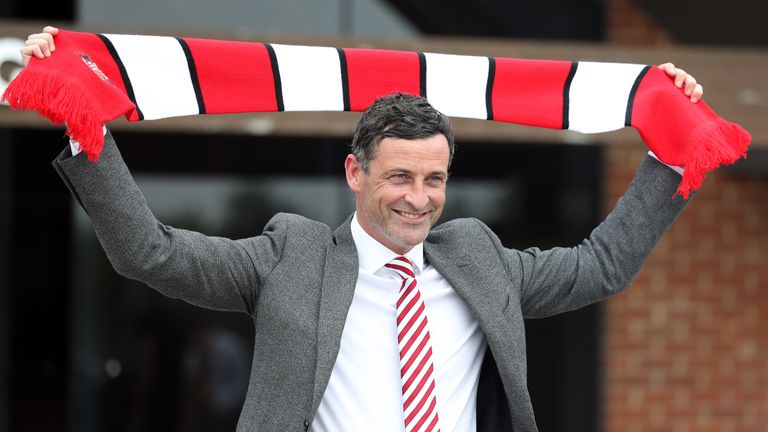 Is there finally cause for optimism at Sunderland? After back-to-back relegations and off-the-pitch problems, Sky Sports News North East reporter Keith Downie looks at how new owners and a new manager are trying to reinvigorate the club ahead of life in League One...
For the first time in a long time, they're looking forward to a Saturday afternoon.
For the Sunderland faithful there's a finally a chink of light at the end of what's been a long, dark and, at times, dangerous tunnel.
The summer takeover on Wearside has gone under the radar in most other parts of the country, but for those who are steeped in red and white it heralds the start of a bright new dawn.
How far new owner Stewart Donald and his close-knit team can take Sunderland we may not know for some time, but Ellis Short has relinquished his control and that alone is the greatest positive for a set of fans that have suffered like no other in recent years.
Sunderland's drop into the third tier of English football created a novel situation: it left fans appealing for the new owners to cut their cloth accordingly instead of pining for them to splash the cash. It was doing exactly that which got them into what became a toxic mess in the first place.
Donald and his lieutenant Charlie Methven have worked round the clock since they were handed the keys to the building at the beginning of May - and cut their cloth accordingly they certainly have.
Gone are a glut of multi-million-pound mercenaries who only came for the money. While wages of £60,000 or £70,000-a-week had distressingly become the norm for a team battling relegation every year, now the highest earner at the Stadium of Light will pick up one-fifteenth of that.
While the overall debt was wiped clear by American billionaire Short, it's Donald who has been left to pick up the costs of deferred payments from previous transfers. That has impacted on the club's spending this summer, but many will say their frugality is not necessarily a bad thing.
New manager Jack Ross has made 11 signings for the new campaign. A whole team of players for the Sunderland supporters to fall in love with again. Over the last few years they had grown to hate their heroes.
Ross, who turned down the opportunity to manage Championship side Ipswich in favour of Sunderland, is a young and hungry manager who is on his way up.
Ross still has the problem of Lee Cattermole and Bryan Oviedo earning £35,000 and £42,000 respectively in a dressing room where the norm is now a tenth of that, and that will be a big challenge of his man-management skills
So keen were Donald and Methven to appoint the Scotsman they met him at an airport as he jetted out on a family holiday to Dubai and offered him the job. They promised they saw him as a project and made it financially impossible for Ross to turn down.
Donald said they undertook a wide-ranging search for the man to lead their charge, and all avenues kept pointing to the largely untested Ross.
Having had dealings with Ross in Scotland before, their first - and most important - signing was a good one. In the days following the news that Sky Sports News broke back in May, people kept asking "Ross who?", but that won't last for long - it's widely regarded north of the border that Ross will go far as a manager.
Last year's PFA Scotland Manager of the Year has signed solid Football League performers like Glenn Loovens, Luke O'Nien and Tom Flanagan. Scottish international Dylan McGeouch has the ability to be the best player in League One should he stay injury free. And this week's capture of Bradford striker Charlie Wyke guarantees goals at that level. The signing of Wyke from a promotion rival was a statement in itself.
Ross still has the problem of Lee Cattermole and Bryan Oviedo earning £35,000 and £42,000 respectively in a dressing room where the norm is now a tenth of that, and that will be a big challenge of his man-management skills.
Meanwhile, the owner has the financial burden of that duo plus Papy Djilibodji's huge wages. But the positive to take is the decks are clearing slowly but surely. Anyone who doesn't want to be there will go, Ross has said on a number of occasions.
Arguably the most interesting move by the former Eastleigh owner is his decision to openly engage with fans. He chats on Twitter, meets them for coffee and takes their questions on supporters' podcasts. For a fan base that have been kept in the dark for so long, this represents the most welcome change.
Some many say Donald is buying himself time by getting the fans onside early, but transparency is healthy in the modern era and at least the fans now feel like they're part of things. The new owner may think he's at times shooting himself in the foot with some of the truths he reveals, but it's refreshing and novel.
But while Sunderland look well equipped to challenge for an automatic return to the Championship, questions linger as to whether the new regime has the financial muscle to return a once proud club to where the supporters feel they belong. Only time will tell if the long-term project bears fruit. Whether it's long-term or not, it's a positive that Sunderland is no longer on Short's terms.
And while the fans who turn up to the Stadium of Light for Saturday's curtain-raiser may not like the red shorts on the new kit, they're happy to be sitting on red seats again following Donald's decision to replace thousands of pink ones that had become synonymous with their plight.
The 22,000 season ticket holders who have signed up for the journey will be hoping they spend most of the season off them.
Watch Sunderland v Charlton live on Sky Sports from midday on Saturday