Sky Sports Scout - Stoppilla Sunzu
Sky Sports Scout is where we scour the globe looking for the best talent. Next up is Stoppilla Sunzu.
By Sky Sports Scout - Tweet me: @skysportscout
Last Updated: 21/05/14 11:53am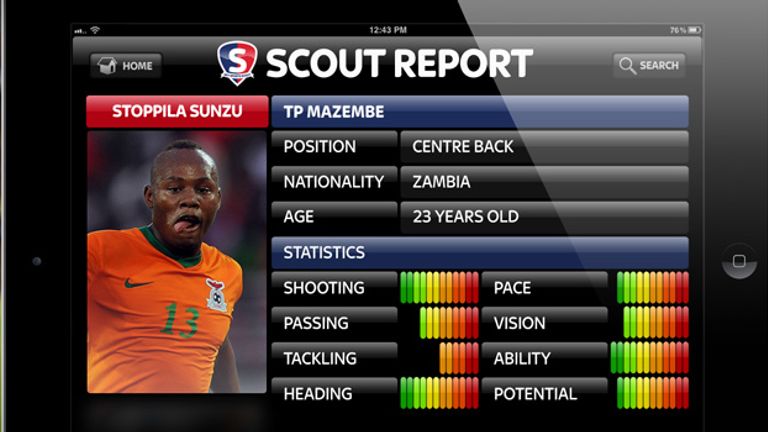 Sky Sports Scout is our exciting feature where we scour the globe looking out for the best talent and bring you a report on what we find.
Our Scout will report back and you can comment on what you think of our appraisal.
You can only nominate a player by emailing here, including the word 'Scout' in your subject line and please check to make sure we have not already covered the player.
You can also now interact with the scout via his all-new Twitter feed! You can get in touch with him and interact here or just search for @skysportsscout
The latest player under our scout's gaze is Zambia's Stoppilla Sunzu.
The scout reports...
This week we check on one of the best young talents in African football - Zambian defender Stoppilla Sunzu.
Sunzu has hit the headlines in recent months after training stints with a number of Premier League clubs, and with a summer move looking likely we check on the 23-year-old centre-back.
Sunzu was born in Chingola, Zambia, even though his family originated from DR Congo. His father Felix Sunzu, who was also a footballer - but a goalkeeper, came from DR Congo.
Sunzu was spotted early on his his life by Konkola Blades, who gave him his first-team debut in 2005, the same club his brother Felix junior played for.
In 2007 Sunzu played in the FIFA Under-20 World Cup in Canada and he helped Zambia make the last 16. His performances caught the eye of a number of teams and he accepted a trial with English club Reading, who tried to sign him, but the fell through due to work permit issues.
He returned to Konkola and by 2008 he, along with his brother, made his senior debut for his country. At this time he also got his first taste of European football when he was signed on loan by French side Chateauroux.
After a year in France, he returned to Zambia and signed for Zanaco Lusaka - where he won the domestic title - this saw him earn a move to DR Congo giants TP Mazembe.
At Mazembe, Sunzu flourished winning domestic honours, as well as the CAF Champions League and also helping them to runners-up spot in the 2010 FIFA Club World Cup.
Sunzu then hit the headlines when he played a starring role in Zambia's African Cup of Nations triumph in 2012 as he scored the winning penalty.
After that a move to England looked almost certain. He again trained with Reading and also with Sunderland, whilst Bolton, Arsenal and Chelsea were all said to be taking a close look.
Moves to Reading and Sunderland both fell through because of a dispute with Mazembe. Sunzu felt he was a free agent, but they claim he still has two years left on his deal with them, something which could still hamper his efforts to move this year.
But is he worth the effort? Well, he certainly fits the bill for the game in England, and he could very well have Christopher Samba to thank, as it is almost uncanny the similarities between Sunzu and Samba in their style of play.
Sunzu is dominating in the air and he is not slow, whilst also not frightened to make a tackle. But he is not just an all-out defender, he can also play in a defensive midfield role, but mainly as a spoiler, if anything.
His positional sense may not be Grade-A just yet, but the rough edges would surely not take long to be smoothed over by a good coach and in a very short space of time.
The scout says...
It is clear to see why so many English clubs are clambering to get hold of Sunzu - he appears to be a real gem of a player waiting to be given a chance.
Subject to sorting out his argument with his club, he is more than likely set to land in England this summer, and he is a name to remember.
The Scout rating...
Shooting: 6 out of 10
Passing: 7 out of 10
Tackling: 8 out of 10
Heading: 9 out of 10
Pace: 7 out of 10
Vision: 6 out of 10
Current ability: 7 out of 10
Potential ability: 10 out of 10
OVERALL SCOUT RATING:60/80
Current value: £2million
Potential value: £20million
Your opinion...
You have read our opinion of Stoppila Sunzu - now we want your views. Have you seen Sunzu in action? Do you agree with our assessment? Do you think he will make it?
Get in touch, either using the form below, email or the scout's Twitter feed - @skysportsscout