Scout - Daniel Bentley
Sky Sports Scout is where we scour the globe looking for the best talent. Next up is Daniel Bentley.
By Sky Sports Scout - Tweet me: @skysportscout
Last Updated: 21/05/14 12:07pm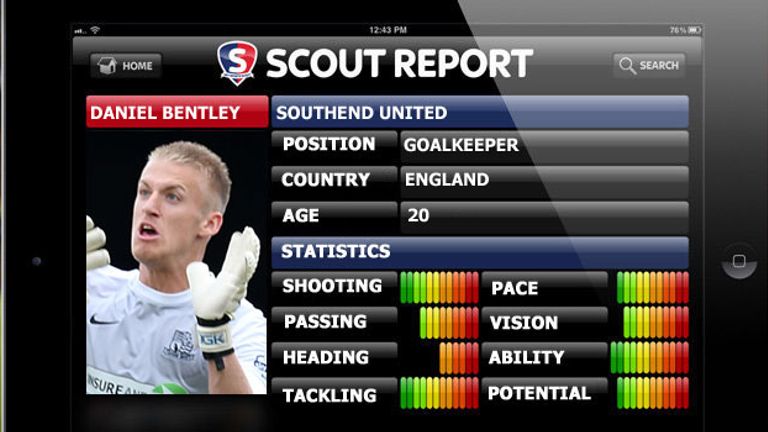 Our scout will report back and you can comment on what you think of their appraisal.
You can only nominate a player by emailing here, including the word 'Scout' in your subject line, and please check to make sure we have not already covered the player.
You can also now interact with the scout via his Twitter feed! You can get in touch with him and interact here or just search for @skysportsscout.
The latest player to be spotlighted is Southend's Daniel Bentley.
The scout reports...
Back to England this week and a young goalkeeper who is attracting a lot of plaudits, Southend United's Daniel Bentley.
Basildon-born Bentley began his career with Arsenal, being picked up as a youngster aged just eight.
He came through the ranks alongside the likes of Jack Wilshere only to be released by the Gunners in 2008, before he was quickly snapped up by Southend.
Bentley settled well into life with the Shrimpers and was playing for their Under-18s before he was handed a professional deal in the summer of 2009.
A brief loan spell at Braintree Town followed, but he soon found himself on the bench as back-up to Glenn Morris and he made his debut in 2011, coming on as a substitute.
However, it was not until last season that Bentley made the big step up - taking over from the injured Paul Smith - and the youngster took his chance with both hands.
Now under Phil Brown, Bentley has been promoted ahead of the vastly experienced Smith and a new long-term deal was signed in August.
Brown is a huge fan of Bentley and is already tipping him to become an England international, and it is clear to see the promise in the young keeper.
Standing at 6ft 4in, confidence is not an issue for Bentley. He imposes himself on his defence and is a domineering figure way beyond his years.
Bentley has all the attributes required of a modern goalkeeper. He is a real athlete, he has very good skills, but as you would want with a No.1 it is his shot-stopping that is his main attribute.
The scout says...
A huge talent, sure, there may be a couple of rough edges, but this boy is destined for big things.
Southend will probably only get one full season out of him - if they are lucky.
The Scout rating...
Handling: 7 out of 10
Kicking: 7 out of 10
Agility: 8 out of 10
Judgement: 7 out of 10
Positioning: 7 out of 10
Shot-stopping: 8 out of 10
Current ability: 7 out of 10
Potential ability : 10 out of 10
OVERALL SCOUT RATING: 61/80
Current value: £1million
Potential value: £10million
Your opinion...
You have read our opinion of Daniel Bentley - now we want your views. Have you seen Bentley in action? Do you agree with our assessment? Do you think he will make it?
Get in touch, either using the form below, email or the scout's Twitter feed - @skysportsscout.
Would Daniel Bentley make your team? Pick your Sky Sports Fantasy Football team for the chance to win over £100k in prizes. Play for free here.