We challenged Paul Merson to pick his best combined XI from Arsenal and Tottenham ahead of this Saturday's north London derby, live on Sky Sports Premier League from 11.30am.
The Gunners legend has only selected three players from his former club - two in defence and a surprise addition up front.
Here's Merson's team and justification, as well as what he thinks could be the implications of the match for both sides...


"I'm going to play 3-5-2 as that allows me to at least play a few Arsenal players!
"Hugo Lloris is in goal for me - if it was five years ago, I would have gone for Petr Cech all day long, but it is five years later.
"On the left I'm going to go for Sead Kolasinac. He's a good player and has been a revelation since joining from Schalke.
"I could have had Danny Rose, but he has not been playing. And I am going to go with players who have been playing recently. I cannot just go with players who have been playing well over the last five weeks, otherwise I would have to pick the entire Tottenham XI! I have to weigh it up over a bit of time.
If I was Arsene Wenger I would play Jack Wilshere
"Kieran Trippier is my right wing-back, then the back three will be Jan Vertonghen, Toby Alderweireld and Laurent Koscielny - I know he has not been playing his best of late, but I'd still have him over Davinson Sanchez.
"The three in midfield are the Tottenham trio of Christian Eriksen, Eric Dier and Dele Alli.
"If I was Arsene Wenger I would play Jack Wilshere. I think he understands how big this match is, and I don't think the other players understand what it means for the fans. You need people in there that understand how big it is. It's massive.
"And up front I will go with Alexandre Lacazette. I have to get him on the pitch because he is a goalscorer and he never lets Arsenal down when he plays. Then I'd have Harry Kane as well.
"I was going to go with Alexis Sanchez in attack with Kane, but he has not done anything since he came back. He has not performed this season. And I'm a big fan of Mesut Ozil but he doesn't turn up in the big games. You can't just do it when you want to do it.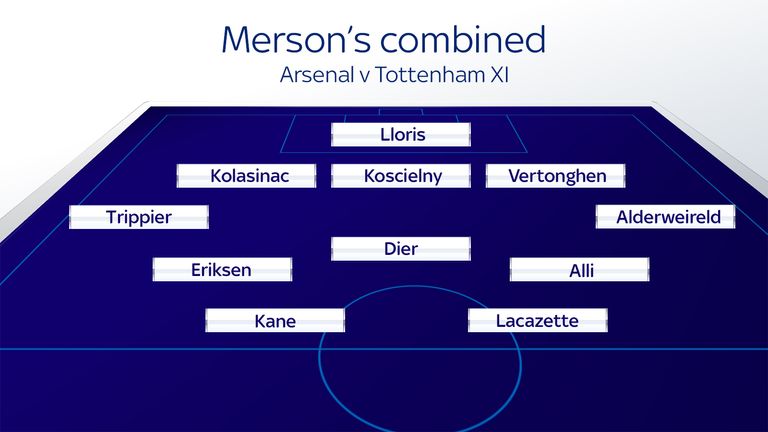 "So this is a team based on who has done well over the whole of this season, and I can only get those three Arsenal players in it.
"It's a big game for Tottenham though. If they don't win I look at Eriksen, Alli, the centre-backs and Harry Kane and I think they will move on at the end of the season. Real Madrid and Barcelona will be calling. It's a big season for Tottenham, they could be dismantled otherwise.
"I also worry for Mauricio Pochettino too. He is one of the most sought-after managers in world football and I don't see how he turns down Real Madrid if they come calling.
"If Tottenham win this by three or four I can't see anyway back for Wenger. Forget about the FA Cup and winning that, if they get beat by three or four I think he could go 'that's it, I might as well leave'."