Out of the shadows
Could Croatia spark memories of 1998 with another success story at this summer's World Cup? Pete Hall evaluates the sense of optimism ahead of the finals in Brazil...
By Pete Hall - Follow me on Twitter @PeteHall86
Last Updated: 09/04/14 10:48am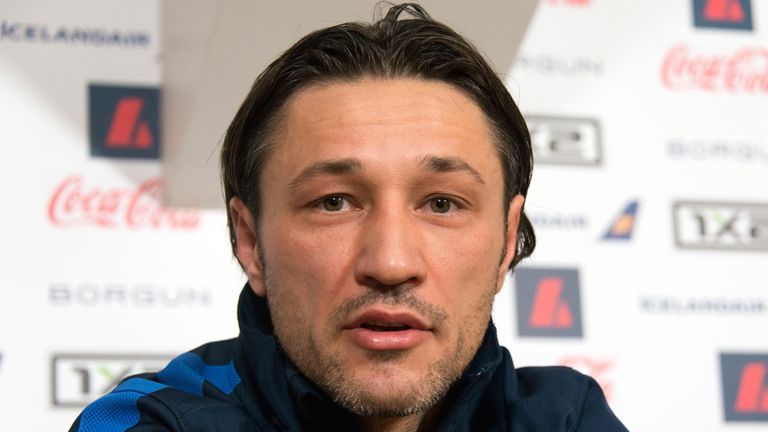 World Cups have always provided memorable moments that will go down on history, and France '98 was no exception.
There was Dennis Bergkamp's exquisite winner against Argentina, Michael Owen announcing himself on the world stage against the same opposition, Laurent Blanc scoring the first golden goal at a World Cup and the majesty of Zinedine Zidane inspiring France to glory over Brazil in the final.
However, the 16th World Cup will also be remembered for the emergence of Croatia, very much in their football infancy, upstaging many more fancied nations to finish third overall.
The Vatreni only gained FIFA recognition in 1993 after the breakup of Yugoslavia, and but for two rare Lilian Thuram goals, would have been competing in a World Cup final in their maiden appearance at the tournament - not bad seven years on from their bloody war of independence.
The legacy of that 'golden generation' has hung heavily over their successors, and matching the standards set by Zvonimir Boban, Robert Prosinecki, Aljosa Asanovic and co. has proven to be a difficult task.
Nonetheless, the current crop of talent has the potential to emulate their famous predecessors, and with a young, popular coach at the helm, Croatia travel to Brazil this summer with the same air of unpredictability of that famous side of 16 years ago. Approach with caution.
While their Slavic neighbours, Bosnia, steamrolled opponents on their way to a whopping 25-point haul, it was a strange qualification campaign for the Vatreni.
Finishing a whopping nine points behind eventual Group A winners Belgium, scoring only 12 goals on the way to a second-placed finish, Croatia scraped past unfancied Iceland to reach this summer's showpiece.
Back-to-back defeats by Scotland did little to convince their fervent following that they will be a force to be reckoned with in Latin America, and helped contribute to the resignation of coach Igor Stimac - a decision that was met with resounding approval.
"He completely deserved it, as he constantly experimented with tactics (very unsuccessfully) and was extremely arrogant in his public appearances," Croatian journalist Aleksandar Holiga told Sky Sports.
"It soon became apparent he has not got a clue what he is doing and, after almost completely destroying most things that worked well for us before, he lost support of both his players and fans."
Former Derby County and West Ham United defender Stimac was a fiercely unpopular coach, so much so that Croatia's most popular newspaper, 24Sata, ran a poll before their defeat by Scotland in October, and 98 per cent voted in favour of sacking Stimac.
A disillusioned following needed appeasing, and despite a severe lack of experience, Niko Kovac, somewhat of a legend in south east Europe, was appointed.
"He looks fairly promising - right from the start he showed some vision and authority, recognising where Croatia's real strengths lie," Holiga added.
"It is also important that he had previously played together with many of those players and had always showed leadership qualities as captain of the team. So he gave the team their lost confidence back."
Restoration of confidence was key to ensuring Croatia's World Cup preparations would not be derailed.
Their squad is brimming with talent. There are the household names of Luka Modric, who has established himself as a Real Madrid regular after a slow start, Bayern Munich's leading scorer, Mario Mandzukic, and Sevilla's effervescent captain Ivan Rakitic.
Experience is also in abundance in the squad. Darijo Srna is Croatia's most-capped player of all time with 111 caps, and is only 31 years old.
Ivica Olic, at the ripe old age of 34, proved he can still get amongst the goals after netting a double in a recent friendly draw with the normally resolute Switzerland.
And in former Manchester City and Tottenham Hotspur defender Vedran Corluka they have a dependable stalwart at the back that has seen it all before.
However, what makes Croatia somewhat of an unknown entity is their young talent that Kovac has at his disposal, with Inter Milan's Mateo Kovacic prime example of such exuberance.
It is fair to say the 19-year-old has struggled under the weight of expectation that the No.10 Inter shirt brings, but, for his country, he has formed a formidable attacking midfield triangle with Modric and Rakitic, and the trio could supply the ammunition Mandzukic needs to spearhead another Croatian surprise.
That is not to say the squad is without its flaws.
"Many problems remain unsolved," Holiga questioned. "Who will play as defensive midfield, covering for Modric & Rakitic? Do we have any wingers at all, let alone good ones?"
Width has been a problem area for the Croats, with several players having been played out of their comfort zone to try and find a solution to the paucity of ability on the flanks, with it yet to be decided who will offer such a dimension in Brazil.
December's draw saw Croatia handed a remarkably similar group to that of France '98, and improved confidence further within the camp.
Much like 16 years ago, the Vatreni will face one tough South American opponent, this time in the form of hosts Brazil rather than Argentina, whom they took on in Bordeaux.
Mexico and Cameroon make up the rest of the group, and are theoretically both beatable, meaning progression at least via a second-placed finish is a must.
However, their performances of 1998 will have to be replicated if they are to match their World Cup debut achievements.
"Given our draw options for the second round (Spain, Netherlands, Chile), further progress looks very unlikely. But anything can happen in one game," Holiga explained, trying to retain some optimism.
Considered to be one of the greatest World Cup upsets of all time, Croatia's 3-0 victory over Germany lives long in the memory with those fans that had to overcome a war in gaining independence just seven years previous.
As a result, football became the remedy for all their suffering, and it is time for the next generation of talent to fulfil its potential on the greatest stage of all.
Results since have never got close to the euphoria of that quarter-final victory against the Germans, but with the enigmatic feel to the current squad, and its rookie coaching staff, a less expectant nation may well be provided with similar success once again.