World Cup What Ifs
Scotland's last appearance at a World Cup came at France '98 and even took part in the showpiece opener against Brazil. David Bowers caught up with Kevin Gallacher to discuss the tournament, including that famous match against the Brazilians in which Scotland pushed them all the way...
By David Bowers
Last Updated: 02/05/14 5:27pm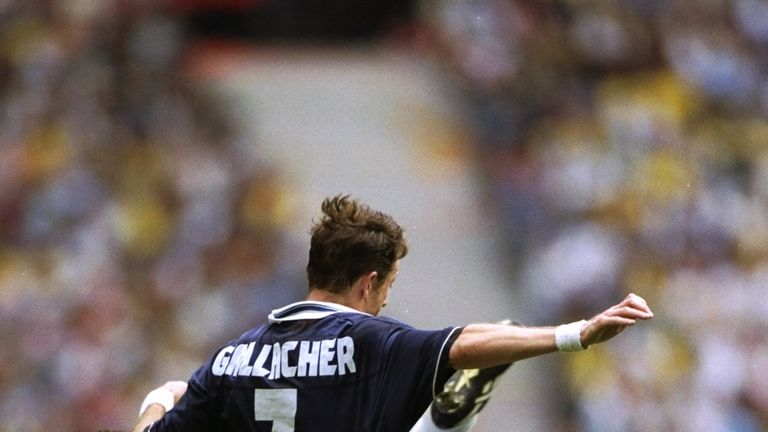 A nation was wrapped in pre-match euphoria and nerves, it was time for Scotland to open up the 1998 World Cup.
Suitably, they would step out of the newly-built Stade de France and begin a month of carnival football against the holders Brazil, with Craig Brown's side facing a monumental task to even gain a point - something they came agonisingly close to achieving.
Kevin Gallacher was a key figure in ensuring Brown's side would feature in France, scoring six crucial goals which would see the Scots finish in second place, a mere two points ahead of Sweden - a record that would see them qualify as the best runners -up.
Having won the Premier League title with Blackburn, Gallacher has experienced the highs of professional football. But what would follow in Paris would be a new experience.
"It was massive. I was more nervous than I was made my international debut. We knew there was going to be 100,000s of people watching it on the telly, maybe millions," he told Sky Sports.
"We were entertaining the whole world and that in the back of your mind is phenomenal. When you're walking out of the tunnel and you see the goals, that's when it's starts to hit home. We wanted to see what we could do."
Battling
For the optimist, just a battling performance would do. When Cesar Sampaio but the Brazilians 1-0 up after four minutes, the possibility of leaving with anything more than pride was fading. Unfortunately for the Tartan Army, there was no immediate sign that the players had been listening intently to their official anthem, with Del Amitri pleading 'Don't Come Home Too Soon'.
After a nervy opening period, Scotland regained their composure and began to use Gallacher as their main outlet - targeting a relatively slow Brazilian backline. Rather than it being a one-sided foregone conclusion, the Scots played their way back into the game and were contesting every loose ball, every challenge and every header. Their chance would soon arrive and after the goalscorer Sampaio clumsily pulled down the dangerous Gallacher in the box, John Collins had the opportunity to level the scores seven minutes before half-time.
Holding the weight of the nation on his shoulders, John Collins expertly dispatched his penalty and would ensure that Brown's side headed into the break all-square.
Having battled furiously in their quest to leave with that elusive point, their brave attempts would be outfoxed by a cruel twist of fate. Despite goalkeeper Jim Leighton playing most of the game relatively untroubled, he would have to deal with a long-range Cafu strike on 76 minutes. But he could only push the ball away to the on-rushing Tom Boyd, who diverted the ball into his own goal.
Confidence
Sixteen years on, Gallacher still rues the point that got away. "It would have given us extra confidence. Even though we were beaten by Brazil, we still had an air of confidence about us. We didn't feel like we had been beaten, we just felt like we had something and could have gained something off them.
"Going into Norway (their next group fixture), we were quietly confident and it wasn't hard from Craig Brown to lift the players. We played well against Brazil and we created a lot of chances and we could have had a draw, but it was one of those games.
A draw would follow against Norway, meaning that any chance of qualifying to the next stage relied solely on a victory against Morocco, who had shown they would be no pushovers following a keenly contested 2-2 draw against the Norwegians.
"We had to go beat a Morocco side who we'd been watching on video, and they looked like the best side out of all 4 of us. We were a bit nervous about it," Gallacher admitted.
The nerves that they channeled expertly in the opening game, would ultimately get the better of them. A brace from Salaheddine Bassir and one from Abdeljalil Hadda would give the Moroccans a comfortable 3-0 victory, sending the Tartan Army home - something Gallacher believes could have been avoided had two of their most integral players been available.
"We were missing Gary McAllister and Ally McCoist, we were unfortunate. With Ally it opened the door for me, Gordon Durie and Darren Jackson to get a starting position. It was a bonus for me, but when you lose quality players going into a competition you need your strongest players. Gary Mac and Coisty were fantastic both on and off the pitch.
"Gary would have helped us, no disrespect to anyone else. Against Brazil, myself, Durie and Jackson dropped into a midfield role and it didn't quite work for Darren. If McAllister had been there alongside Collins and Lambert, that midfield would have been strong to get through Brazil and get that point."
20 years before France '98, Scotland boss Ally Macleod roared on the nation with admirable confidence, declaring that they would return from Argentina with a medal. Perhaps a medal was a bridge too far for Brown's side, but if Scotland had held on for that point with the likes of McAllister and McCoist were available, then maybe they could have prolonged their stay in France.