There have been winners and losers, triumphs and disappointments, but one thing most people can agree on is that this World Cup has been exciting. Goals and entertainment galore have been served up - for once this is a feast of football that has delivered as billed.
At the 2010 World Cup in South Africa, there were just 25 goals scored in the opening round of matches. Claudio Marchisio's strike saw that tally surpassed with half the teams in the tournament yet to make an appearance. We've now seen a whopping 37 goals in just 11 games. Wonderful stuff.
Even allowing for the small sample size and the likelihood of regression to the mean, it seems perfectly possible we are on course for a tournament that will eclipse modern records. There's been far more to it than the goals too. It's been compelling.
The World Cup is not supposed to be this way. The first round is expected to bring tight affairs and the globalisation of the sport means fewer one-sided contests falsely elevating the goals per-game average – think of Germany's 8-0 win over Saudi Arabia in 2002.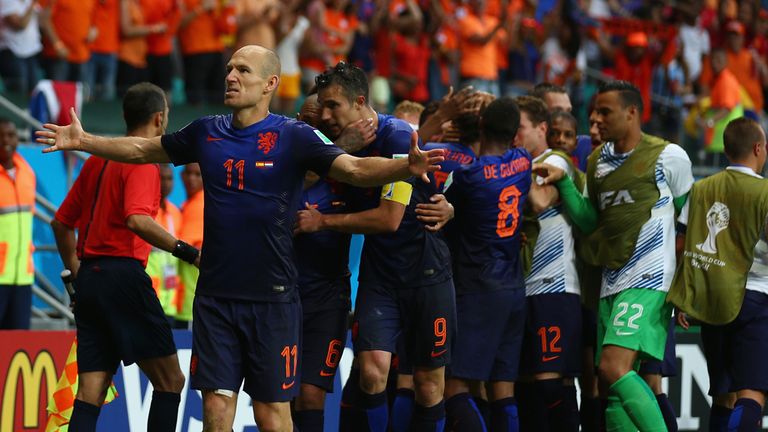 Moreover, international managers have long sought to counteract the lack of time they have to build cohesion by throwing defensive numbers at the problem – essentially attacking with three players rather than four.
Spain's use of Xabi Alonso alongside Xavi and Sergio Busquets is perhaps the most successful example of this approach and saw Vicente Del Bosque's team lift the trophy four years ago having conceded just two goals. Five Dutch goals in 36 minutes emphasised that we're in new territory now.
So why exactly have we seen so many more goals this time around in Brazil? Here are just some of the theories behind the goal glut…
Attacking mentality
The obvious starting point comes with an example close to home. England's change in attitude feels representative of the shift in emphasis as a whole. Roy Hodgson traded in his turgid 0-0 draw with Italy at Euro 2012 for a far more expansive approach in his team's 2-1 defeat against the same opposition in Manaus.
In terms of personnel, England's change effectively saw them introduced Daniel Sturridge for James Milner in a rejigged formation that often looked like 4-2-4 and one that had ramification at both ends of the pitch.
Wayne Rooney romped into space down the left to set up England's equaliser, but the lack of cover for left-back Leighton Baines – himself introduced ahead of the more defensively-minded Ashley Cole – proved a decisive factor in Italy's winner.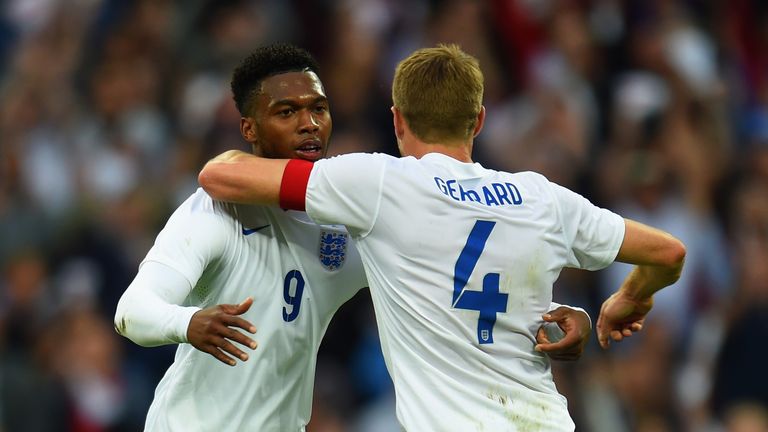 England's ambition appears to have formed part of a wider narrative. Chile were notably different in South Africa due to their willingness to commit men forwards and were similarly ambitious in their game against Australia.
However, it now seems to be the more staid approach of Greece that is the exception to the rule. Their conservative game plan saw them finish goalless against Colombia – one of only three teams to fail to find the net in the first 11 matches of the tournament. Ancient Greek relics.
Goals change games
Not only did 19 of the first 22 teams in action get themselves on the scoresheet, as many as 14 of them achieved that feat in the first 45 minutes. It may seem self-explanatory but goals change games and cause tactical tweaks that alter the dynamics of matches. Goals bring more goals.
Five come-from-behind wins in the first nine matches is an astonishing statistic and indicative of the way teams have responded. Ivory Coast provided an example of this when they changed their shape with the introduction of Didier Drogba and turned things around against Japan.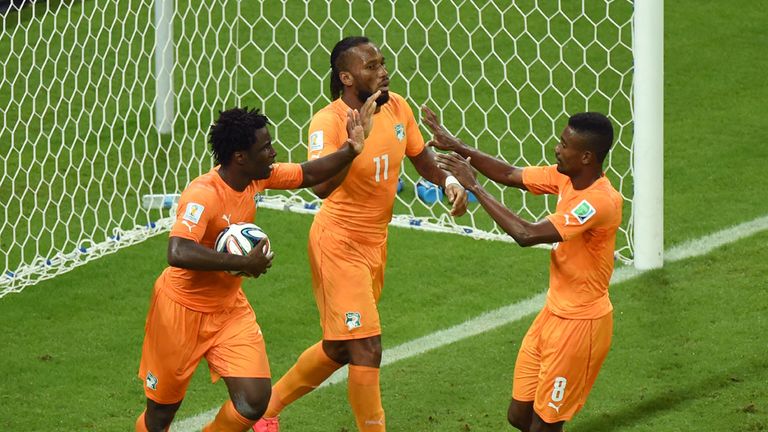 These early goals have forced teams to push and avoiding any possibility of mutual caution setting in. Not only have there been no draws in the first 11 games but only Switzerland's game with Ecuador went into the final quarter of an hour with the scores level.
The boos from the Brasilia crowd at the merest hint of settling for a draw preceded the most dramatic finale as the teams treated us to the spectacle of Valon Behrami denying Ecuador before springing a counter-attack for Haris Seferovic's winner. And with five of the matches seeing goals in the final 10 minutes, it seems early goals beget late goals. The World Cup that refuses to do dull.
High lines without pressing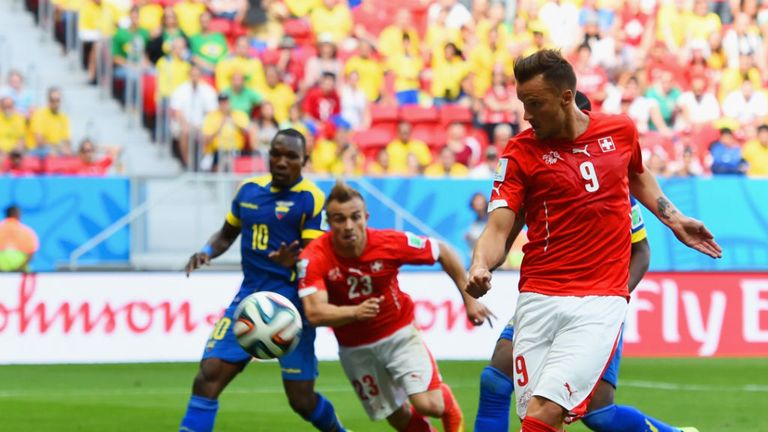 The latter stages of Switzerland's win were remarkably open and while those basketball-style exchanges are an extreme example there's been so much freedom for teams to play. Intense pressing has become such a feature of top-level club football in Europe but there has been a noticeable lack of closing down in Brazil.
It was evident when holders Spain gifted Daley Blind time to pick a pass. Allowing opponent space is risky but to do so when coupled with a high defensive line can be disastrous and so it proved. Space in behind has been a familiar occurrence. Perhaps the heat and humidity has played its part in that and if so it's more than welcome.
Variety of formations
They say styles make fights and that's certainly been the case so far at this World Cup. The ubiquity of 4-2-3-1 four years ago has become more nuanced with a variety of formations creating interesting clashes. Spaces and overloads lead to goals.
In Group A there was the sight of Cameroon's Benoit Assou-Ekotto berating his winger amid the confusion caused by Mexico's wing-backs. In Group B Arjen Robben and Robin van Persie found themselves two-versus-two thanks to a series of quick breaks as Holland's 5-3-2 allowed them to keep both men up top and still compete with Spain in the centre.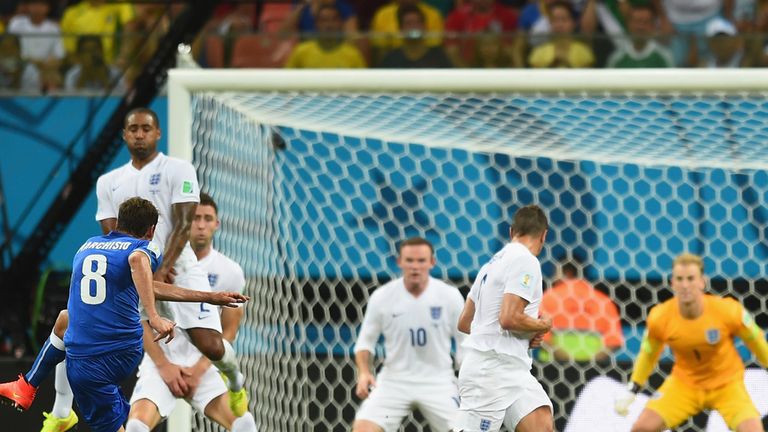 In Group C the battering-ram policy of Drogba and Wilfried Bony further emphasised the potential merits of the front-two against defenders now accustomed to dealing with only one target, while Group D witnessed the tactical confusion caused by Antonio Candreva's cute positioning for Italy as Matteo Darmian romped forwards unchecked.
As long as managers are willing to find alternative ways to set up their teams in order to get the best out of their players and outwit their opponents, this World Cup promises to throw up these intriguing battles.
Goalkeeping gaffes
It hasn't all been about the goals and the glory. As you'd expect given the tally of two clean sheets in the first eight matches, it's not been a great start for the goalkeepers. With Gianluigi Buffon absent in body and Iker Casillas seemingly elsewhere in spirit, the first round of games were robbed of two world-class performers of years gone by.
Indeed, the error-strewn efforts of the Spain skipper offered a delicious contrast to four years ago. Casillas was culpable twice inside 10 minutes in a woeful outing partially explained by his lack of match action this season.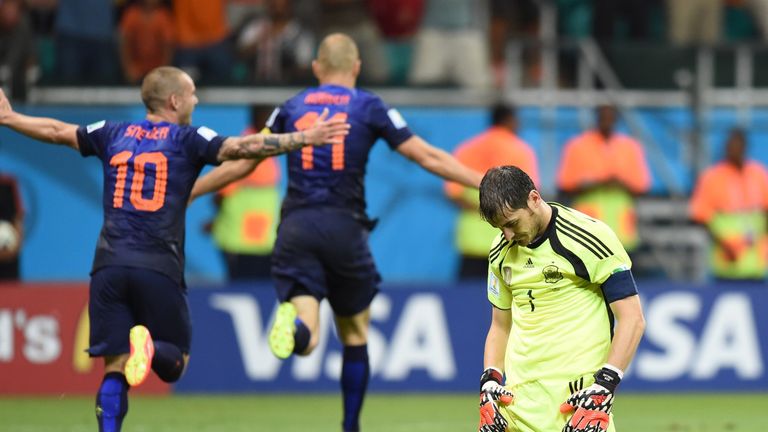 And yet, the Real Madrid keeper has enjoyed more minutes than the first-choice keepers of favourites Brazil and Argentina and it showed in the performances of Julio Cesar and Sergio Romero respectively. Maybe this won't be a classic for keepers.
Elsewhere we've seen a host of underwhelming efforts. Croatia keeper Stipe Pletikosa might have done better with all three goals that went past him in the opening game, while there have been errors from Orestis Karnezis and Japan's Eiji Kawashima in Group C. It wouldn't be a huge surprise to see Fernando Muslera treat us to some nonsense sooner rather than later too.
Set-piece struggles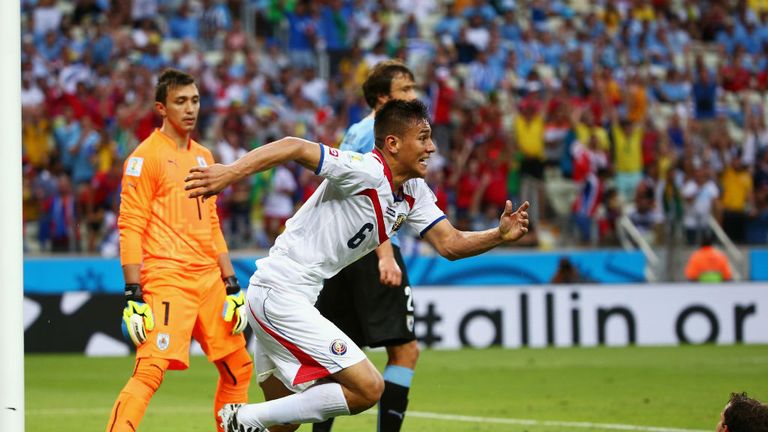 With dominant goalkeepers short in supply, the onus has been on defences to ensure they are organised in set-piece situations. That's not gone well. Clubs can become well drilled over time but some World Cup sides have done little to dispel the notion they've been thrown together.
Stefan de Vrij kicked things off by bundling the ball home at the far post for the Dutch, before Colombia's Teofilo Gutierrez capitalised on Georgios Samaras switching off at the near post for Greece. England also failed the set-play basics when caught out by an Italian short corner.
Uruguay had several warnings before Costa Rica's Oscar Duarte escaped attention at the far post, while Sunday's game between Switzerland and Ecuador was another defensive delight as first Enner Valencia and then Admir Mehmedi helped themselves to simple headers from close range. The coaches won't like it but it's made for a terrific tournament.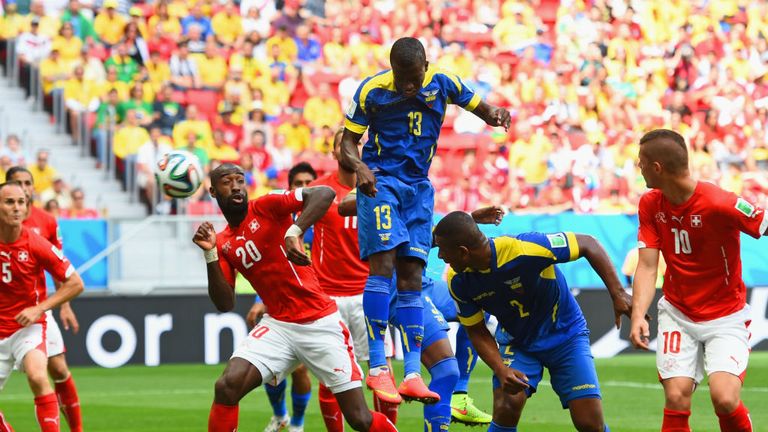 And finally…
Let's finish on a positive. For all the defensive failings, tactical errors and heat-induced hiccups, great goals require great finishes and we've seen plenty in the opening few days. From Van Persie's header to Robben's twists and turns. From the strikes of Joel Campbell and Claudio Marchisio to the team goals from England and Mexico. And then there was Lionel Messi. Long may it continue.