World Cup hosts Brazil experienced "the shame of all shames" in the 7-1 defeat to Germany, according to its astonished press.
That is how the front page of Rio de Janeiro's prominent daily newspaper O Globo described Brazil's historic and "catastrophic" 7-1 semi-final defeat to Germany in Belo Horizonte.
Pictures of fans with their faces frozen in tears after Germany plundered five goals in 29 first-half minutes were labelled with tags including "suffering", "frustration" and "bewilderment", and the media autopsy has only just begun.
"Nobody suffers a 7-1 rout, especially not in a World Cup semi-final, by pure fluke," wrote Allan Caldas in O Globo.
"It is difficult to find a single explanation for Tuesday's humiliation."
Thomas Muller, Miroslav Klose and Sami Khedira all sliced through the Selecao to score with ease and, with the South Americans seemingly helpless to resist, Toni Kroos and substitute Andre Schurrle grabbed two goals each.
Over in Berlin, Hamburg and Munich, delirious fans of Die Mannschaft partied long into the night after witnessing "a victory for all eternity".
Alongside a picture of two-goal hero Schurrle and grinning Germany boss Joachim Low, daily tabloid Bild described the national team's triumph as "7-1 Madness. Lightning DFB team knock out Brazil.
"Unbelievable! Gigantic! Fantastic!"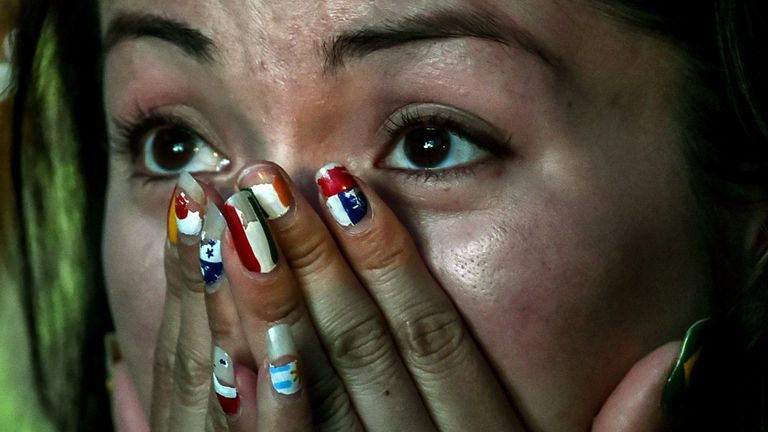 Bild continued: "While we lay in each others' arms, images of crying and shocked Brazilians flickered in our living rooms.
"Sorry, Brazil. We did not want to hurt you.
"But without the injured Neymar and the suspended Thiago Silva the glorious Selecao was reduced to rubble."
Football magazine Kicker was the next publication to stick the boot into Brazil.
"What further superlatives can we find to boast about the historic events that took place on July 8, 2014 in Belo Horizonte?" it wrote.
"Since when did the World Cup semi-finals become training games?"
Brazilian papers which had printed cut-out masks of star striker Neymar - ruled out of the game with a fractured vertebra before the showdown at the Estadio Mineirao - refused to accept that his absence had been pivotal.
They instead blamed the complete disarray in Luiz Felipe Scolari's midfield.
Those home fans who stayed until the final whistle sarcastically cheered Germany's every touch and pass until Oscar's late consolation strike invited facetious cheers of mock celebration.
O Globo's Caldas added: "There was one obvious thing, that everyone could see at the Mineirao, but it was not the absence of Neymar.
"The problem was that the team failed to protect the middle of the pitch, where the Germans were at their strongest.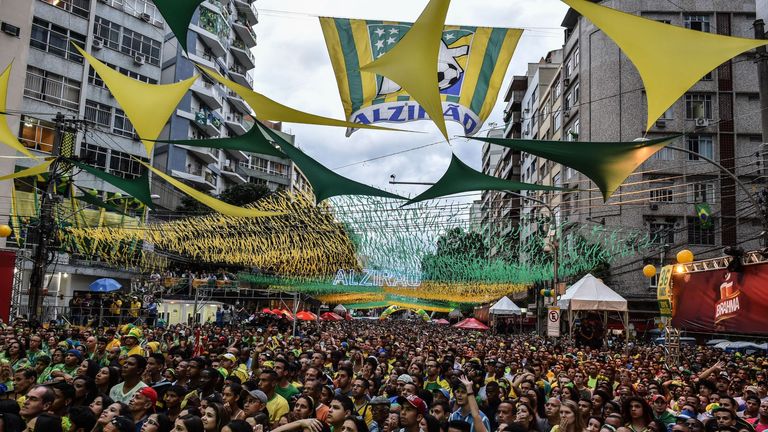 "Was Neymar sorely missed? Of course. But without their best playmaker the team needed to show collective strength.
"Throughout the World Cup, even when Neymar was on the field, Scolari's team was like a desert in the middle: no creativity, no strength, no union."
Such was the impact of the "massacre" to the Brazilian psyche, the nation is now even prepared to forget about the embarrassment of the 'Maracanazo' - the Selecao's World Cup final defeat to Uruguay in Rio back in 1950.
Folha de Sao Paolo ran the headline 'Historical Humiliation', writing: "Brazil are again humiliated when trying to win a World Cup at home" while Rio-based daily Lance described the "insignificant" Maracanazo as "a thing of the past".
Lance went so far as to demand Scolari step down as head coach immediately after Saturday's third-place game against Holland or Argentina in Brasilia.
The Germany media's greatest concern?
"Bring on the Dutch."