Dundee boss Neil McCann and Zander Clark get two-game bans for altercation
By Sky Sports News
Last Updated: 29/03/18 9:21pm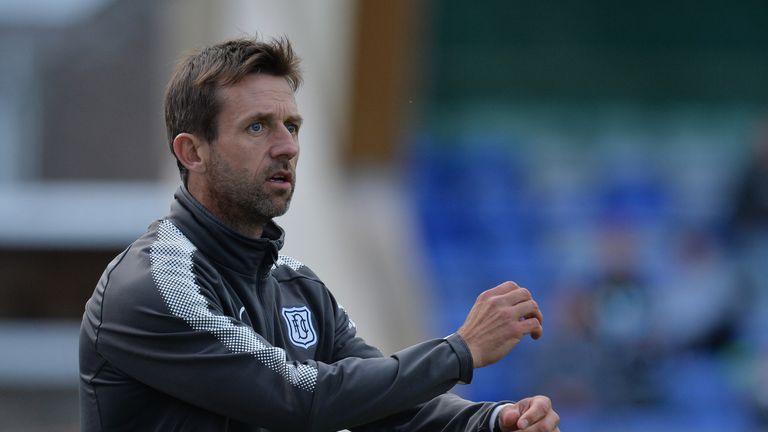 Dundee manager Neil McCann and St Johnstone goalkeeper Zander Clark have been both suspended for two matches following their altercation.
The pair were charged with "excessive misconduct" by the Scottish Football Association after a close confrontation following Saints' 4-0 win at Dens Park on March 10, and an independent panel issued the punishments following a Hampden hearing.
The decision is unlikely to please Saints manager Tommy Wright, who felt TV footage of the disagreement had "vindicated" his club and denied claims that Clark had grabbed McCann by the neck.
McCann denied slapping Clark, claiming his hand had caught the substitute as he tried to free himself.
The pair clashed after McCann initially remonstrated with Saints kit-man Manny Fowler following his side's Tayside derby defeat.
The former Rangers and Scotland player had vowed to represent himself at Thursday afternoon's hearing.
Speaking immediately after the game, he said: "I thought I was controlled during the match but I've gone over and words were exchanged and one of their players has put their hand on me and wouldn't let go.
"I asked him to let go and he wouldn't. It took me a wee bit of time to calm down and walk away.
"I put my hands up to grab Zander to say get his hands off me. Then I retracted them because I had started to regain my composure. There was no punch, no slap or anything like that though."
McCann will have to sit in the stand during games against Hearts and Celtic in the coming week while Clark will miss matches against Aberdeen and Motherwell.
Meanwhile, Aberdeen director Duncan Skinner has received a "reprimand" in the second part of his disciplinary process after he admitted gambling on almost 1,500 matches over the course of several seasons.
Skinner admitted the rule breaches at a previous hearing on December 28 when he was fined £1,000, claiming he did not realise the SFA ban on betting on matches applied to him as a non-executive director.
Skinner, who works in the oil and gas industry, made 589 bets in total covering 1,465 games. Of those bets 81 involved Aberdeen with 74 placed on the Pittodrie side to win and six to draw.