Simon Veness
View from America
Barack Obama is cheerleader-in-chief as USA's soccer revolution gathers pace
USA has not just caught World Cup fever. It's way bigger than that, says Simon Veness.
Last Updated: 30/06/14 7:47am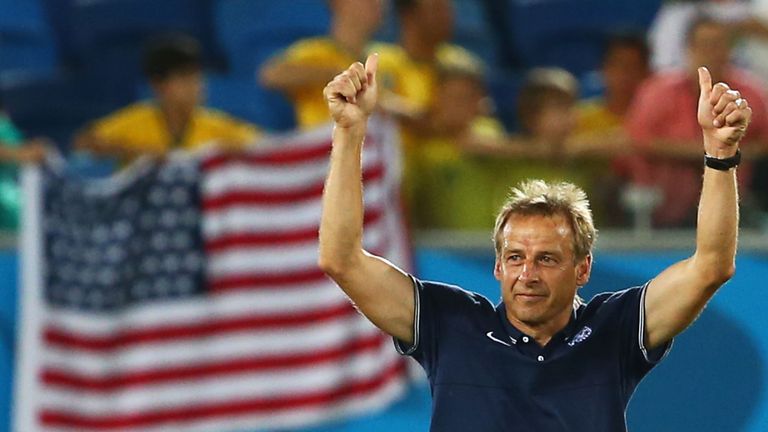 You are going to hear the thud all the way across the Atlantic in Britain. It is going to resound with seismic force as a whole country crashes back to earth with the kind of force usually reserved only for asteroid impacts.
When it happens – and I'm not discounting the fact it could go deep into July – it is going to cause a massive level of consternation and discombobulation, because we have never seen anything like this outside of USA-Russia ice-hockey showdowns.
You know that column I wrote last week, revealing how the USA had finally caught World Cup Fever? Well forget it. All of it. Because it is WAY more than that.
This country has become addicted to all the action from Brazil on such a massive scale, you fear for their state of mind when the adrenalin of 'futbol' finally runs dry. A nation of World Cup addicts will suffer the most enormous of withdrawal symptoms, and the collective cold turkey treatment could well leave us all in a daze.
The fact The Pres was pictured actually watching the game while aboard Air Force One is not only majorly cool, but yet more proof that Copa Mundial 2014 is now all-encompassing in the land of Uncle Sam.
Simon Veness
You have probably already heard the huge gasp of breath that came from the gut-punch caused by Portugal's last-minute equaliser in the USA's second game – an outing that produced record viewing figures of 18.22 million and country-wide agony prior to the even more hyperbolic treatment of USA-Germany.
And, while the latter didn't quite match the Portugal game for outright viewing numbers (the 1-0 defeat to Joachim Low's men was on at noon on a week-day while the epic 2-2 draw was prime time at the weekend), it seemed to have even more reach, including to the President himself, who made the USA's qualification for the second round among his first remarks after arriving in Minneapolis for a first-hand view of the major flooding crisis there.
Want another stat? ESPN reported a record 1.7million tuning in to their various live streaming options on Thursday, more than the last Super Bowl.
And the fact The Pres was pictured actually watching the game while aboard Air Force One is not only majorly cool, but yet more proof positive that Copa Mundial 2014 is now all-encompassing in the land of Uncle Sam.
Well, maybe not ALL-encompassing.  Political 'commentator' Ann Coulter came out firing on Friday, insisting "the growing interest in soccer can only be a sign of the nation's moral decay". She went on to insult just about everyone in the course of an article that made Joey Essex look like a MENSA candidate, but it also defeated the point of her argument, as her words proved that everyone IS paying attention, whether she likes it or not.
Amazingly, much of the momentum has been achieved by social media. ESPN may be devoting more hours to the World Cup than four Super Bowls put together, but it is the likes of Twitter, Facebook, Instagram and Pinterest that have generated an avalanche of interest, with individual campaigns (and hash-tags) for every game – like #Believe, #1N1T (One Nation, One Team), and #WeLoveItWhenWeLose1-0.
OK, so I made the last one up, but you get the idea. And yes, there are a few confused souls over here who are still wondering why they all celebrated a defeat quite so much. But the bottom line remains that this is now a country of soccer junkies to the last man and woman (except Ann Coulter, of course).
The blazing TV headline of 'USA v Belgium Next Tuesday!' overshadowed the NBA draft on Thursday night; the newspaper USA Today produced a feature for Friday entitled 'Get through a day without World Cup by reliving all the goals so far'; and everyone in the country was regaled with the fact it was the first time the national team had progressed from the group stage at successive World Cups.
Best Loss Ever
Yes, it was that kind of day, or 'Best Loss Ever!' as another headline put it.
The US Soccer Association has come up with brilliant promotion after brilliant promotion, urging fans to band together and support the team in every way possible, sending out digitised virtual USA soccer shirts to everyone who Retweeted their messages, and even starting an online petition for a national holiday for the showdown with Germany.
The latter obviously didn't work but it shows the extent of their ambition and it was picked up in various regions, including here in Orlando, where our soon-to-be-MLS team the Lions launched their own social media campaign, urging companies to allow employees an extended lunch break (#ForLunchAndCountry) in order to watch Thursday's game.
Such is now the collective fervour for the round-ball game, this massive behemoth of a country may well come to a complete standstill on Tuesday when they take on Eden Hazard and Co. The fact it is a 4pm kick-off on the East Coast suggests bosses may have to give up on getting any work done after 3.30. Those on Pacific Time, three hours behind, may be in for a half-day's work at best.
Having mentioned our corner of the world here in Central Florida, it is worth pointing out the local soccer fans have eclipsed those in far bigger cities by staging mass outdoor rallies (including packing 8,000 fans into the open-air Wall Street Plaza, which is about the same size as the average back garden) and chalking up major ratings on TV.
Orlando was the 10th biggest viewing market for USA-Portugal and No.5 for the Germany game, which is also proof positive that the arrival of Orlando City for the 2015 MLS season is LONG overdue.
And, in an area that still has some distinctly rural regions, it is impossible to miss the action.
On Wednesday night, I visited the Willow Tree Café in the little town of Sanford (about 20 miles north of Orlando), where German-American owner Theo Hollerbach was preparing for some 400 German fans the next day and trying to get as many tables and chairs out of the way as possible (standing room only, you know).
We would be very welcome to join the throng in our USA shirts, he said, as long as we were there by 11am. Otherwise, there was no guarantee we would get in.
On Thursday morning, in a mad get-away-from-it-all kind of moment, I went kayaking on the Wekiva River, which is about as backwoodsy as it gets in these here parts. After four hours paddling (it was an early start!), I arrived at the little Swamp House Grill, which has prime riverfront location and precious little else.
Free tequila
Thinking I could ask the way to the nearest sports bar or hotel that might be showing the game, I was welcomed to the bar and its six large-screen, high-def TVs all showing the game, and proudly informed there would be free tequila shots if the USA scored.
We were miles off the beaten track yet here was another happy soccer crowd cheering their team and only partly subdued by Thomas Muller's goal. Some of the complications of World Cup group play needed explaining but there was little doubt of the bar's commitment to the USA cause.
And that, in a nutshell, is the story of Brazil 2014 from this side of the pond. A nation totally supportive of their team; totally hooked on this whole World Cup thing; and ready to celebrate every small success to the nth degree. All backed by a social media campaign that borders on the inspired.
Now, how did England do, by the way…?