Simon Veness
View from America
Kaka's Orlando deal another Brazilian boost for football in USA, says Simon Veness
Agony and delight for USA 'soccer' fans
Last Updated: 02/07/14 11:06am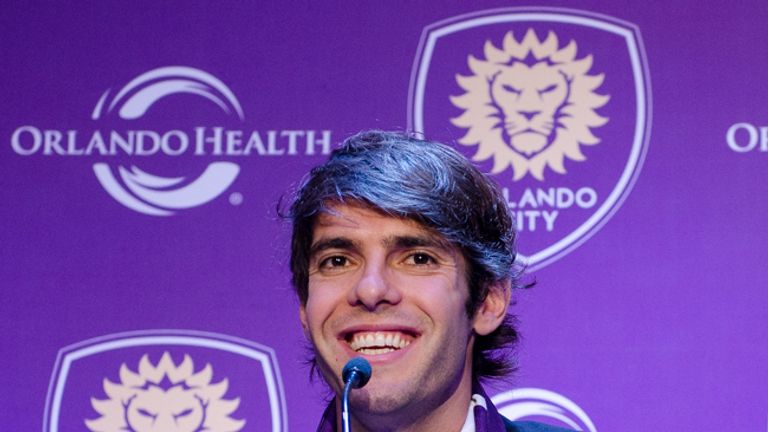 Brazil giveth, and Brazil taketh away. And, while the taking away bit was massively painful for pretty much the whole of USA, there was definite hope for the future in the giving part.
So let me walk you through 24 hours in the soccer history of a nation that had fallen so totally in love with the World Cup you feared for their mental stability when it all, inevitably, hit the buffers with an almighty crash.
There was certainly hope that they might have extended their stay in South America beyond the round of 16. There was even a great deal of belief they could at least equal their previous best Copa Mundial performance, in 2002, by reaching the quarter-finals.
And, to judge by the truly massive nature of the talk-radio shows, TV coverage, social media and other Internet phenomena, there was a blazing sense of passion that this could well be Their Year to do something spectacular on soccer's global stage.
You see, this is a country that has yet to experience the true pain and misery of a penalty shootout exit; or of having a perfectly good 'goal' wiped out by the pathetic lack of goal-line technology; or of seeing an outrageous cheat punch the ball into their net and claim it as 'the hand of god' (the hand of a little sod, more like); or even of knowing you had a decent team but the manager just couldn't put it all together.
No, the USA has never had to suffer through the myriad of genuine heartbreaks that England fans of the past 40 years have come to know as part of their sporting DNA. The World Cup isn't something you're supposed to fall in love with.
Well, it is, but then like the girlfriend you know is just too good-looking for you, she dumps you for another guy, who just happens to come from Germany, or Argentina, or Brazil, or Italy, or France, or Spain.
Simon Veness
Well, it is, but then like the girlfriend you know is just too good-looking for you, she dumps you for another guy, who just happens to come from Germany, or Argentina, or Brazil, or Italy, or France, or Spain. Because there are only ever six countries capable of winning this tournament every four years, and England certainly isn't one of them.
But America doesn't know that, at least not yet, and perhaps it never will. First of all, their teams never seem to under-perform, and they always give their fans hope that they are still making progress in world terms. They might not be the most talented bunch, but by Uncle Sam, they will sell their defeated souls dearly and with maximum effort.
And that is the wonderful simplicity about the USA's national support; they wear their heart on their sleeve as much as the team does, and woe betide anyone who so much as whispers, "Er, I don't really fancy us to win this one today."
Beginnings
But hold on a minute. I am getting to the end of the story before the start, and everyone knows a good tale always starts with 'In the beginning…' And, in this case, the beginning was 1996, when Major League Soccer first announced its presence with 10 teams and a handful of big-name stars like Mexico's Jorge Campos and Colombian Carlos Valderrama.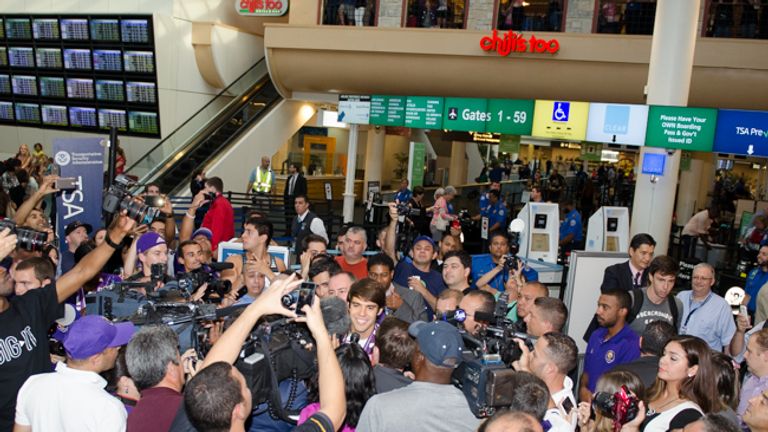 It wasn't a particularly auspicious opening few years, as teams struggled to draw fans, the Miami Fusion went bust and the national team staggered to a last-place finish in the 1998 World Cup (losing all three games, including to Iran). At least they avoided the inevitable pain of another penalty shootout defeat, as England didn't against Argentina.
But from that nadir, US soccer almost literally pulled itself up by the boot-straps and began a 16-year march, first to respectability – witness the 2002 World Cup; then to profitability, as the home-grown league finally engaged its fan-base; then to watchability, as it started to produce talent like Brian McBride, Landon Donovan, Tim Howard and Clint Dempsey; and, finally, attractability, with the arrival of a new wave of foreign stars by the name of Beckham, Henry and Villa.
And, on Tuesday morning, one Ricardo Izecson dos Santos Leite, otherwise known as Kaká, right here in little old Orlando, hundreds of miles from the nearest other MLS franchise and with precious little soccer history other than its massive Citrus Bowl staging five World Cup games in 1994.
But, for a few hours this week – and potentially many, many more in the New Year, when Orlando City step on to the MLS stage for the first time – the focus of soccer's growing grip on America's consciousness was plain to see, and the timing was absolutely delicious, not to mention outrageously serendipitous.
For, just as this tsunami of round-ball passion was cresting in a country not hitherto known for its widespread love of the game, Orlando had managed the ultimate coup, parading one of the biggest names in world terms – a former World Footballer of the Year, World Champion and Champions League winner – as its latest signing.
Oh, and at a time when the Brazilian tourist market to Central Florida is at a record 770,000 per annum, the largest for any overseas nationality in 2013, and counting.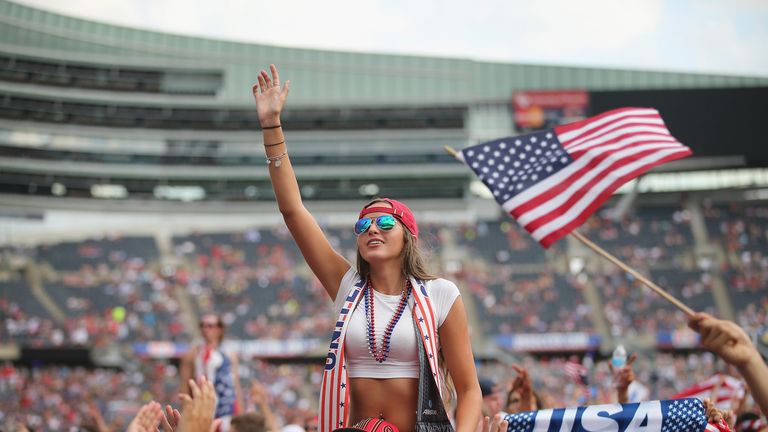 Could you be any more timely in boarding this thundering great bandwagon called The Soccer Express?
Steps
The answer is clearly No, and Orlando City know it, led by head coach Adrian Heath, president (and Stoke City director) Phil Rawlins and local Brazilian millionaire, chairman and majority owner Flavio Augusto da Silva.
As one of Kaka's firm friends and business contacts, Flavio will admit to a two-year 'flirtation' with the player who has plied his trade with Sao Paulo, Real Madrid and AC Milan, and this week's high-profile arrival in The City Beautiful is a giant step towards not only the team's long-term goal but also the continued progress of MLS as a league to be taken deadly seriously.
As Kaka himself said: "I could have gone anywhere in the world but I am no longer interested in the money. It is more about the challenge of helping to create something in MLS, to build something with the city, and to have a life project for my family and myself."
Now remember this. The player himself is still only 32, was the first athlete in the world to surpass 10 million Twitter followers and is an International Ambassador for the United Nations' World Food Programme, so he has a bit of a profile.
And it is considered something of a scandal in his native land that he did not make Phil Scolari's World Cup squad (he would certainly have been a better option than that lumbering waste of space Fred). He had offers to stay at AC Milan and move to other European teams, while several Brazilian clubs were keen to take him home.
But Brazil's answer to David Beckham sees himself on a mission to spread soccer's gospel in Florida and beyond. And, with David Villa signed up for New York City, it is highly likely other big-name stars still in their relative prime will follow, boosting the MLS cause still further and creating more fans.
Rawlins and Da Silva certainly know they have struck while the iron is at its most electric, and the buzz could carry on long after the disappointment of the Belgium defeat is forgotten.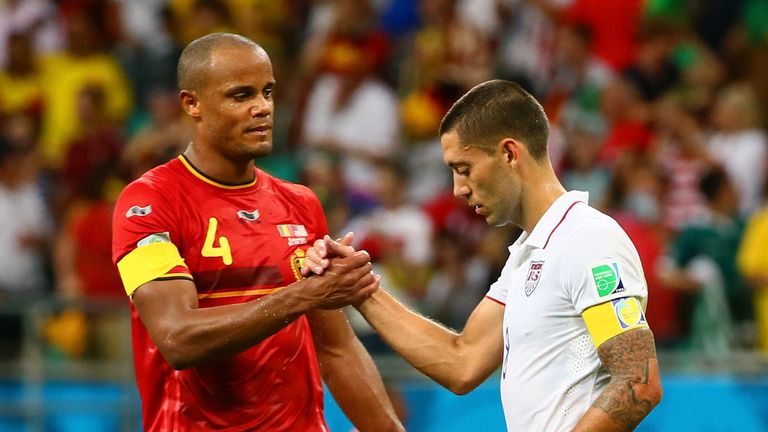 Which is where that whole Brazil taketh away thing comes in.
Because, after Orlando's morning in the spotlight, it was the national team's turn to step under the international focus and test themselves – and their new-found frenzy of domestic fandom, with some 120,000 in the streets and parks of Chicago and tens of thousands thronging the viewing parties in other cities.
It was genuinely gob-smacking, and it is probably fortunate for the rest of the planet that Marc Wilmots' men prevailed, otherwise the earth might have been knocked out of its orbit by the likely US celebrations. Yes, it really was that intense.
In the end, normal soccer service was resumed, but it was a close-run thing and the wails of a beaten nation will probably echo long into the week.
Ultimately, though, it may well be the Brazilian influence over here that has the longer-lasting effects rather than the influence of being in Brazil for another few days.
US soccer can still afford to celebrate, it just hasn't seen the bigger picture yet. Kaka certainly has.