World Cup 2014: Guillem Balague blogs on Mascherano's dream, Scolari's mistakes and Germany's talent
And says Sunday's Final could be closer than we think...
Last Updated: 11/07/14 8:10am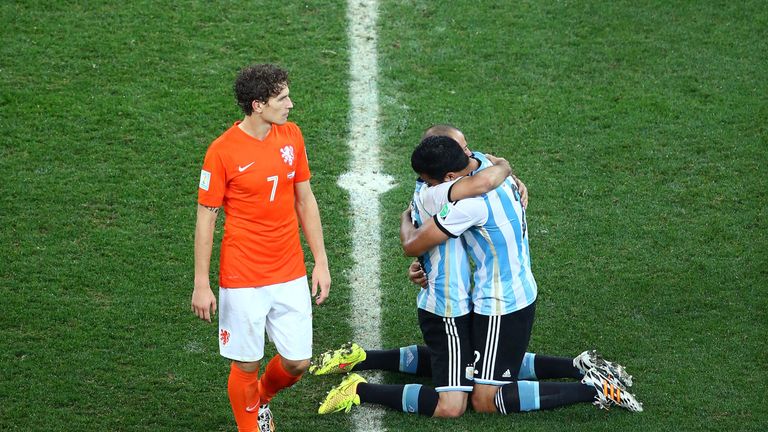 A seven-goal thrashing and a game that came down to penalties - the World Cup semi-finals couldn't have been more different.
Brazil capitulated on Tuesday night to a relentless and sophisticated German side, who wouldn't have predicted the 7-1 rout they inflicted on the host nation.
Meanwhile in Sao Paulo on Wednesday, the Netherlands and Argentina failed to create any clear chances in 90 minutes plus extra time. It went to penalties and without the heroics of Tim Krul available to the Dutch from the bench, Lionel Messi and his men secured their spot in the final at the Maracana on Sunday.
Revista regular Guillem Balague has been analysing the best quotes from Brazil 2014 and, in his latest column, gives his views on the finalists, the end of a Brazilian dream and Louis van Gaal's dismissal of the third-place play-off. 
ALEJANDRO SABELLA - ARGENTINA BOSS
HE SAID:  "Mascherano is a symbol, an emblem. We were able to move onto the semi-finals and he took this huge weight on his shoulders. He's an outstanding player." 
GUILLEM'S ASSESMENT: "I spoke to Mascherano after the game, and he cried. He's a huge football man; the kind that reads books about it; the kind that watches dvds of legendary players, or games or teams; the kind that can't stop talking about football.
So picture yourself incapable of doing things with the ball things that others can; dreaming of making it into a World Cup final but not thinking of it as a real possibility; trying to overcome your limitations with hard work and giving every last drop of sweat for your team. And imagine, having left home at 13, eventually making a living out of it. Also imagine being lucky enough to be signed by the historical clubs that you used to admire from the distance and even playing with the best player in the world. You wouldn't believe your luck.
Then, just imagine taking your national team - the team of the country you have been away for so long - to a World Cup final, the biggest scenario of all. That is Javier Mascherano. That is how he described what is happening to him right now. That is why he couldn't hold back the tears." 
LUIZ FELIPE SCOLARI - BRAZIL BOSS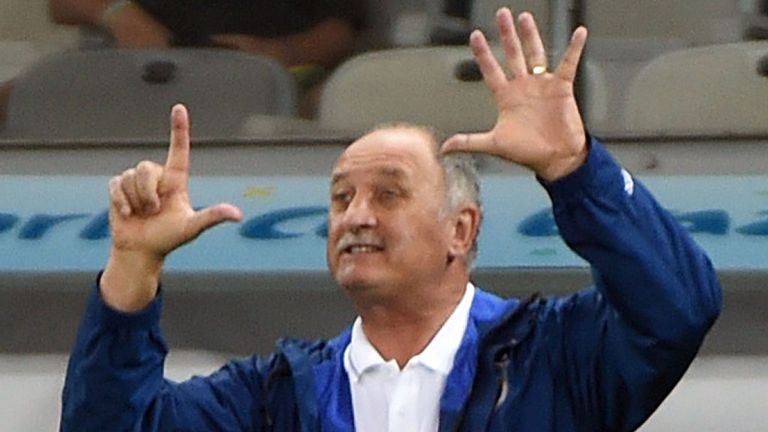 HE SAID: "We did not expect to have a result such as the one we had yesterday in terms of the number of goals conceded. We could win and Germany could win, both teams had very good skills and abilities. But of course a score like that with a lot of goals is going to go down in history."
GUILLEM'S ASSESMENT: What happens if you don't build your team on football foundations of a sound defensive structure and clear idea of what to do with the ball?
What happens if you build your team on the emotion of playing in front of your own crowd; on the emotion of trying to make history; on the idea that it is you versus the world, on the concept that you are playing for your team mates and the overriding feeling is fear, or confusion, or doubt?
Your team collapses, and that is exactly what we saw from Brazil after Germany scored their first goal in the most extraordinary game ever. They didn't have football answers to their rival's questions.  
It's fine to work on psychology, but far too often this is a curtain that coaches use to hide deeper analysis of problems with his work. When journalists questioned Scolari's tactics or the quality of his team, he would go on a tirade against them and label them the enemy. They're the same media who adored the team and wanted them desperately to win.
Scolari is a mediocre coach and he didn't use the time he had in his hands to build a team. Yes, he won a World Cup, but you just need to check the line-ups of that 2002 final to realise that it was difficult to fail with that team against their opposition. 
JOSE MOURINHO ON DAVID LUIZ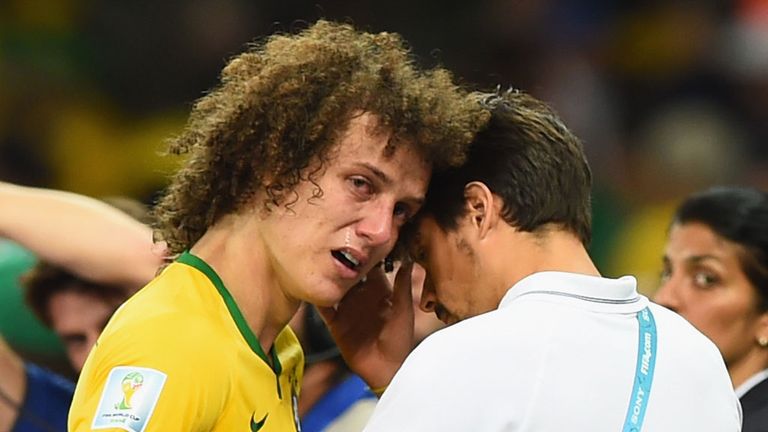 HE SAID: "I don't think it is fair to separate a player from the team, because the team was very bad. [Did] David make mistakes? Yes, he did, but Dante made mistakes, Marcelo made mistakes, Fernandinho made mistakes, the team as a team made mistakes. I think everyone who is a player, everyone who is a coach, everyone who is not involved in the World Cup – we are feeling really, really sorry for them."
GUILLEM'S ASSESMENT: David Luiz is a great footballer with an excellent physique, hardworking attitude and he's a brilliant trainer but, he's an awful defender.
He's not to blame for everything that went on that semi-final because the his team left him exposed, but he was responsible for the first goal; the rest is Scolari's fault.
The manager should have known that his team weren't reacting - they didn't have the footballing weapons to do so. He should have made tactical movements to stop the rout continuing. Carlo Ancelotti made the same mistake against Liverpool in the 2005 Champions League Final. Ancelotti now says he should have made a substitution in that game as the Liverpool goals were coming in and that that's a mistake that will never happen to him again
But Scolari couldn't believe what he was seeing and the players did not know what was best for them. It was a terrible combination. 
MATS HUMMELS - GERMANY DEFENDER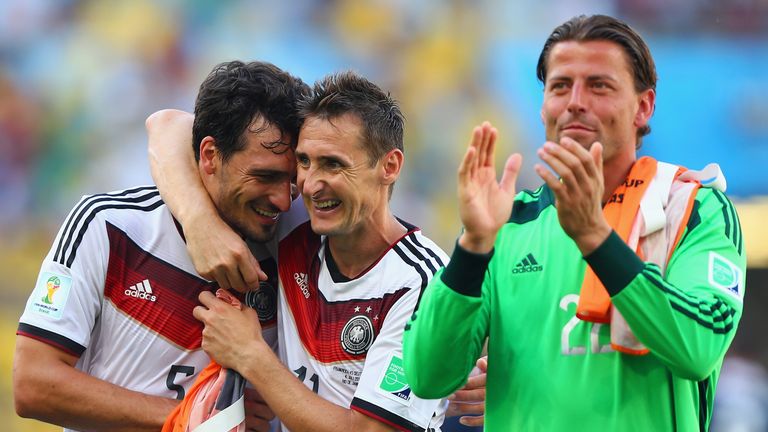 HE SAID: "The win over Brazil does not have any impact on the final on Sunday because it will be a totally different game. It was nice how it went in Belo Horizonte, but it will be no problem keeping our feet on the ground.
"We know how hard it will be in the final. It will be a hard fight and the only chance we have of winning is if we know and accept that from the start. In the dressing room at half-time and after the match we just made it clear that we had to stay focused and not get carried away with this. We said we had to stay serious and concentrate."
GUILLEM'S ASSESMENT: "Germany have been the only team to offer something new at this tournament (perhaps with the exception of Chile, who took the concept of team effort to a new level of commitment and collective understanding). It is just not about the result against Brazil, which was a bit of a freak moment. After the first goal Brazil collapsed and Germany cleverly punished the space left by a disorganised team with pace and talent to kill the opposition with a ruthlessness never seen before at this stage.
Everybody has tried to come to this tournament with a structured defence and while Germany have achieved that, they've also added a structured attack. That is the future – to play positionally even in attack. They have created automatisms so that when they have the ball they know in their DNA what to do.
It is not by chance that the line-up against Brazil had six Bayern Munich players; those guys have been exposed to the positional game since the days of Louis van Gaal. Jupp Heynckes took advantage of that and gave them an offensive twist and current boss Pep Guardiola has since continued the work left by the Dutch coach.
All of that makes you understand the triangles, the cleverness of their counter, the way they killed spaces in midfield, the work of the full-backs and the centre-backs building from the back. It's wonderful, even if they don't win on Sunday.
I predict a much tighter game than most are saying and a game that can be won by both. It will probably be won in the little details and not with a big score. Whatever happens, Germany deserve praise and people should learn from them."
LOUIS VAN GAAL - NETHERLANDS COACH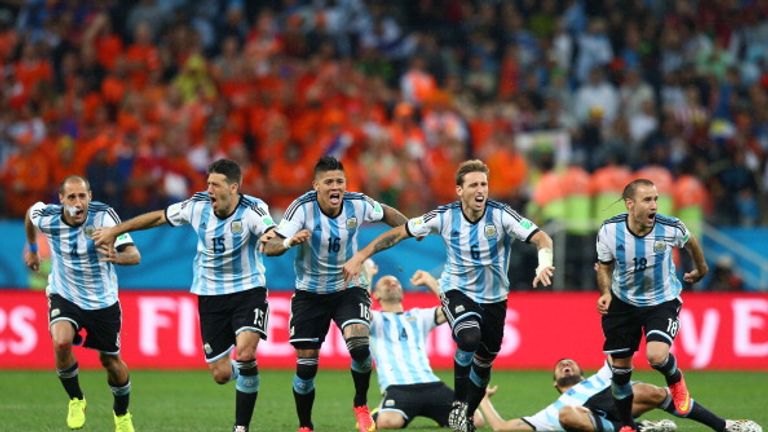 HE SAID: "I asked two players to take the first ball before ending up with Vlaar," "I thought he was the best player on the pitch so should have confidence.It just goes to show it's not easy scoring in a shootout. It's the most terrible scenario, to lose on penalties. At the very least we were equal with them, if not the better team. It's a big disappointment."
GUILLEM'S ASSESMENT: "As many have tried to explain, changing the goalkeeper against Costa Rica was a gamble - apparently it was done for scientific reasons. Jasper Cillessen has never stopped a penalty in his professional career - he has not had to stop many - but the penalty-shoot-out is simply a lottery. I tweeted that 60 per cent of teams that take the first kick tend to win the shoot-out and that stat was meant as a tongue-in-cheek comment. What is 60 per cent? A toss of a coin, nothing more.  Imagine that Holland had won the penalty shoot-out what kind of articles and discussions we would be seeing today? People would be talking about the brilliant substitutions of Van Gaal and about the running of Dirk Kuyt instead of the heart of Javier Mascherano.
The fact of the matter is that Argentina tried to win the game with more intent than Holland. The Dutch had most of the ball but they did not beat lines of pressure often enough, did not put enough men forward and took few risks by keeping the wide players deep. Yes, they could have won it through Arjen Robben's chance right at the end of 90 minutes, but generally Argentina managed to stop the danger. They did that by killing spaces, by also not allowing the full-backs to go forward too often and by playing Mascherano deep, sometimes joining in as a centre-back. The problem is that their blanket, which was always too small, covered their head but exposed their feet. Lionel Messi found himself too lonely in attack, even though three good chances were created in the game.
ALEJANDRO SABELLA - ARGENTINA BOSS
HE SAID:  "Four years ago he was criticised. Now we say we are being told we greatly depend on Messi so it is not easy. I repeat any team that has a player like Messi will depend a lot on him... he is the best player in the world but there is team work also. I want a team that supports Messi, that's strengthening him, that helps him to feel good, so that he can perform as he has been doing."
GUILLEM'S ASSESMENT: Many have commented on Leo's lack of dynamism. I have said before that teams are like dynamos; if they work properly, distributing the ball fast and opening up spaces with movement off the ball then you get the best out of Messi. If the dynamo is stopped, Messi stops too and just waits for a moment of brilliance.
Every single team, perhaps apart from Nigeria, have defended very deep against Argentina to stop their biggest weapon, which is the counter-attack. As a result, they have decided that they will protect themselves with six or seven men behind the ball and just hope that Messi can produce something out of nothing, as he has done in most of the games. He didn't do it against Holland, even though right at the end he dribbled past three players down the right wing and sent in a cross that Maxi Rodriguez couldn't convert.
It's not that he is out of form or fearing injuries because he tends to do more sprints at the end of games than in the early stages (because there are more spaces). I am convinced that Argentina's players would look better and would have a bigger influence without Messi, but if you were the coach would you build a team around that kind of star or would you lessen his influence and tire him out running after defenders or dropping deeper to build the attacks, simply to create a more balanced team?
Sabella has gone for the former and the team got an 8/10 based on what they were asked to do. It wasn't pretty and won't have impressed anybody, but they are in the final."