Tottenham release Heung-Min Son for full Asian Games as deal reached with South Korea
Last Updated: 01/08/18 10:41am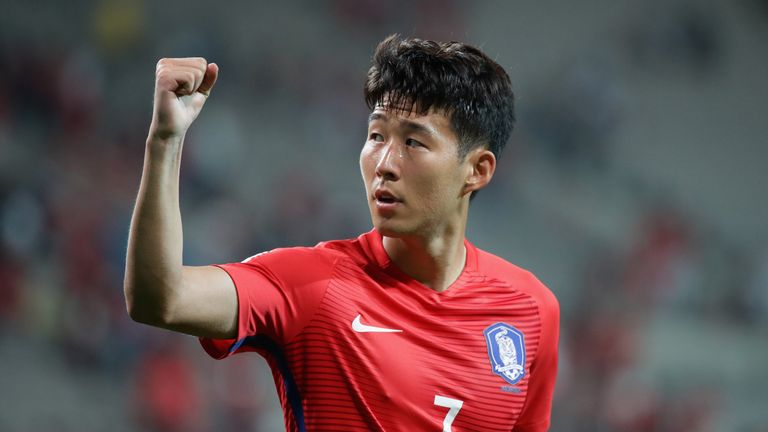 Tottenham have agreed a compromise with South Korea over Heung-Min Son which will see the forward miss the first two matches at the Asian Cup in January in exchange for releasing him for this month's Asian Games.
Son will fly to Indonesia for the Asian Games - where a gold medal is likely to win him exemption from military service - after Spurs' Premier League season opener against Newcastle United on August 11, the Korea Football Association (KFA) confirmed on Wednesday.
Spurs had initially sought to keep Son back until August 18, when they have a Premier League match against Fulham.
That would have effectively kept the 26-year-old out of the group stage for Asia's mini-Olympics, where the football tournament runs from August 14 to September 2.
But Spurs later relented, striking a deal that rules Son out of South Korea's Asian Cup games on January 7 and 11 against the Philippines and Kyrgyzstan, as well as an international friendly in November.
There are precedents for footballers being granted exemptions from South Korea's 21-month military service, as happened in 2002, when the national team reached the World Cup semi-finals, and in 2014, when they won gold at the Asian Games in Incheon.
However, Son missed South Korea's triumph in 2014 when his former club, Bayer Leverkusen, refused to release him.
Son, who is on Spurs' pre-season tour of the United States, apologised to his Tottenham team-mates and manager Mauricio Pochettino for missing matches.
"I feel sorry because Tottenham is my team and I feel very sorry for my team-mates and coaching staff," Son told the media in Minneapolis ahead of Tuesday's friendly against AC Milan.
"But I am playing for my country and that is also important. But honestly I feel very sorry about that. That is what I feel."
He also refused to be drawn on the prospect of potentially avoiding military service.
"We can talk about [the national service] afterwards," Son added. "We haven't won it already. We are going there to win something, and winning trophies for my country is always good. I don't travel there for nothing."
Son, who last month signed a new deal keeping him at Spurs until 2023, has emerged as one of the club's key players, scoring 47 goals in 140 appearances to become the top Asian scorer in Premier League history.