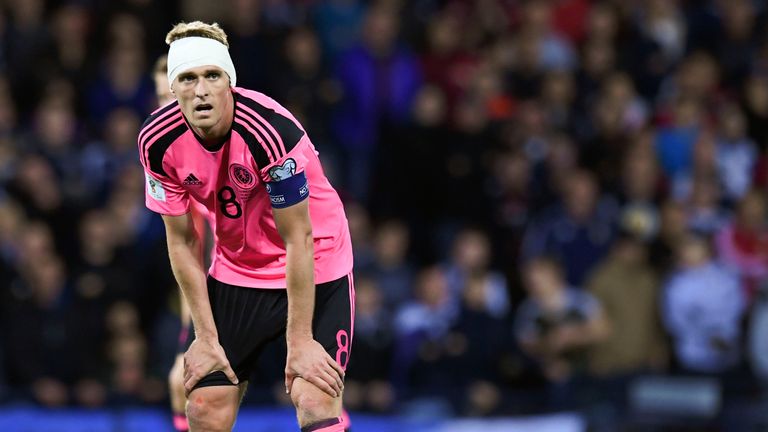 Darren Fletcher hopes his days of suffering heartache with Scotland are finally behind him.
The stand-in skipper put on a leader's performance as he marshalled Gordon Strachan's men to a crucial win over Slovakia at Hampden on Thursday.
The 1-0 victory - sealed by Martin Skrtel's late own goal - now sets up the Scots for a make-or-break clash with Slovenia on Sunday, live on Sky Sports Football from 4.30pm.
Victory in Ljubljana will guarantee second spot and should be enough to book a slot in the play-offs.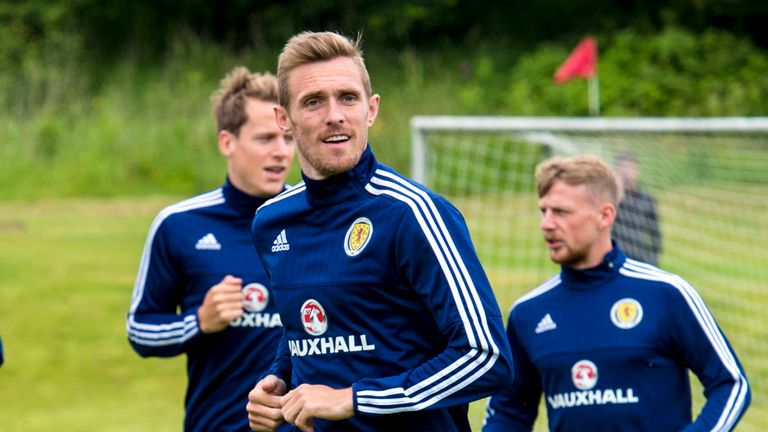 I'm not getting any younger and I know there's not too many chances left, so Sunday's match is vitally important.
Darren Fletcher
Having missed out on a host of major tournaments down the years with the national team, 79-cap veteran Fletcher is determined to take his place at next year's World Cup in Russia.
"I'm probably the member of the squad who has suffered the most heartache playing for Scotland," the 33-year-old Stoke midfielder said.
"I've been so close a few times in these final games only for them to go against us.
"I'm not getting any younger and I know there's not too many chances left, so Sunday's match is vitally important.
"But it means just as much to the rest of the boys as it does to me and it means just as much to the whole country.
"I've reiterated how important this game will be to the rest of the lads - but you've got to get a fine balance between making sure that we're calm and we believe in ourselves and we're not going over there going crazy.
"You don't want to concede goals, you've got to stay in the game. You have to be wary of all these things. You can be too up for it as well.
"You saw that with Slovakia - red cards, yellow cards. Referees are capable of anything so we keep calm heads, keep doing what we've been doing and we'll see how we go."
Scotland were boosted on Thursday when Slovakia forward Robert Mak was sent off after collecting a second yellow card for diving.
Yet the performance of visiting goalkeeper Martin Dubravka looked set to break Scottish hearts as he pulled off a string of incredible saves.
Leigh Griffiths and substitute Chris Martin both struck the crossbar but in the end it was Skrtel who inadvertently turned the ball past Dubravka to the relief of Scotland.
"It's a massive victory," said Fletcher. "Even against 10 men it wasn't easy but we created so many chances and their goalkeeper had one of those nights.
"We kept believing, we refused to give in and went right to the end and got a well-deserved goal that keeps the dream alive.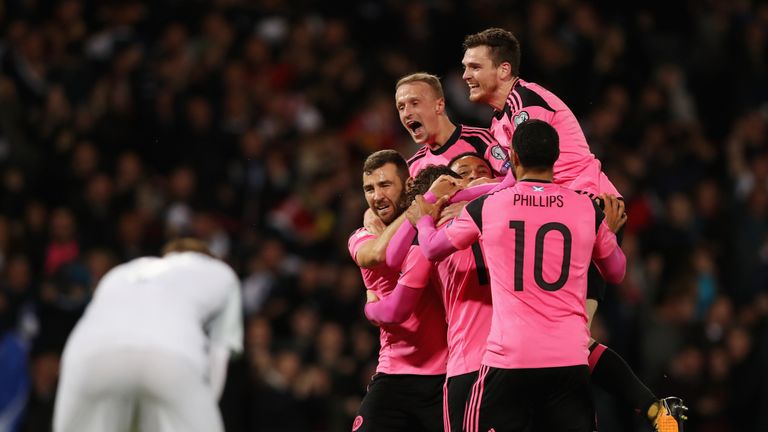 "People think when you're playing against 10 men you'll just be able to run up the park and score - but it's not that easy.
"The reason we won the game in the last minute was because we were patient and worked them side to side, tiring their legs.
"We believe in ourselves. We're on a good run and we're full of confidence. No matter what players play, we have a good squad. All these things are coming together.
"It's not going to be easy on Sunday. We've only done half the job by beating Slovakia. But we will go to Slovenia with confidence in a position that we'd have taken a long time ago.
"Now we need to put in the performance and result that will see us over the line.
"That momentum's definitely in our favour now. We've just got to see it over for one last game but then we've got a play-off after that so there's still a long way to go."