Have England found Jack Wilshere's best position by playing him as a deep-lying midfielder? After another impressive performance against Slovenia that included two fine goals, we ask whether Arsenal should take note and wonder what it could mean for Roy Hodgson if they don't…
He's convinced England boss Roy Hodgson and, perhaps most importantly, convinced himself. But if Jack Wilshere is to really make his new position work then he must persuade his club manager. Unfortunately, Arsene Wenger remains reluctant to acquiesce to the idea of the 23-year-old as a holding midfielder. The Arsenal boss said in October that he did not envisage Wilshere playing there and has been true to his word in the limited opportunities to test the theory since then.
The ankle injury that kept the Gunners midfielder out over the winter has meant only three starts for Wilshere since his back-to-back man-of-the-match performances for England in November. The following week against Manchester United, Wenger positioned him as a No10 with two midfielders operating behind and when Wilshere returned to the starting line-up in May it was to play out wide, cutting inside from the right flank.
"He is not a ball-winner," said Wenger late last year in response to the calls for him to give Wilshere his chance as a deep-lying midfielder. "I believe he is more a guy who you want to get close to the final third. To keep him deep you take a big part of his efficiency away. He is a guy who likes to penetrate when there is many people, he can provoke free-kicks, he can create openings. It would be detrimental to his strengths in a position that is not his strength."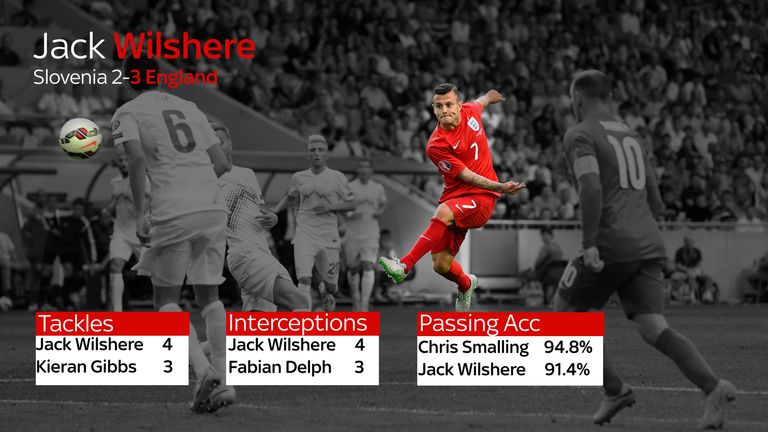 Perhaps Wenger is right about Wilshere's ball-winning abilities, although the player has certainly shown himself to be an enthusiastic tackler and appears more than willing to embrace the challenge of improving that aspect of his game. Wilshere made four tackles in the 3-2 win over Slovenia on Sunday – more than any England team-mate – and his tally of four interceptions was more than anyone else on the pitch.
Moreover, to equate a deep-lying role with that of a ball-winner might be to misunderstand how Wilshere plots to interpret the task. It's evident from his own research that the player has something rather different in mind. It's the likes of Xabi Alonso and Andrea Pirlo that he looks to for inspiration. "I get the clips through on my iPad," he said last year. "The analyst guys here send them to me and they highlight some of his key points, his key strengths. That's part and parcel of learning."
After playing there for the first time against Switzerland in September, he added: "There is a lot more to come from me in that position, but the more I watch players like that, the quicker I will learn. I have been watching Xabi Alonso on video in the past couple of weeks. He had a record number of passes in one game, nearly 200 in one match, which is ridiculous. Watching players like him and Andrea Pirlo, you learn how clever they are, how intelligent they are on the ball."
Alonso and Pirlo are well known for the creative spark they can provide a team courtesy of their long passing, but Wilshere is not an obvious fit for that skill-set. It's his dribbling skills that are more apparent and if he's to continue showing that kind of fearlessness it requires support from those around him. After a series of encouraging displays for his country, the signs are that Hodgson is keen to construct the England team around him to that end.
Jordan Henderson, Fabian Delph and Adam Lallana each busied themselves offering angles for short threaded passes into the space immediately ahead of Wilshere at the weekend. At other times, they were equally happy dropping in when he embarked on a roving run. All three showed their intelligence and are helping to bring the best out of Wilshere. Arsenal have other midfield talents that would make such an emphasis a questionable use of resources but for England it makes sense.
Wilshere seems aware of his responsibility. "In that role it's important you have to understand that if you lose the ball, the opposition are in a dangerous position to counter-attack," he has said. "Whereas if I was playing a little bit higher, on the edge of the box, you can lose it and you have players around who can get the ball back. You learn how they use the ball and you learn when it's a good time to dribble or sometimes pass."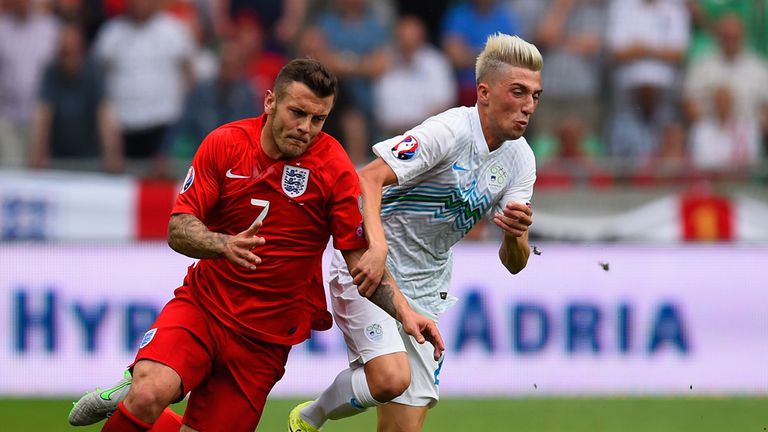 In that role it's important you have to understand that if you lose the ball, the opposition are in a dangerous position to counter-attack.
There were signs on Sunday that he is learning that skill. Wilshere found a team-mate with 53 of his 58 passes – a success rate of 91.4 per cent. That was superior to any other England midfielder in the match and better than the average for any regular midfielder in the Premier League in 2014/15. Despite the perceived risk, nobody could accuse Wilshere of indulging himself in that deeper role with reckless runs and 'Hollywood' passes.
He's going to improve too. The performances are already evolving. Wilshere made more interceptions against Slovenia than in his previous four England games in the role, while his passing accuracy has topped 90 per cent in each of his last two international appearances after starting at a more worrying 81.8 per cent against Switzerland. This suggests he has taken advice on board. The danger, of course, is that his creative instincts are curtailed in the process.
After creating no fewer than 10 chances against San Marino and Estonia, there were none fashioned in three hours against Slovenia. Which might be a worry but for his two stunning goals – more than he's managed in his last 39 games for Arsenal. He's revelling in it. "I've said before, after the first game in Switzerland, that I'd only get better and better. It was my first game ever playing in that role. We're working on it, because I don't play that role for my club, but I am really enjoying it."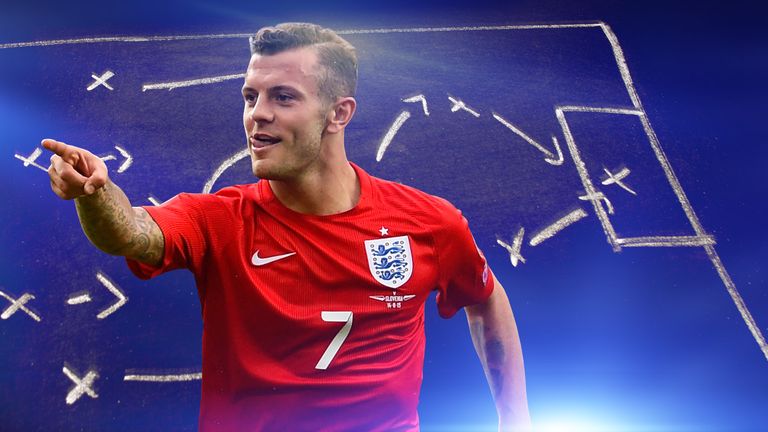 Wilshere has already admitted that his best performances are coming in an England shirt, but the concern remains that he must be exposed to the toughest tests before Euro 2016. And Hodgson is unlikely to get any help from Wenger there. "I wouldn't mind playing it at Arsenal," said Wilshere in November. "I've already spoken to the manager about it and he doesn't see me playing that role just yet. That's the manager's decision. It's down to him. If he wants me to play there, I'll play it."
That might not be the answer for Arsenal, but Hodgson and England do not have the same personnel available and so the situation demands a different solution. After his latest brilliant showing for his country, it's a solution that seems certain to include Jack Wilshere as the heart and brains of the midfield. The move has vast potential, that much is clear. It's also one that comes with considerable risk for as long as Wenger and Arsenal refuse to follow suit.