Football Expert & Columnist
Manchester United right to be concerned by Manchester City gap, says Jamie Redknapp
Last Updated: 16/12/17 7:32am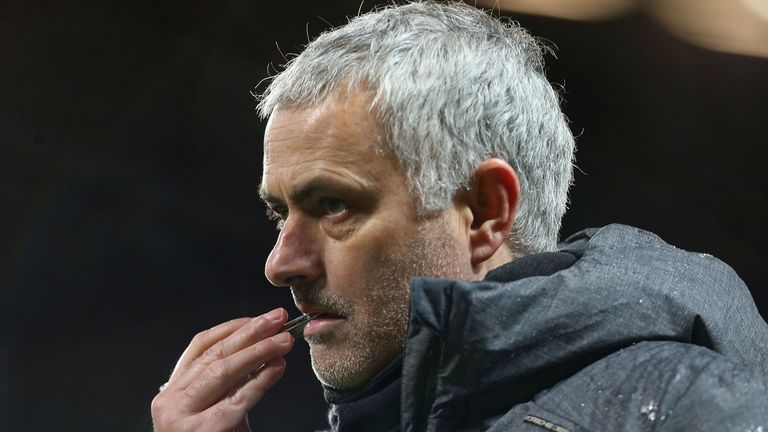 Manchester United's defeat to Manchester City may force Jose Mourinho to change his priorities, says Jamie Redknapp...
Manchester United may have bounced back from their defeat to Manchester City with a win over Bournemouth but they'll be reassessing their aims for this season, now. And they won't be the only ones.
City look like they could run away with this Premier League title. United have to hang in there and hope Tottenham do everyone a favour on Saturday night but there's now a big gap between Pep Guardiola's side and the chasing pack.
Everyone has been comparing United with City and the contrast between how Guardiola and Jose Mourinho see the game is vast.
But whatever way you like your football to be played, the facts are United's biggest rivals outplayed them in a manner we're not used to last weekend.
United have spent a lot of money acquiring this team and you expect more from them. There have been signs this season that they've improved but in the big game, live on Sky and watched around the world, they were played off the park.
That won't sit well with United fans.
There's been a lot of discussion about the tussle in the tunnel, too. We don't like to see it but I've been involved in plenty of games where that's happened. And of course, Cesc Fabregas revealed it was him who threw the pizza at Sir Alex Ferguson in the Battle of the Buffet all those years ago at Old Trafford when he was on A League of Their Own recently.
But we shouldn't be surprised. Mourinho will win you trophies but he won't win you friends. I actually thought his comments about a lack of respect from City were quite amusing. Given he has shaken hands with opposition managers when his team have been 3-0 up and his celebrations when he was managing Porto against Manchester United, they were quite hypocritical, too.
The real problem he's got is that in that big game, where he'd normally find a way to get a point at least against City, he's lost and been shown up. And when you're Manchester United that shouldn't happen.
As I said, United aren't the only side struggling to match City. The improvement Guardiola has made has been vast. With Tottenham their next fixture against a top six side at the end of January, United now need to get their head down, get a string of wins on the board and re-find some momentum. They need to be in a good position should City slip up and in a good way for the cup games to come.
Lukaku needs big game breakthrough
Romelu Lukaku was back on the scoresheet in midweek, scoring the winner against Bournemouth, but disappointingly he was once again unable to affect the big game last weekend, in the defeat to Manchester City.
Eric Cantona, Wayne Rooney, Cristiano Ronaldo, Dwight Yorke, Teddy Sheringham, Robin van Persie, Ruud van Nistelrooy… the big strikers at Old Trafford affected the big games. That's what gets you the statue outside the stadium.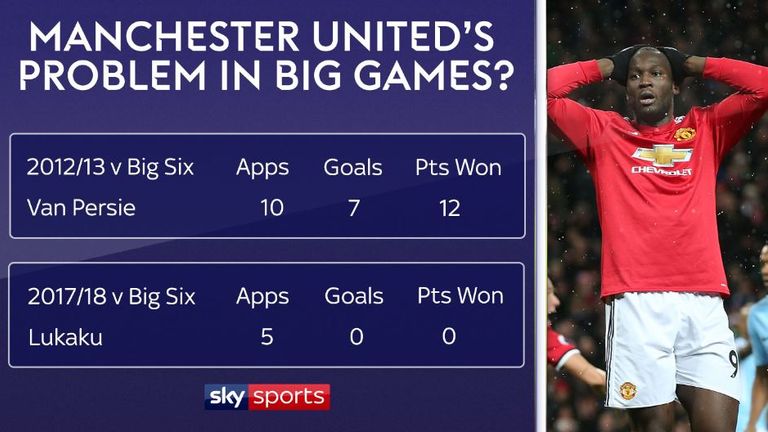 Lukaku will score against West Brom this weekend, I'm sure, because he's a flat track bully. But he's got to change that perception of him. When you cost a club £80m you need to put in big performances in the big games.
If he wants to get to the next level, that's what he needs to do. It's not about being overly critical of him. It's just fact. He could score a hat-trick against West Brom and we wouldn't learn anything about him. He has to start affecting these big games and showing us what he can do on the big stage.
Tricky test
United may well need him to be on form against West Brom this weekend, too. It was a brilliant point for them in midweek when they drew at Liverpool. New boss Alan Pardew must have looked at these back-to-back fixtures with Liverpool and Manchester United and thought 'we have it all on here'.
But if they can take two points from these two games, he'd be happy with that. Then they can start to look to get wins against the teams around them and start climbing the table.
There is obviously a desire for him to play good, attractive football at West Brom after replacing Tony Pulis. But the only remit that matters is keeping them in the Premier League. Fancy football should be the last thing on his radar. He needs to find a way to get some confidence into this team - which hasn't won since August - and get some more points by their name.
After that result at Anfield, though, I think they'll have some belief going into this one, and I wouldn't be surprised to see them keep it tight and nick a point off United.