Football Expert & Columnist
Jamie Redknapp on Champions League draw: Man United handed worst possible draw
But Chelsea will be confident of making the semis...
Last Updated: 22/03/14 1:32pm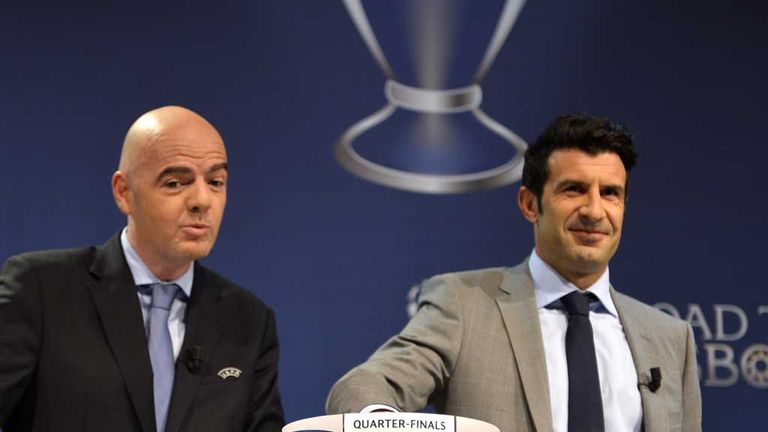 After a dramatic, confidence-boosting comeback against Olympiakos on Wednesday night to progress to the last eight, David Moyes' men will have to overcome last season's winners and run away Bundesliga leaders to progress any further.
Chelsea, meanwhile, take on big-spending Paris St-Germain. The Blues, who eased past Galatasaray in the previous round will come up against free-scoring Zlatan Ibrahimovic and a wealth of talent when they travel to the French capital for the first leg of their quarter-final encounter.
Elsewhere, there's an all-Spanish affair between Barcelona and Atletico Madrid, while current La Liga leaders Real Madrid take on last season's finalists Borussia Dortmund in a replay of their 2012/13 semi-final clash.
Here, Sky Sports expert Jamie Redknapp assesses the two English clubs' chances ahead of the ties, which are due to be played on April 1/2 and April 8/9...
Manchester United v Bayern Munich
It's the worst draw possible for Manchester United. Bayern Munich are an incredible side and they now have that belief, after winning the Champions League last year, that they can go and beat anybody. When they beat Barcelona 7-0 on aggregate last year it was an incredible night of football and it just shows you the capability they have. David Moyes will have been disappointed with that. It's the toughest draw you wish to have. Anybody's beatable. But at the moment are Man United capable of doing that? I don't see that happening.
It was a huge night on Wednesday for United's confidence and for David Moyes but to play against this side, especially with the second leg away from home that makes it more difficult. Arsenal have proved that teams can go there and get results but Bayern look a better side this year. Pep Guardiola has got them pressing, closing and he's taken them to another level. Arjen Robben is a special talent, so is Franck Ribery, then there's Toni Kroos. They're not a team like Real Madrid, that has Cristiano Ronaldo or Barcelona, that have Lionel Messi - Bayern are full of stars who work extremely hard for each other and there's not just one player you have to stop.
United have got nothing to lose, though. All the pressure will be on Bayern Munich. They're going to have to make it a really big night at Old Trafford and hope they can go to Germany and make them nervous. Anything can happen in football but this Bayern Munich side at the moment look capable of beating anybody and are favourites to win this competition again.
PSG v Chelsea
I don't think either side will be too disappointed with this draw. PSG are a good side and were unlucky to get beaten by Barcelona last year. Obviously they have Edinson Cavani, Zlatan Ibrahimovic and Thiago Silva and at the back they're defensively sound. But I think this is a 50-50 game. Jose Mourinho will think they can beat them and to have the second leg back at the Bridge is also important for them. But it's going to be a really tight game.
I look at Chelsea and, after they won the Champions League in 2012, why can't they go and do it again? They had Didier Drogba then and he was such a focal point for the team, doing incredible things. Do they have that forward now? That's where they might just fall short this year. But I'm sure Jose will have been pleased with this draw. I don't think he'd have wanted Atletico Madrid, where Chelsea would have been favourites. Jose loves to play as the underdog.
Ibrahimovic can play but it's his sidekick, Cavani, who I'd be worried about. He's a great player, a fantastic goal scorer and can do everything. I'm a real fan of Cavani. He goes about his business in a different way to Ibrahimovic but John Terry and Gary Cahill will have a few sleepless nights worrying about those two. There's no reason why Chelsea can't beat them, though, and it's a really good opportunity for Chelsea to get through to the semis - although PSG will look at this as an opportunity to show how good they are.