Football Expert & Columnist
Liverpool have momentum ahead of huge Man City showdown
But Hillsborough tribute could affect players...
Last Updated: 11/04/14 4:48pm
Liverpool's clash with Manchester City on Sunday is going to be an absolute blockbuster.
After a week of rest and preparation, these two in-form teams will be champing at the bit to get underway - and they know the outcome of this encounter will have huge implications.
If Liverpool win, they win the title. That's my view. If they don't, then I think it's City's because they'll get a real advantage.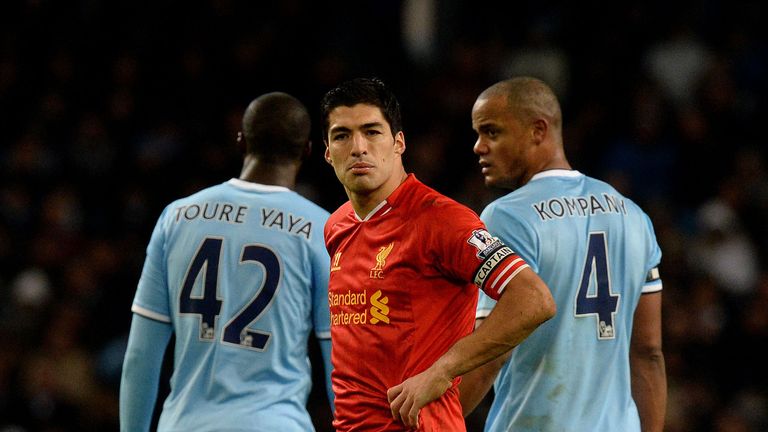 It's going to be a great game: there are superb players on view and fascinating match-ups all over the pitch.
Jamie Redknapp
Added to all of that is the fact this weekend marks 25 years since the Hillsborough disaster. It's going to be a very emotional day at Anfield and the atmosphere will be electric.
These poignant occasions can be quite difficult for players, though.
In 2008 we saw Manchester United lose at home to Man City on the day they commemorated the 50th anniversary of the Munich air disaster, and I remember playing on Hillsborough anniversary weekends when the emotion got the better of some of my Liverpool team-mates.
Similarly, I remember playing against Norwich in 1994 in the final game at Anfield in front of the Spion Kop and we lost 1-0. Sometimes these occasions have a negative impact.
But I think this Liverpool team is ready to perform. They're in a great position mentally, physically and they'll be looking forward to this game with the momentum they're gathering at the moment; Liverpool are like a tidal wave and it's going to be very hard to stop them.
Match-ups
It's going to be a great game: there are superb players on view and fascinating match-ups all over the pitch.
Defensively, City need Vincent Kompany on top form because Luis Suarez could, could, tear them apart. Martin Demichelis has done better of late but Suarez could cause him real problems.
Then there's Yaya Toure up against Steven Gerrard in midfield – a brilliant match up – and Martin Skrtel and Mamadou Sakho facing Edin Dzeko. (Sergio Aguero has just come back but the last time City threw him straight in after an injury was when they were beaten by Barcelona).
Liverpool and City are both exciting teams – they've scored 174 goals between them in the Premier League this term – and they're the most free-flowing sides in the top flight. Second-placed Chelsea do it in a different way; Jose Mourinho gets his side working hard and is fantastic at what he does. But these are the most thrilling teams to watch.
As a result, I can't see it being anything other than an open, attacking game.
A huge thing in Liverpool's favour is the venue; Brendan Rodgers side is so strong at home. They've beaten top-six rivals Arsenal 5-1, Everton 4-0 and Tottenham 4-0 in Liverpool, while Man City have failed to win at Arsenal and Chelsea in this campaign.
Manuel Pellegrini's side have also only managed to win one of their last 16 at Anfield, while Liverpool have won 10 of their last 16 there.
For me, that points towards a hugely important win for Liverpool on Sunday. Liverpool are in the ascendency and I reckon they'll just take it 2-1, which is available at 17/2 with Sky Bet.