Chief executive Richard Scudamore confirms plans for a Premier League 'B' league
Premier League chief Richard Scudamore has confirmed that there are plans for a 'B' league to come into existence.
By Graeme Bailey - Tweet me: @graemebailey
Last Updated: 14/02/14 10:50am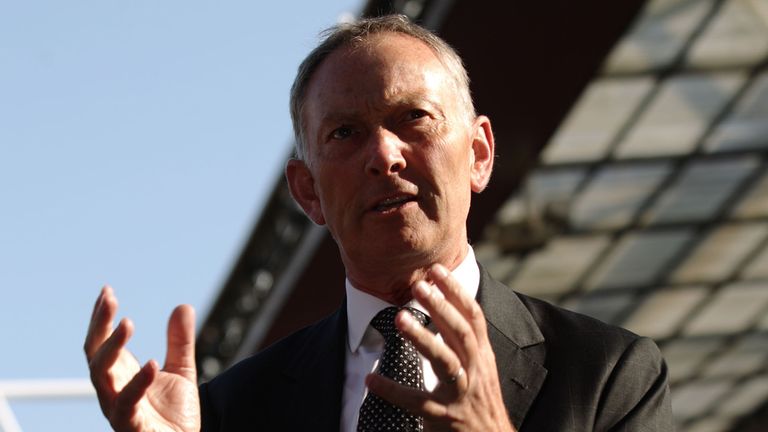 The new league would replace the current Under-21 league format, and would be for Under-23 players with four over age players allowed.
The league would involve the same teams that are in the Under-21 league - which is those who are classed as category one in the Elite Player Performance Plan (EPPP).
That would mean that current Premier League sides Arsenal, Aston Villa, Chelsea, Everton, Fulham, Liverpool, Manchester City, Manchester United, Newcastle, Norwich, Southampton, Stoke, Sunderland, Tottenham, West Brom and West Ham would be involved along with Football League clubs Bolton, Blackburn, Leicester, Middlesbrough, Reading and Wolves.
Other clubs such as Crystal Palace, who aim to achieve category one status soon, would also be allowed to compete in the competition - with the plan to broadcast the games played from the main club stadiums.
Scudamore outlined his hopes for what he believes will be a much-needed component to youth development in English football.
"We understand the challenge of developing English talent good enough to play in the Premier League first team is how do you get them to transition from Under-18s into first-team squads? It is such a huge leap. You have to have the transition phase, the 'professional development phase' we call it," he explained to the Daily Telegraph.
"The Under-21 League is technically very good but not where it needs to be in terms of meaningful competition for these youngsters.
"The minute you call it 'Under-21' people think it is no use. It needs a better name and a better focus. All clubs recognise that. We need proper kick-off times, using main stadiums, anything to create an experience that is more competitive and more like the first team so it doesn't come as such a shock. And those players in that group should be interchangeable with the first team.
"They should be category one clubs and we are happy for them to be in that league with 16 of ours, and six of the Championship. If more cat one clubs come along you structure it accordingly.
"It should be in all our interests that people have more cat one academies because that's the best it can be.''
Scudamore insisted that the new league would have no impact on the Football League or its structure.
"Having been chief executive of the Football League, I believe in the pyramid. If you set up a club behind the Dog and Duck, make your way up through those 44,000 others, and climb over enough to get to us - brilliant, we'd love to have you," he continued.
Scudamore insists that the Premier League is firmly behind the Football Association's drive to improve the youth development in England.
"The night (in 2007) we lost to Croatia 2-3, poor old Steve McClaren under the umbrella, I flipped. I said: 'This can't go on, we aren't taking this reputational damage any more.' It took a while to get this EPPP into place.
"It is incongruous that we have the (successful) league that we have and aren't seen to be doing better on the international stage. The last eight of the World Cup is where we naturally should be. The last four is bloody good. To get to a final would be absolutely fantastic. It will happen in my lifetime, that England will get to a final.''
Commission
FA chairman Greg Dyke has set up a Commission to look into the problems within the English game and how they can build towards a successful England side, and Scudamore feels that the Premier League will show they are doing their bit.
"I know the Commission will be taking a very good look at EPPP and will be pleasantly surprised as to what is in place already,'' said Scudamore.
"All our clubs are searching for that local boy who can make it, the Steven Gerrard, the Jamie Carragher, born within the environs of that club. That's the holy grail. Fans will love any player who is good for their club but there is a special place that fans reserve for the local boy made good.
"I hope the Commission spend some considerable time in their report addressing the biggest issue we've got which is the propensity of people to want to play at grass-roots level. But it's fragile.
"Grass roots is always fragile. We mustn't kill the willing amateur. Are we sure that young people have access to the facilities, to play regular football, in this winter of all winters, when you hear of teams who haven't played since November? Put in a decent 3G facility and you could play a whole league over the weekend.''
Scudamore believes Dyke needs to push the Government for better funding of the game at grass roots level.
"The money we are putting into grass roots is never enough but it wouldn't be beyond the wit of the FA to find some more of their resources and then Government funding again,'' said Scudamore.
"The key objective for the FA chairman is to get that sorted. The urban areas of Britain aren't well served. There are lots of young people living in high density accommodation without an escape through football which is why our clubs are trying to do their bit through their community schemes.
"We can only do so much. What we are doing could be scaled (up) with input from the FA and more input from Government. It is happening. Sport England have now come along part-funding Kickz programme; they see the power of using our club brands and expertise to grow this engagement.
"Raheem Sterling and Wilfried Zaha came through a Kickz programme in a pretty challenging area in this country (London) and there must be loads of kids like them. I can't believe there aren't some more kids of 13, 14, 15, 16, living in these huge tower blocks, who if they had the facilities and a safe coaching environment would become footballers.''