Jack Butland hopes to visit England squad in France as he recovers from ankle injury
By Stephen Mills
Last Updated: 17/04/16 1:38pm
Jack Butland says he has come to terms with his Euro 2016 injury heartache, but still wants to go to France to be with the squad.
The Stoke City goalkeeper has been ruled out for the rest of the season and will miss his first major international tournament after fracturing his ankle in England's 3-2 win over Germany last month.
Speaking on Goals on Sunday, Butland admitted it will be hard to take when Euro 2016 kicks off, but he hopes to join up with his England team-mates at some stage during the tournament.
"That's a write-off and that's something I'm at one with," he said.
"I'm sure once the tournament starts I might be a little bit sorry not to be there, but for me now it's about being positive and setting myself little goals and little steps that I can reach.
It's where I want to be. Being involved in the England squad at major tournaments is what I want to be doing.
Jack Butland on visiting the England squad at Euro 2016
"Eventually I will be back on the pitch and fully fit for pre-season. That's a reachable target and what I will aim for.
"I'm going to try to [go to France]. By that point I will be much more mobile, so I would like to get out there and go and see a game and perhaps see the squad or something like that.
"I will try. It's where I want to be. Being involved in the England squad at major tournaments is what I want to be doing. If I can still have a little bit of contact with them then that would be good."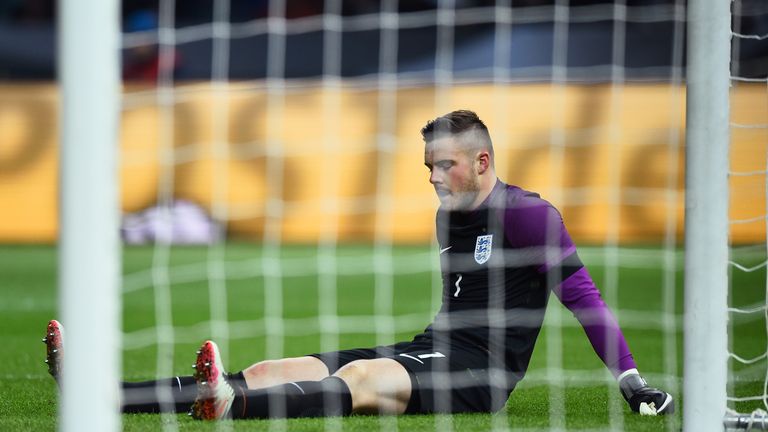 Butland admitted the injury was "innocuous" as he kicked the ball and tried to carry on, moments before Toni Kroos opened the scoring for Germany in Berlin.
He underwent surgery three weeks ago and is targeting a return to action in time for the start of the next Premier League season.
Butland added: "We are progressing really well. I had an operation which was extremely successful.
"There are three weeks to go until my lovely contraption of a boot comes off and I can start walking and really push things on. It's going really well for now.
"It was so innocuous at the time I had no idea what I did. I knew I didn't roll it left or right, but something went pop.
"I tried to carry on because I couldn't work out what I'd done. In the end, it cost the goal.
"I couldn't work out what I did so tried to give it a go in the next phase of play and Kroos managed to put a shot into the only place you didn't want it to go at that moment in time when your right foot is not feeling too good."