New Gibraltar manager David Wilson excited by Scotland clash
Glaswegian in charge of minnows for European Qualifier at Hampden
By David Garrido, Sky Sports News HQ
Last Updated: 26/03/15 5:01pm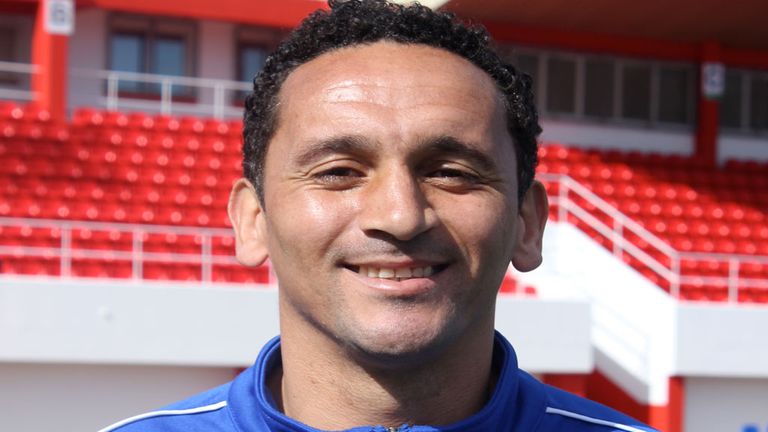 David Wilson takes charge of Gibraltar for the first time on Sunday when they take on Scotland at Hampden Park, live on Sky Sports.
It will be familiar territory for Wilson, who replaced Allen Bula as Gibraltar coach earlier this month, as Sky Sports News HQ's David Garrido explains.
Having been a 'guinea pig making up the numbers' for Gordon Strachan as a youth when the Scotland manager was doing his coaching badges, he will now be in the opposite dugout at Hampden Park this weekend.
"This is a story that could never be written," says Wilson, who grew up in Helenvale, a working-class area of Glasgow near Celtic Park, and he supported… Rangers. "It's the Scottish mentality, it's on your doorstep, but you don't want it," he said, of his choice of affiliation.
Aged seven, he played for the 67th Boys Brigade team through his local church, whose coach nicknamed him 'Pele'. 
"Growing up in Scotland in the 1970s and 1980s, there weren't many black people around in Glasgow, and Pele was the most predominant world footballer of that era." And as a young ethnic lad, he was proud of the association with the double World Cup winner.
However, his proper footballing education started when his family moved to Kilwinning in Ayrshire, 30 miles west of Glasgow. While training with a pub team, the manager had a brother who was at Kilmarnock and managed to help get Wilson a trial, and he went on to sign schoolboy forms just as he got into his teens.
Despite Killie being in the third tier of Scottish football, they became a full-time professional club, and Wilson one of the first four YTS pros they ever had.
Rejected
His life as a footballer was stretching out ahead of him. "I thought I was going to be the next Stuart Monro," he said, referencing a full-back who spent most of the 1980s playing for Rangers and later joined Bristol City.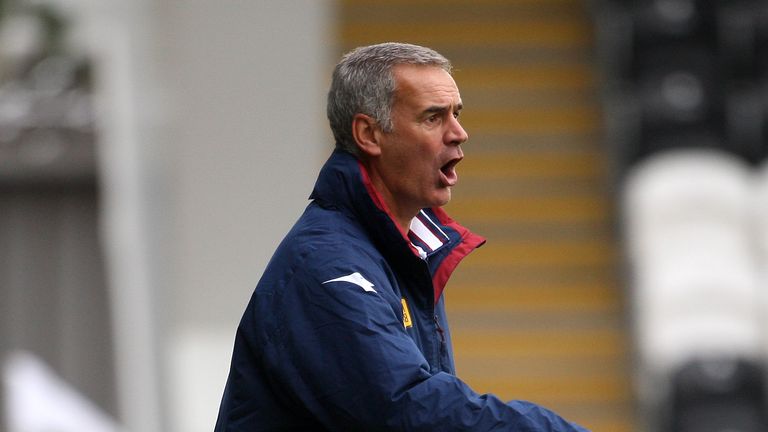 If you play for this club, you support this club – you don't support any other clubs in Scotland apart from this club.
Jim Fleeting to a young David Wilson
Wilson faced the likes of Dundee United, Celtic and Rangers at the highest level of youth football and made reserve-team appearances too. But it was a figure at his own club whom he held in the highest regard.
Jim Fleeting was the youth team coach at the time, and one day he found Wilson sat in the dressing room wearing a brand new Rangers shirt that his mother had bought for him. Fleeting asked for the shirt, promptly got scissors out and cut it into pieces in front of Wilson, to make an example of him.
"If you play for this club, you support this club - you don't support any other clubs in Scotland apart from this club," he told Wilson - and those words have stuck with him ever since.
Towards the end of his apprenticeship at Kilmarnock, Wilson had his head turned by the prospect of a career in the military, and he left the club with Fleeting's blessing. At 18, while playing part-time for Ardeer Thistle, there was a chance he could have joined a top-division Scottish team; both Motherwell and St Johnstone were tracking him. However, Wilson had made his mind up, rejected those advances and joined the Royal Navy in January 1994.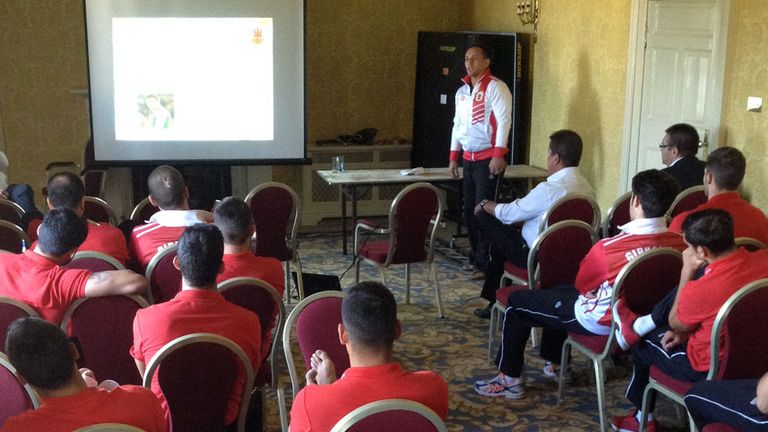 But that was not the end of his footballing career. He was based in Plymouth at first, and would play at weekends for the local Navy team and then progressed to the U19s and ultimately the senior squad. After joining HMS Gloucester, he could be serving in the Gulf, Oman, Dubai, wherever - and yet Wilson would be flown back for the next game for the Navy.
Of every fortnight he worked, at least five days were spent playing football. He represented the Navy against the Army, RAF, British Fire Service, British Police and Civil Service, and in the end racked up 120 appearances, becoming their sixth-highest capped player.
In 2003, Wilson returned to the UK to be based in Portsmouth and played non-league football for Bashley, Worthing and Newport on the Isle of Wight, under Jimmy Case, UEFA Cup winner Mark Falco and Guy Whittingham respectively.
And then, the curveball in his career. Not only could Wilson play football... he could also sing. Between 2005 and 2008, he worked during the week as a physical trainer in Scotland, but at weekends, he would perform with theatre production groups, earning £200 a night. "I love Elton John and Lionel Richie, and I can sing falsetto too, I even sang in front of Sir Alex Ferguson who was speaking at an event at Aberdeen," Wilson smiled.
That was only a brief flirtation away from football though, and at the age of 33, he got the chance to take a foreign draft with the military, and promptly volunteered to be stationed in the British overseas territory of Gibraltar. He took up a post as a physical instructor with the Navy, played for local club Glacis and in the local military league.
It was there that Wilson first encountered firefighter and goalkeeper Jordan Perez, as well as brothers Lee and Ryan Casciaro - police officers, but also Gibraltar internationals.
His involvement with the Gibraltar FA was even more fortuitous though and again, it seemed as if fate had decided to intervene just as his life was taking another turn. Wilson was about to leave Gibraltar in 2011 to go back to the UK and retrain as a rehabilitation instructor, when he was alerted to a Ministry of Defence underspend which gave him £300,000 to use as he wished. Wilson decided to have a 3G pitch built in Gibraltar for the military, and he even helped build it.
On his return to Gibraltar, the Football Association there asked if the national team could use the new facility to train on, and it was at that point Wilson met manager Allen Bula. He was quickly incorporated into the GFA set-up, working initially with the Under-19s then moving from rehabilitation of injured players to fitness coaching, strength and conditioning coaching, and ultimately the post of assistant manager.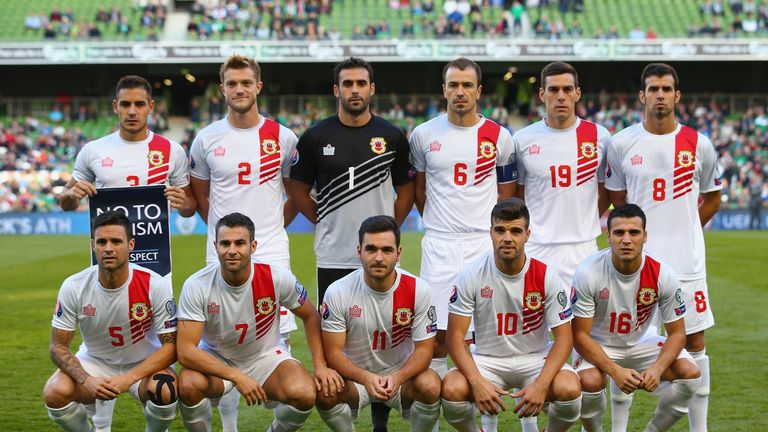 Still, his links back to Scotland proved to be vitally important - many teams came to Gibraltar on pre-season tours, including Hibernian, and Wilson was able to call on a number of blasts from his past to get inside information on the opposition.
This was knowledge that appeared to impress Bula, and they formed a strong partnership which lasted four years.  It was an historic period for Gibraltar - they were awarded full membership of UEFA in May 2013, recorded their first win against Malta last June and embarked upon their first qualification campaign last September.
However, reality hit as they started out in competitive international football, and four heavy defeats to Poland, Ireland, Georgia and Germany took their toll, with relationships straining between Bula and the GFA. It ultimately resulted in his departure at the start of March and the very next week, Wilson was offered the post of interim manager.
'Surreal'
To accept it, he had to be enrolled on his UEFA B licence, which proved trickier to secure. But with the help of his old Kilmarnock mentor from 20 years previously, Jim Fleeting - now head of coaching development at the Scottish FA - Wilson got enrolled and succeeded Bula officially.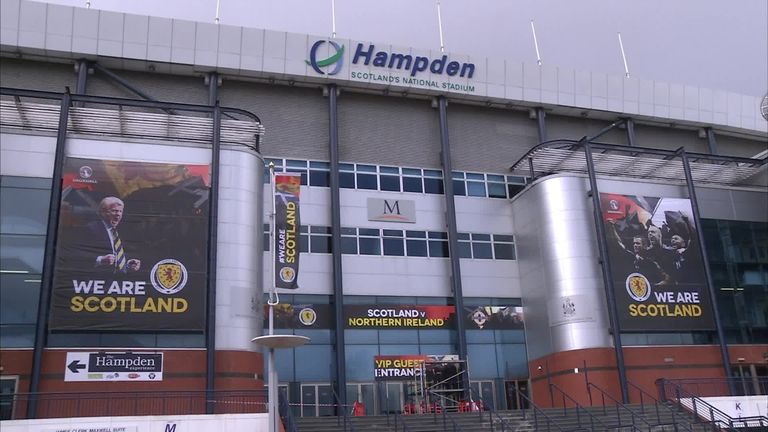 I felt at the time that I was the luckiest guy in the world, that there's nothing better than this and I'm still in that same 'kid mode' now.
David Wilson on Hampden return
He has one match against Scotland to prove his worth, with no guarantee that he will still be in charge for the following qualifier at home to Germany in June. Even so, the chain of events that led him to this position had even the man himself baffled: "I never expected to be doing what I'm doing now. Just to be considered good enough to even take the team forward is surreal."
But having been involved in preparing the squad for their Herculean task at hand at Hampden, Wilson admitted that it has given him a feel for management and he wants to continue afterwards more than ever.
Before the game, Wilson will shake the hand of Gordon Strachan, for whom more than two decades earlier he had run around, along with other heralded figureheads in Scottish football such as Mark McGhee, Walter Smith and Alex McLeish. The guinea pig has become the gaffer, and the stars have truly aligned themselves.
"I felt at the time that I was the luckiest guy in the world, that there's nothing better than this," he said. "I'm still in that same 'kid mode' now. I'm going to pit my wits against Strachan in a sort of gladiator forum. It's a dream come true."
He will start the match by singing both national anthems, and is more than likely to end it as a defeated manager, unless Lady Luck is feeling particularly generous. Regardless of the outcome against his motherland, it has been some personal journey already for David Wilson: from the young 'Pele' running around with the Boys Brigade in Glasgow, to the man who will lead out Gibraltar on Sunday.
Hear more from David Wilson on SSNHQ's Morning View from 10am on Friday.
Watch Gibraltar take on Scotland live on Sky Sports 1 HD from 4.30pm this Sunday.