Hammers open to Parker loan
West Ham would be open to loaning out Scott Parker for a season and then having him back if they win promotion.
Last Updated: 13/07/11 5:22pm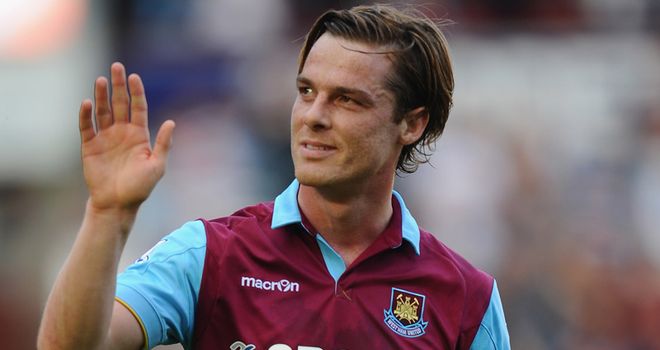 West Ham have confirmed they would be open to loaning out Scott Parker for a season and then have him back if they win promotion.
The England international is being tipped to leave Upton Park this summer following the club's relegation from the Premier League to the Championship.
Former club Chelsea have been linked with a bid following the news that star midfielder Michael Essien could miss the first half of the season with a knee injury.
Hammers co-owner David Sullivan insists no 'official approaches' have been made for the 30-year-old, who was inspirational for the club last season.
Sullivan accepts that Parker needs to be playing top-flight football in order to maintain his England ambitions, although he adds that West Ham will not force through a deal.
No approaches
"We've had no approaches from any club officially," he exclusively told Sky Sports News. "We keep hearing rumours and I'd be wrong to comment further.
"I've not spoken to Scott myself. His agent has told me that for his England career he'd like to play in the Premier League.
"If we can't get the right fee for him I think he accepts he will be playing for West Ham next year in the Championship.
"We'd love a deal. This has been mooted that we'd loan him out for a year for a substantial fee and then when we get promotion he'd come back to us. That sort of deal would appeal to us because we love Scott.
"We're not desperate to do anything. We'd want a loan fee as he has substantial value. He's at the peak of his game at the moment. He'll be a superstar wherever he goes."
One player who could be on his way out of the club is Carlton Cole after Stoke City had an offer accepted for the striker.
Sullivan says the decision is now down to the player, although he is refusing to reveal which other stars have told new manager Sam Allardyce they want to move onto pastures new.
However, the club's co-owner insists that unless 'suitable' offers are made for their want-away players then they will be forced to play in the Championship this coming season.
Indication
"The ball's in Carlton's court," he continued. "It's a question of whether he wants to go or whether he wants to stay.
"You're very much in the hands of players. Two or three players have indicated they'd like to leave the club.
"If they get moves that are acceptable to the club we can't stand in their way. We'll then bring in replacements. A lot depends on who comes and who goes.
"I think it would be very unfair to give an indication of what players have said confidentially to the manager.
"Two or three of the players have said they want to leave. They don't want to play for the club in the Championship.
"On that basis if we get a suitable offer we'll let them do. If we don't then they'll just have stay.
"I think people expect to get them on the cheap, but we'll be realistic. We won't put unrealistic valuations on players.
"One or two players we'll virtually give away who are on quite high wages, don't want to be at the club and we don't think fit in with our formation.
"Other ones, if we don't get a substantial fee, they will be starting the season with us."