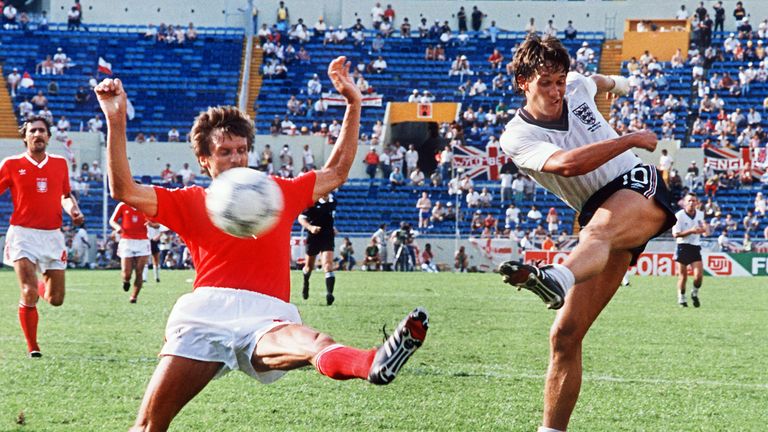 England's second-highest ever goal scorer picks his best team-mates from his playing days.
This week on The Fantasy Football Club the former striker picked a #One2Eleven of the top talent he played alongside...
Goalkeeper
PETER SHILTON: This was probably my easiest pick, primarily because he was my boyhood hero. I ended up playing with him for England and also roomed with him for a number of years. And he was still playing when I retired! He was an unbelievably brilliant goalkeeper as well. In his prime, he was one of the reasons that Nottingham Forrest under Clough were so successful.
Defence
VIV ANDERSON: He was a brilliant athlete, Viv. He could go up and down that right hand side. Intelligent footballer and a really great character. Great fun, and loved his kip! After every training session he used to say the same thing, "here we go; crispy white sheets and a marshmallow pillow" and he was off, and you wouldn't see him until dinner!
STUART PEARCE: This was a tough one. I had to decide between Kenny Sansom and Stuart Pearce, and they were both wonderful players but in the end Stuart Pearce won out. To be honest I'd be too terrified to leave him out! Terrific player and so strong.
DES WALKER: Des wasn't the greatest footballer in the world but he was unbelievably quick and had a brilliant defensive mind. Brian Clough used to stick him on me when we played - he always put man-to-man which was quite unusual in those days - and he used to sing that song 'You'll never beat Des Walker!' - he used to drive you mad when you were playing against him!
TERRY BUTCHER: I remember we played Yugoslavia away and we needed a draw or better I think to qualify for the major tournament. We were in the tunnel, the two teams, and Butcher was shouting, "Come on! Caged tigers!", and you could see them going 'what have we got here?' and we went out and we were four up in about half an hour! A great defender and a really good player as well.
Midfield
CHRIS WADDLE: Chris was the most wonderfully gifted footballer. I used to love playing with Chris Waddle. He has this easy feint that could go one way and he could beat people easily - he had two wonderful feet. There was a sixth sense between us, I used to drift away and then dart to the near post and he used to whip these balls in. He was primarily the reason that I signed for Tottenham in 1989 and within a month of me signing he'd gone to Marseille! It was like losing 15 goals a season.
JOHN BARNES: One of the most gifted footballers I've ever had the pleasure to play with and a great bloke to boot. He got a little bit of stick at times with England. In club football he was unbelievably brilliant week-in and week-out and whilst when he was in his prime for Liverpool he might do seven or eight brilliant things in a game, for England - even when he was quiet - he would still do two or three things. Either a brilliant cross, a beautiful pass, a free kick - some sort of magic. He was really gifted. A bit lumpy, Barnesy, and still is! But he was solid. 
BRYAN ROBSON: Inspirational footballer. If he hadn't have had the injuries that he did, I think he would have eclipsed all records for midfield players in appearances for England - and I think England might have won something.
PAUL GASCOIGNE: He was mad of a box of frogs and is to this day, but what a player! The most naturally gifted footballer this country has produced. I wouldn't say the greatest footballer this country has every produced because he didn't realise his potential and also he played a little bit for himself at times. He'd beat three players unbelievably and lose it to the fourth. He was quite exasperating to play with on occasion!
Strikers
PETER BEARDSLEY: People ask me who the best player was that I played with, and I always say the person that helped me the most - and that was Peter Beardsley. Phenomenal player, unbelievably unselfish. We just clicked straight away. I think my goal-scoring record when Peter Beardsley was in the side was pretty much a goal a game, and I owe that to him.
ALAN SHEARER: At the end of my England career I played a couple of games with a certain Alan Shearer. His debut for England we played together, we both scored against France in a friendly at Wembley. Great international goal-scoring record, wonderful Premier League record - still miles clear of anyone in the goal scoring stakes.