Marcelo Bielsa to Swansea? We profile the Argentine manager
By Gerard Brand
Last Updated: 15/12/15 4:27pm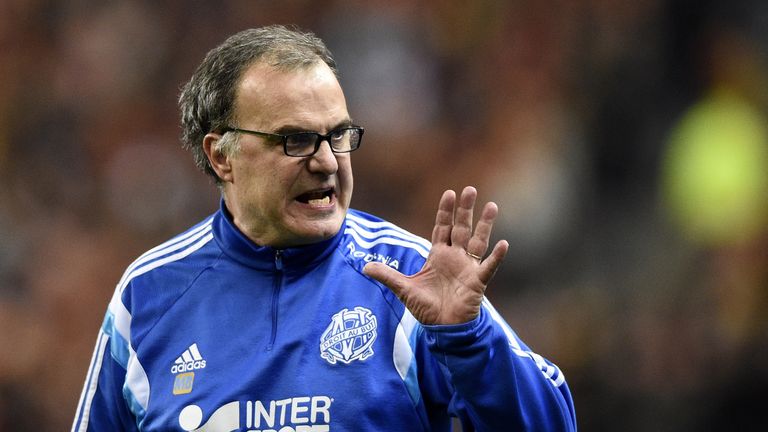 As Swansea chairman Huw Jenkins travels to South America, we take a look at Argentine coach Marcelo Bielsa, the favourite to take the vacant manager's job at the Liberty Stadium.
A man with no shortage of character, Bielsa left his job at Ligue 1 side Marseille after the first game of the season, and is Sky Bet's favourite for the Swansea gig.
Here, we look at the 60-year-old's personality, achievements and suitability to the Premier League with some help from Sky Sports' Spanish football expert Guillem Balague...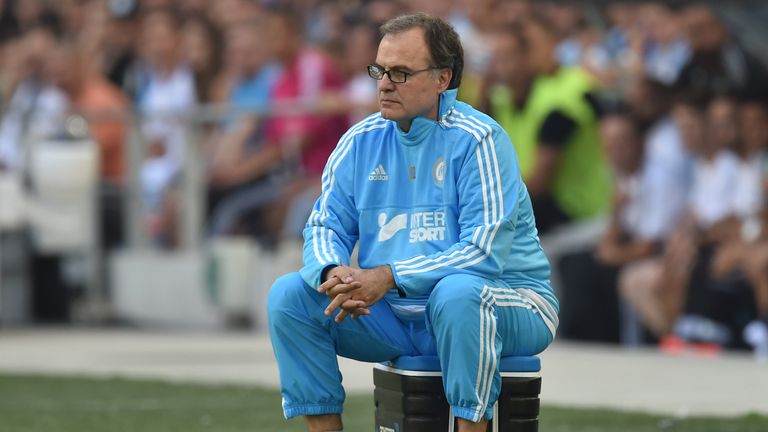 What's his background?
Before Bielsa prematurely left Marseille citing instability at the club, he led the French side to fourth in the top flight following a disappointing sixth-place finish the previous year under Ellie Baup and Jose Anigo.
He cut his two-year contract short in August after a 1-0 defeat by Caen on the opening day, and despite qualifying for the knockout stages of the Europa League under new manager Michel, Marseille are now struggling in ninth place in Ligue 1.
Marseille was Bielsa's second job in club management this century having taken charge of Athletic Bilbao for two seasons between 2011 and 2013, guiding them to 10th and 12th in La Liga.
But it was in the knockout competitions where Bielsa's Bilbao impressed, finishing runners-up in the Copa del Rey in 2012, as well as the Europa League the same season, where they knocked out Sir Alex Ferguson's Manchester United in the round of 16 before losing to Atletico Madrid in the final.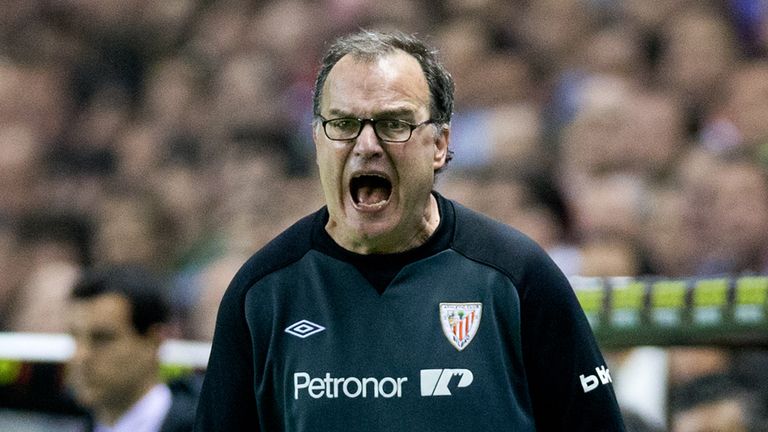 Bielsa also had a brief spell at Espanyol in 1998, after success managing in Argentina in the 1990s. He won the Argentine league title in 1991 and 1992 with Newell's Old Boys, who named their stadium after Bielsa, and took the same title with Velez Sarsfield in 1998.
His time in international management was mixed, spending six years in charge of Argentina from 1998, and four in charge of Chile from 2007.
With Argentina, Bielsa saw his side knocked out of the 1999 Copa America by eventual winners Brazil at the quarter-final stage, before the Argentine FA decided to withdraw from the 2001 competition in Colombia due to death threats.
Bielsa's Argentina were then knocked out of the 2002 World Cup at the group stage behind England and Sweden, but finished runners-up to Brazil in the 2004 Copa America.
Six years later, having led Chile to an impressive second-place finish in CONMEBOL qualifying for the 2010 World Cup, Bielsa's side were knocked out at the last 16 stage by Brazil in Johannesburg.
What is his style… and why is he nicknamed 'El Loco'?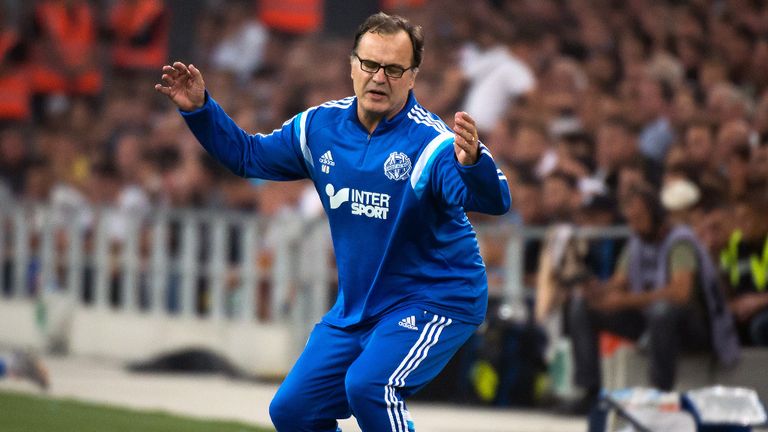 Renowned for lengthy press conferences and obsession with video analysis, Bielsa's staple is an unusual 3-3-3-1 formation, used during his time at both Bilbao and Marseille.
But with Swansea's last five managers - Roberto Martinez, Paulo Sousa, Brendan Rodgers, Michael Laudrup and Monk - all averaging just over the age of 38 when they joined, 60-year-old Bielsa may not fit Jenkins' usual mould for the hot seat.
He has been known to split training session timetables up between defence and attack, prompting former Argentina captain Roberto Ayala to tell FIFA in 2007: "Sometimes we wouldn't see any of the strikers, because he'd have them training at a different time, and it was the same with the midfielders. But he's an innovator, and one of the people who I've learned most from during my career."
Would his tactics work on these shores? Who knows, but one thing is for sure, Bielsa would bring more noise than his tight-lipped South American Premier League potential colleagues in Mauricio Pochettino and Manuel Pellegrini.
Guillem Balague's verdict
"He is a man who is obsessed about football: 24/7. He is concentrated on making the best out of the team he is given.
"But it's such a momentous decision for Swansea, up until now it feels like every decision they've made with coaches has worked and all of a sudden they haven't progressed in the last few months, which should suggest that whatever they decide to go for next will have to be long term if possible and it has to do with the philosophy of the club.
"Swansea don't want to change, they still want to be a club based on possession and being protagonists on the pitch, and if you're looking for that kind of thing, Bielsa could be the man.
"[There will be] communication problems no doubt because he doesn't speak a word of English, but for me he is the most influential coach in the last decade and he has a school of disciples including Pep Guardiola, Gerardo Martino, Jorge Sampaoli of Chile, Eduardo Berizzo at Celta (Vigo) and even (Mauricio) Pochettino at Spurs.
"I'm excited about the possibility!"
What have others said about him?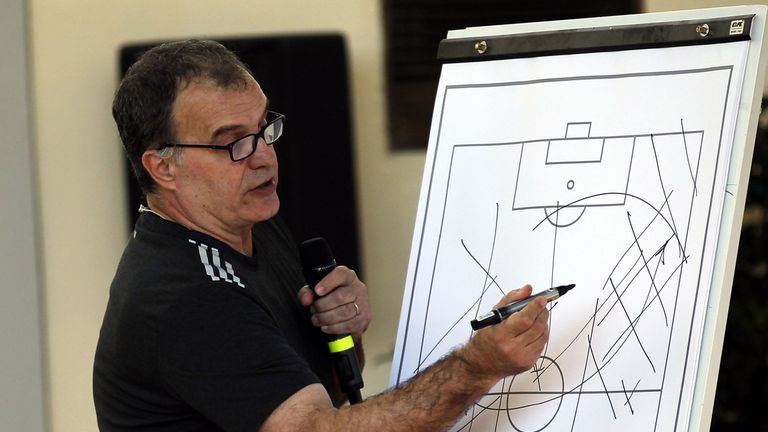 "I think we're talking about the best coach in the world at the moment, one who has managed in such a short time to get his people to understand his way of playing and to carry it out so faithfully and with such honesty." - Pep Guardiola, 2012
"At first he seems tough and he may even annoy you with his persistence and don't-take-no-for-an-answer resilience, but in the end he is a genius." - Fernando Llorente, 2012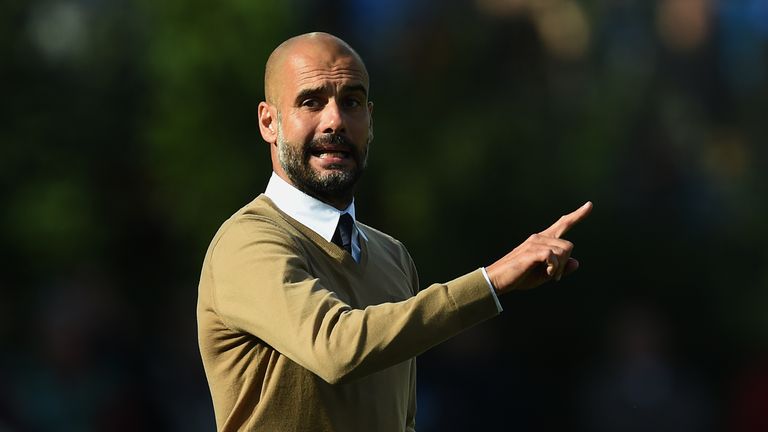 I think we're talking about the best coach in the world at the moment.
Pep Guardiola on Marcelo Bielsa in 2012
"I still sometimes ask myself how on earth we managed to get a coach like Bielsa. It's a bit like signing Lionel Messi for 12 months…" - Marseille president Vincent Labrune, 2014
"Olympique Marseille can in no way be a prisoner of the requirements of someone who places his personal interests well above those of the institution. Olympique Marseille is powered by unique values ​​and has a history rich enough to refuse to submit to the law of one man." - Marseille statement following Bielsa's resignation, 2015
Who else is in the frame from Jenkins' South America trip?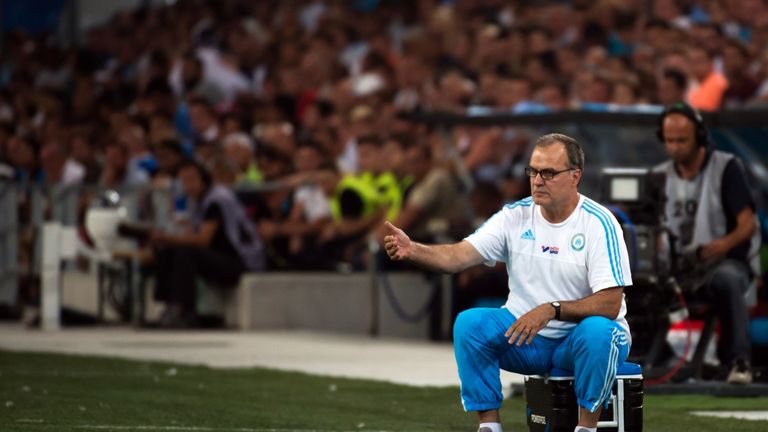 Sky sources understand another potential candidate being considered by the Swansea chairman is the former Argentina manager Alejandro Sabella.
Sabella managed Argentina to the final of the 2014 World Cup, losing to Germany 1-0 in extra time, and as a club manager, Sabella guided Estudiantes of Argentina to the Copa Libertadores in 2009.
As a player, Alejandro, or Alex as he was known in England, was a creative midfield for Sheffield United, joining them in 1978 before heading for Leeds in 1980.
One other target for Jenkins may be the present Chile coach Jorge Sampaoli. Last month, he was named on the final three-man shortlist for the 2015 FIFA World Coach of the Year award alongside Guardiola and Luis Enrique after leading Chile to the Copa America title.